An idea like Oil to Cash often raises some hackles, or at least eyebrows, when first proposed. But over time, we hope that evidence and good sense will win over the critics. It also helps to have a few vanguard leaders signal their support. I've been pleased to see the ideas underlying Oil to Cash gain more and more popular traction in the last few months. From the media enthusiasm over unconditional cash transfers, to an endorsement at a high-level forum, to a Foreign Affairs piece calling for "Petroleum to the People," it's exciting to see the ranks of support grow.
There's still a long way to go in convincing and helping policymakers commit their resource wealth directly to their citizens, but I hope my forthcoming book, Oil-to-Cash: Fighting the Resource Curse through Cash Transfers, with Stephanie Majerowicz and Caroline Lambert will help to move the needle. Expanding on the concepts presented in The Governor's Solution and our Oil to Cash paper series, it will be published later this year.
We welcome any questions or suggestions; please contact us at oil2cash@cgdev.org.
Best wishes,
Todd Moss
Senior Fellow and COO
New Article: Oil to Cash highlighted in Foreign Affairs
Larry Diamond and Jack Mosbacher cry for "Petroleum to the People" in their piece in Foreign Affairs (gated). Discussing the debacles of corruption and mismanagement surrounding prior oil booms in Africa, they highlight and detail our Oil to Cash proposal as the best chance for avoiding the impending curse from future resource windfalls. Also check out this recent response piece on why Oil to Cash would be a more equitable policy choice than land ownership reforms.
Photo: Reuters
News: AfDB President publicly endorses Oil to Cash
Donald Kaberuka, the President of the African Development Bank and the leading voice for forward-leaning economic policy on the continent, has come out publicly in favor of paying some portion of natural resource windfalls as a direct dividend to citizens. Speaking at the 2013 Mo Ibrahim Foundation forum in Addis Ababa, Kaberuka says in order to deal with Africa's "biggest elephant in the room"—how to translate economic growth into economic well-being for citizens—leaders need to consider an Oil to Cash option. Read the transcript and see the clip here.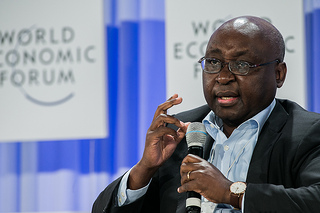 News & New study: Unconditional Cash Transfers in the spotlight
The New York Times Magazine, This American Life, and The Economist brought the conversation about unconditional cash transfers, a key piece of Oil to Cash, to the forefront when they highlighted the results of a study on GiveDirectly, a non-profit which deposits around $500 to the mobile phone accounts of poor individuals in Kenya, with no strings attached. Johannes Haushofer and Jeremy Shapiro, working with IPA, evaluated GiveDirectly's programs, showing significant increases in income, assets, psychological well-being and female empowerment among those who received the transfer.
Photo: GiveDirectly
Other Updates:
News: The Libyan government has proposed a reform plan to replace its subsidy programs, which are largely funded by oil export revenues, with direct cash subsidies for citizens. Look for an upcoming paper on this "Subsidies-to-Cash" model in the Oil to Cash paper series.
New CGD blog post: My take on why Oil to Cash is the demand-side complement to transparency efforts like EITI and Publish What You Pay.
New paper: "The Politics of the Resource Curse: a review" by Michael Ross provides a comprehensive overview of the resource curse literature, showing that of all resources, petroleum wealth has the strongest and most consistent harmful effects on democratization, violent conflict, and corruption.
New blog post: "Be thy Neighbour's Keeper: Avoiding the Resource Curse in Eastern Africa Through Regional Cooperation" by Ken Opalo, posted by the AfDB.
New report: Deloitte details oil and gas potential country-by-country across East Africa.
New report: Afrobarometer Round 5 results include new questions on public perceptions of governance, transparency, and accountability in resource-dependent countries.
New paper: Anti-corruption resource center U4 analyzes why Ghana's current mineral wealth distribution scheme (limited to mining community leaders) is undermined by corruption, why increased transparency & social accountability are not enough, and how a universal cash transfer system could be the solution.