This week, Chad became the 36th poor country to benefit from the world's collective response to the debt crises of the 1980s and 1990s. It took years to reach this point, but in the end, Chad received over one billion dollars in irrevocable debt relief under the Heavily Indebted Poor Country (HIPC) Initiative. This brings the running total for African countries upwards of $110 billion in nominal relief over the last two decades or so. Only three qualifying countries remain in the queue — Eritrea, Somalia, and Sudan. Plus Zimbabwe, which has been stuck in a debt crisis for years, yet remains ineligible for HIPC relief. All of these countries are beset by internal conflict or extreme governance challenges. So, we're down to a handful of basket cases and then the longstanding African debt crisis will be banished to the history books, right? That's what I used to think. After recently digging into the data, I'm not so sure anymore. 
Despite widespread progress, Sub-Saharan Africa remains home to several of the most heavily indebted developing countries in the world. These include three small places, both in terms of populations and land size – Cape Verde, Eritrea, and the Gambia – but not in terms of their relative debt burdens. Each of these countries has public debt obligations exceeding 100 percent of GDP. In fact, Cape Verde has the fourth highest debt ratio in the developing world, equaling 112 percent of its GDP. Only Jamaica, Lebanon, and its fellow African nation Eritrea are worse off. Its debt has increased by nearly 50-percentage points in just the last six years. This is a country that people broadly consider as a well-governed place. Its finance minister is even in the running to become the next head of the African Development Bank. On top of Cape Verde, the Gambia benefitted from HIPC debt relief only a few years ago. Who would have known?
The resurgent African debt story isn't confined to the smallest nations in the region. Darlings of the donor and global financial worlds have reentered the danger zone of unsustainable debt as well. For instance, Ghana's debt-to-GDP ratio fell to a miserly 26 percent after receiving 100 percent debt cancellation from the IMF, World Bank, and AfDB a decade ago. It even launched an oversubscribed Eurobond offering the year later. Fast forward to today. After years of runaway government deficits, its debt ratio has nearly tripled. And it had to run to the IMF for a bailout package to prevent a complete fiscal meltdown.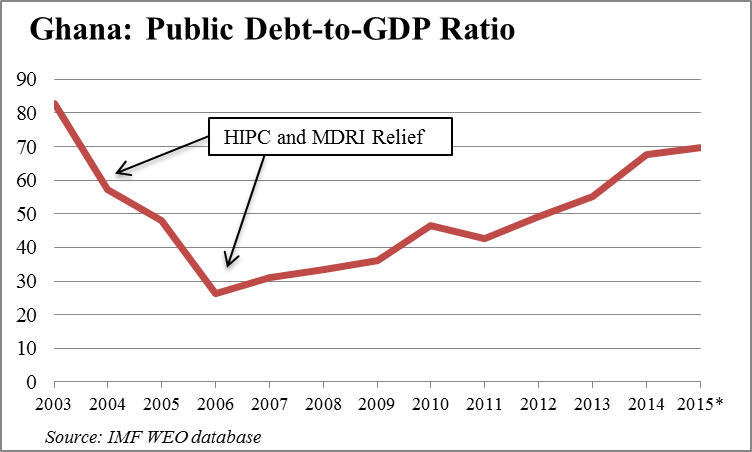 What does this all mean? For starters, it demonstrates that the demons of unsustainable debt haven't been permanently banished. It also likely means that simply focusing on the remaining HIPC-eligible basket cases isn't enough. There are many other countries hovering at the precipice, either for the first time (Cape Verde) or once again (Ghana and the Gambia). If it wasn't for Chad, I may have never dug into the figures. And now I'm partly wishing that I hadn't. 
Disclaimer
CGD blog posts reflect the views of the authors, drawing on prior research and experience in their areas of expertise. CGD is a nonpartisan, independent organization and does not take institutional positions.