Education Links is a periodic summary of relevant links from RISE (Research on Improving Systems of Education), CGD's initiative on education reform in the developing world.
1
Rwanda seems to be bucking the trend in developing countries of growth in private schools. Apparently existing private schools are closing down because they can't get enough students, with people choosing the public sector instead. The best data we have predates the introduction of the basic education policy, however. We're looking forward to seeing what the next national household survey due in 2015/16 says.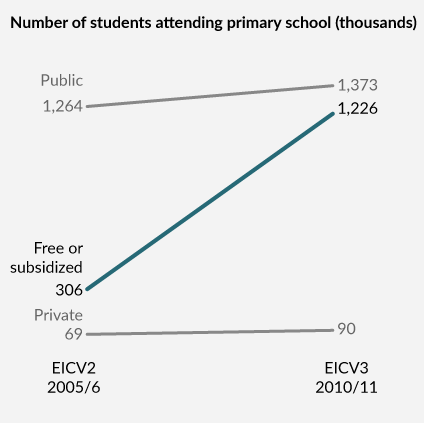 Source. Note EICV stands for Enquête intégrale sur les conditions de vie or Integrated Household Living Conditions Survey. The survey is conducted every five years and collects information on variables such as poverty, inequality, employment, living conditions, education, health and housing conditions, and household consumption.
2
Tanzania launched an education reform involving, among other things, increasing compulsory education from 7 to 11 years; replacing English with Kiswahili as the primary medium of instruction through tertiary education (previously English instruction began in secondary); and removal of fees at the secondary level. See also DFID's Ian Attfield's take on the reform.
3
A new report from 200 schools in 17 districts shows that 38 percent of grade 3 students do not meet grade 1 standards in Kiswahili and 7 percent do not meet grade 1 standards in math. The findings corroborate results from Uwezo, which we've discussed in this blog before. (Via Dave Evans)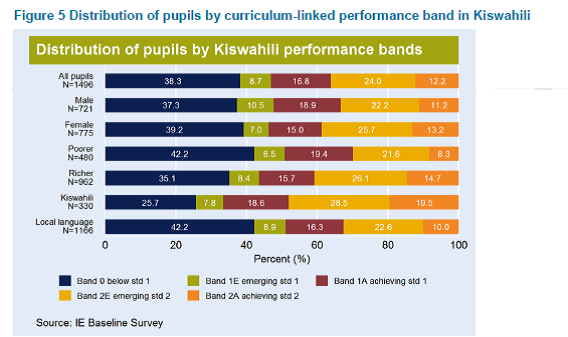 4
At present, there is no international standard for measuring learning. The OECD Programme for International Student Assessment (PISA) covers 65 major economies, but results from the pilot "PISA for Development" in six lower-income countries are not expected until 2017. Marguerite Clarke from the World Bank is cautiously optimistic about the direction the pilot is taking. 
5
Economist Branko Milanovic calls for scrapping the term "human capital" because it is confusing and misleading. To earn a return on your human capital, you have to go to work. To earn a return on your stocks and bonds, you don't. 
6
"Curriculum and Ideology." A new paper by Cantoni et al. demonstrates the effectiveness of curriculum messaging in China. A new curriculum introduced in 2004 changed views on political participation and democracy, improved trust in government officials, and made youth more skeptical of free markets.
7
For education researchers looking for grant money, the UK's Economic and Social Research Council (ESRC) and Department for International Development (DFID) have a joint call coming up for research on education systems and learning outcomes. This call will run in three rounds, in parallel with our separate country-focused program. Early details available here; the call for proposals will be out in March and due by May. 
8
The upcoming CIES conference will feature a variety of sessions with members of our new RISE project, including Rukmini Banerji (on early grade reading), Luis Crouch (decentralization; scaling up effective programming), Caine Rolleston (systematic reviews; the role of school quality in addressing learning gaps), Barbara Bruns (teacher evaluations in Latin America and the Caribbean), and CGD's very own Lant Pritchett, Justin Sandefur, and Amanda Beatty (understanding education systems; addressing the learning crisis). See the program here.
Disclaimer
CGD blog posts reflect the views of the authors, drawing on prior research and experience in their areas of expertise. CGD is a nonpartisan, independent organization and does not take institutional positions.
Topics