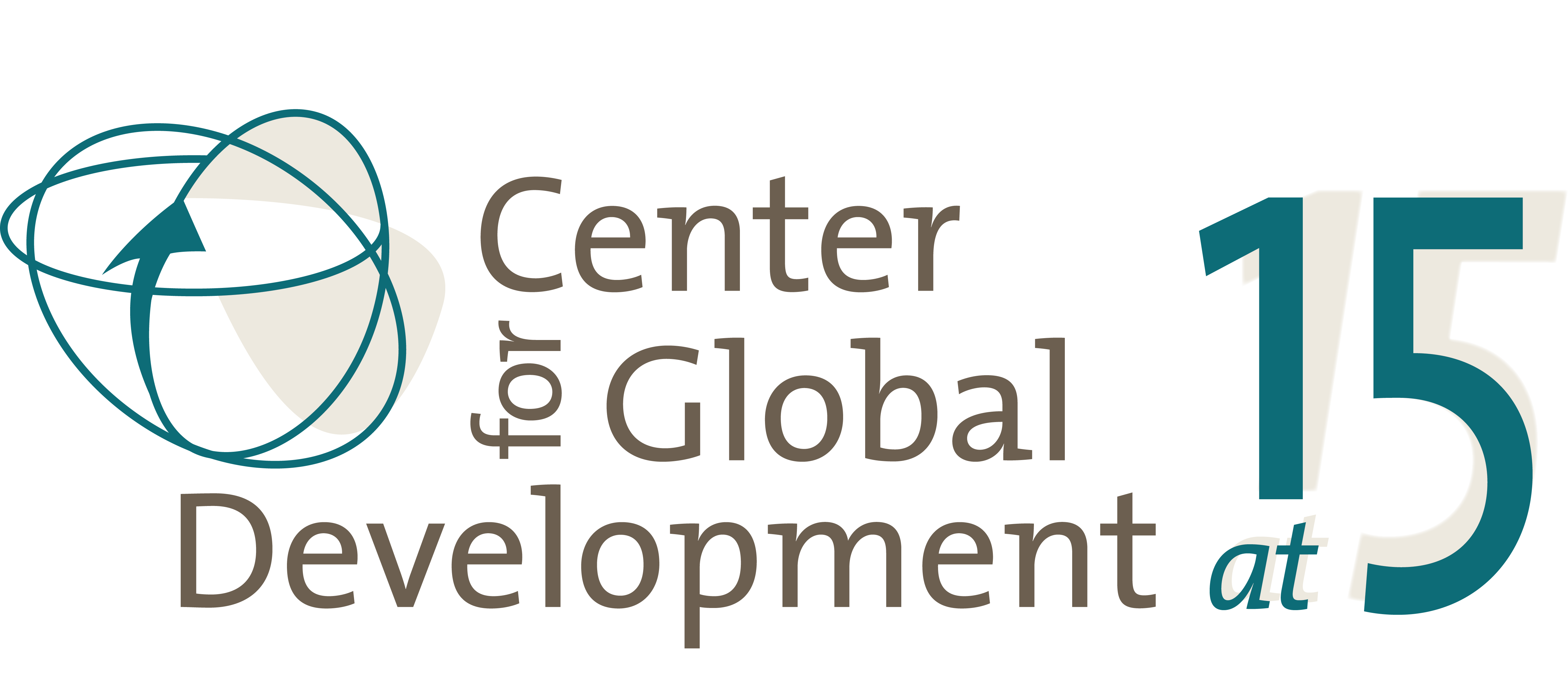 In 2001, when Nancy Birdsall, Ed Scott, and Fred Bergsten created the Center for Global Development, they envisioned an organization focused on "independent research and practical ideas for global prosperity." That phrase even became our tagline. In the years since, the world has changed dramatically, with fewer people living in poverty as a result of economic growth, but more shared problems such as climate change and the threat of pandemics; yet we feel our tagline and the model it describes are more relevant today than ever.
In 2016, as we celebrate our 15th year, CGD continues to be a policy crucible, producing independent ideas, nonpartisan thinking, and practical, research-based proposals that cost little or nothing to the rich world but make a huge difference to developing countries.
The problems we address and the solutions we create may have changed in 15 years, but forensic scrutiny of existing policies — or policy gaps — is an approach that continues to have real-world impact.
For example, in 2005 we went from academic theory to the practical question of "what's needed to induce drug companies to produce vaccines for diseases that affect people in poor countries?" Our expert Working Group (including lawyers, pharma watchers, and CGD's own health economists) analyzed the economics of incentives to develop Advance Market Commitments that have resulted in millions more children being inoculated against deadly pneumococcal disease.
Following the devastating earthquake in Haiti in 2010, we asked "what's needed to help the country build back better?" CGD understood that migration is a huge and beneficial driver of development, and so we helped get Haiti added to the list of countries eligible to participate in the United States' largest temporary work visa program; it meant those Haitians able to take part could earn 10 times what they might have at home, sending valuable resources back to their families.
And just last year, we were ahead of the curve by asking "what are the consequences for developing countries of legislation to tackle money laundering and terrorist financing?" Now Janet Yellen, Mark Carney, and several members of Congress have spoken publicly about the detrimental effects on legitimate remittances.
In 2016, as part of our 15th anniversary celebrations, we will look back at some of our biggest ideas, our most practical tools and influential innovations. These include Development Impact Bonds (being trialed in education in Rajasthan, India), the Commitment to Development Index (recently cited by the UK government as influential in its new aid strategy), the International Initiative for Impact Evaluation (3ie), which we pioneered because we firmly believe that development done right needs policies that we know work, and Cash on Delivery aid (paying for verified development outcomes instead of inputs, now being implemented by the British government for education in Ethiopia and Rwanda).
We are also planning a whole host of special blogs, podcasts, events, and publications, featuring our current experts, former CGDers now doing great things, and major names in development, including Larry Summers, Ngozi Okonjo-Iweala, Donald Kaberuka, Raj Shah, and many others who we are fortunate to call friends, colleagues, and supporters.
And in 2016, of course, expect an array of new work including Millions Saved, a compendium of global health success stories; look out also for Why Forests? Why Now?, a comprehensive examination of the science, politics, and economics of tropical forests, and how paying for verified results of reduced deforestation is the most efficient solution to climate change; we will also release new work on the importance of identification for development (ID4D), on financial inclusion, energy access, new ways to finance development, mobile savings as a tool for gender equality, transparency in government contracts, proposals for international cooperation on shared problems such as antibiotic resistance, and much, much more.
We've started celebrating already: Nancy Birdsall's 2016 Wish List also looks back at CGD's early years. Soon, in a new anniversary blog series, Scott Morris will recall how CGD work led to an increase in available lending at the Asian Development Bank (he'll also consider the future of the multilateral development banking system).
After our first 15 years, as Nancy puts it, CGD is established but not 'Establishment.' As we embark on our next phase, we know that 2016 is going to be another busy year at CGD — we hope you will be part of it too!
Disclaimer
CGD blog posts reflect the views of the authors drawing on prior research and experience in their areas of expertise. CGD does not take institutional positions.