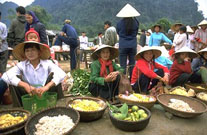 The Doha Round of international trade negotiations remains at an impasse over agricultural policies in rich countries, but there are important steps that the United States and other countries could take now to deliver on the promise to make trade work better for developing countries. The declaration launching the round in Doha, Qatar, in November 2001, committed members of the World Trade Organization to "the objective of duty-free, quota-free market access for products originating from LDCs [least-developed countries]." Members went further at the ministerial meeting in Hong Kong in December 2005, agreeing to implement duty-free, quota-free access for the LDCs in developed country markets, as well as in willing emerging markets, when the round concludes. At the insistence of U.S. negotiators, however, this generosity was undercut in an annex that allows countries to exempt up to 3 percent of products. That would allow Japan and Korea to exempt rice and the United States to exempt sugar and many clothing items, all products that are major exports of many LDCs.
The United States currently provides nearly free access for the lesser-developed countries of sub-Saharan Africa, but even the African Growth and Opportunity Act (AGOA) restricts access for key agricultural products, such as sugar, and some labor-intensive manufactures (certain footwear, textiles and leather goods). And there are another dozen or so countries designated by the U.N. as least-developed that have access only to the Generalized System of Preferences, which excludes most clothing, footwear, and other key developing-country exports. As a result, Cambodia, which has an average per capita income of less than $1 per day, pays as much in tariffs on its $2 billion in exports to the United States as does France on $37 billion. Only 2 percent of Bangladesh's exports to the United States, mostly clothing, are able to enter duty-free under current rules.
Imports from the least-developed countries add up to just a little over 1 percent of total U.S. imports, so the United States could and should do better. In a comment to the U.S. Trade Representative on implementing the duty-free, quota-free pledge (pdf), several Washington groups concerned about development and poverty alleviation, including CGD, called on the U.S. government to provide 100 percent access for the poorest countries in the world -- and to do so before the conclusion of the Doha Round. To maximize the benefits of providing duty-free, quota-free market access for the LDCs, the U.S. Congress should embed this opening in a broader reform of trade preferences programs that makes them permanent and easier to use.
Disclaimer
CGD blog posts reflect the views of the authors, drawing on prior research and experience in their areas of expertise. CGD is a nonpartisan, independent organization and does not take institutional positions.