February 14, 2007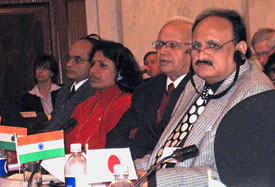 Christopher Connell
, has sent a second report on today's Legislative Forum on Climate Change in the U.S. Capitol.
August 14, 2006
I am pleased to announce the release of the 2006 edition of the
Commitment to Development Index
. Each year the CDI rates and ranks 21 rich countries on how much their policies help or hurt poorer nations. The CDI assigns scores in seven policy areas (foreign aid, trade, investment, migration, environment, security, and technology), with the average being the overall score.