June 4, 2007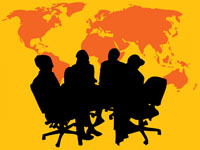 The G8 summit in Heiligendamm, Germany, this week will focus global attention on African development and broader foreign assistance issues.
March 8, 2007
President Bush is going to Latin America, and that has inspired a round of commentary in the mainstream press. A New York Times editorial urges the President to focus on democracy, human rights and social justice, and applauds the recent doubling of U.S. aid to the region. Democracy and social justice and a dollop of aid (the current budget of $1.6 billion is barely 1 percent of spending by Latin governments on health and education) are good things.
February 2, 2007
Today the Intergovernmental Panel on Climate Change (IPCC) released the first part of its long-awaited Fourth Assessment Report. This is a major event, because the Report strengthens the scientific consensus about the threat from global warming if we don't curb greenhouse gas emissions.