Richard H. Sabot Lecture Series
The Richard H. Sabot Lecture is held annually to honor the life and work of Richard "Dick" Sabot, a respected professor, celebrated development economist, successful Internet entrepreneur, and close friend of the Center for Global Development. As a founding member of CGD's Board of Directors, Dick's enthusiasm and intellect encouraged our beginnings. His work as a scholar and as a development practitioner helped to shape the Center's vision of independent research and new ideas in the service of better development policies and practices.
Dick held a PhD in economics from Oxford University; he was professor of economics at Williams College, and he taught at Yale University, Oxford University, and Columbia University. He made numerous scholarly contributions in the fields of economics and international development, and he worked for ten years at the World Bank.
Launched with the support of Bruns Grayson and other members of the Board who served with Dick during the Center's early years, the Sabot Lecture Series hosts each year a scholar-practitioner who has made significant contributions to international development, combining, as did Dick, academic work with leadership in the policy community.
Previous lectures are featured below.
---
---
The Tenth Annual Richard H. Sabot Lecture
April 28, 2015
Anne-Marie Slaughter, President and CEO, New America Foundation
"Horizons and Boundaries: What Technology Can Do to Advance Development and What It Cannot"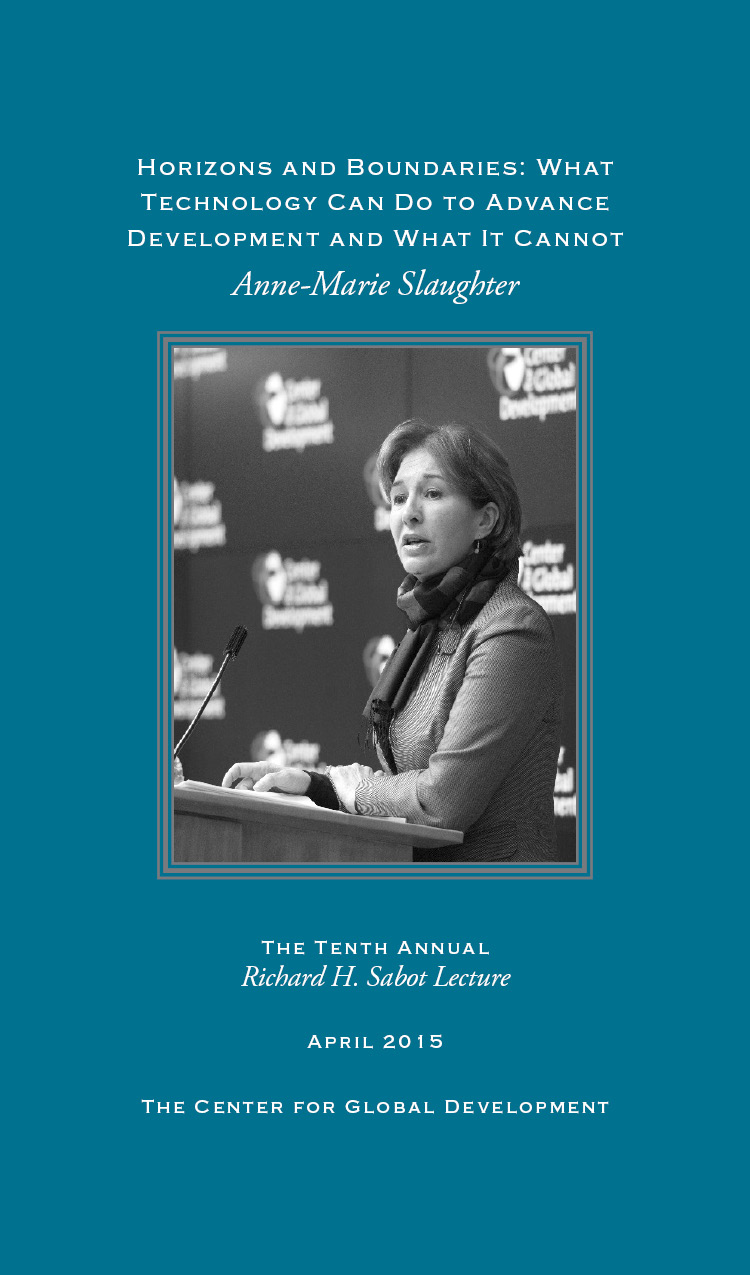 ---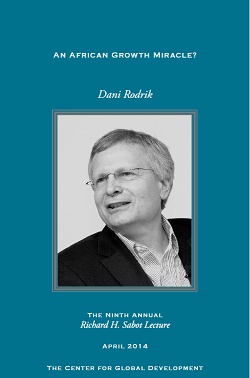 ---
---
The Seventh Annual Richard H. Sabot Lecture
April 23, 2012
John Githongo, the Chief Executive Officer of the Inuka Kenya Trust
Former Permanent Secretary for Governance and Ethics, Republic of Kenya
"Africa—a Second Independence: Redefining Old Relationships"
---
The Sixth Annual Richard H. Sabot Lecture
April 11, 2011
Esther Duflo, the Abdul Latif Jameel Professor of Poverty Alleviation and Development Economics in the Department of Economics at MIT
"Policies, Politics: Can Evidence Play a Role in the Fight against Poverty?"
Watch a recording of this event
---
The Fifth Annual Richard H. Sabot Lecture
April 12, 2010
Kenneth Rogoff, Thomas D. Cabot Professor of Public Policy and Professor of Economics at Harvard University
"Austerity and the IMF"
---
The Fourth Annual Richard H. Sabot Lecture
June 11, 2009
Kemal Dervis, vice president and director of Global Economy and Development at the Brookings Institution
"Precautionary Resources and Development Finance: The Financial Role of the Bretton Woods Institutions after the Crisis"
---
The Third Annual Richard H. Sabot Lecture
June 26, 2008
Lord Nicholas Stern, IG Patel Professor of Economics at the London School of Economics and author of the Stern Review
"Towards a Global Deal on Climate Change"
Review the event's pictures, video, and transcript
---
The Second Annual Richard H. Sabot Lecture
June 20, 2007
Ngozi Okonjo-Iweala, former finance minister and minister of foreign affairs of Nigeria and distinguished visiting fellow at the Brookings Institution
"Corruption: Myths and Realities in a Developing Country Context"
Review the event's pictures, video, and transcript
---
The First Annual Richard H. Sabot Lecture
June 13, 2006
Lawrence H. Summers, former president of Harvard University and former Secretary of the Treasury
"Harnessing the Developing Potential of Emerging Market Reserves"
Opening remarks by Sabot family members Jude Sabot, Oliver Sabot, and Topher Sabot, the chair of CGD's board Edward W. Scott Jr., and CGD board member Bruns Grayson