Whether at CGD for a summer internship or many memorable years, the simple but powerful bond of our collective mission lives on. As we grow our global community, the Center realizes the power and strength that has come from our alumni carrying CGD's ethos into all their endeavors and daily life beyond their time with us.
The Alumni Association formalizes the network of our former staff, visiting fellows, and associates committed to our vision of global prosperity for all. The recipe for our practical approach and impact reflects the time and talent of these CGDers, and we are glad they have chosen to stay engaged with the important work we are all a part of in one way or another.




Heather Haines: A Hallmark of CGD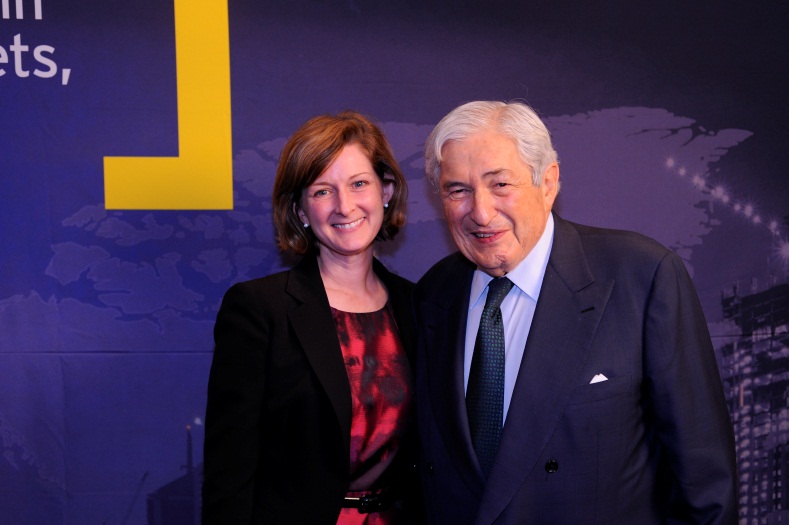 Heather Haines with former World Bank President Jim Wolfensohn.
Anyone who attended a CGD event between 2006 and 2010 will remember Heather Haines' warm and smiling face, as well as her uncanny ability to match each and every visitor's name to a face, recalling personal details and charming anecdotes that never failed to make each guest feel welcome and at ease. As events manager for nearly five years, Heather was responsible for designing and executing hundreds of breakfasts, panels, private briefings, and large-scale events. Her many contributions helped CGD become a fixture for intellectual discourse and timely policy discussions within the development community.
Remembering high-level events (including those featuring then-Secretary Clinton, Nigerian Acting President Goodluck Jonathan, Senator John and Cindy McCain, Nigerian Finance Minister Ngozi Okonjo-Iweala, and countless others), Heather graciously credits her time at CGD for honing her diplomatic skills. "Working at the Center gave me experience and insight into both managing both the big-picture issues at stake with event planning—how to convene the right people together in a room, which specific organizations to include, how to leverage CGD's comparative advantage on a particular issue—while at the same time juggling the many logistical details that go into each event," she recalls. In a role full of unexpected curveballs (both in the spotlight and behind the scenes), Heather's rare combination of quiet humor, warm competence, and steel-nerved demeanor allowed her to flawlessly and handily meet each and every challenge with composure and grace—skills that have proved invaluable in her current role as director of programs at the Meridian International Center.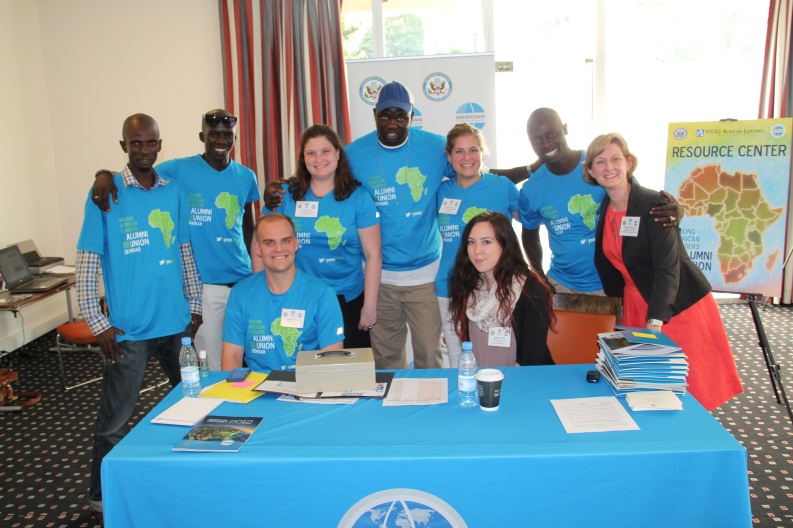 Heather in Dakar, Senegal with participants of the President's Young African Leaders Initiative (YALI) Seminar.
Looking back, Heather cites a CGD trip to Denver during the 2008 Democratic National Convention, at which CGD hosted a side-event, as among her favorite memories. "Nancy, Sarah Jane, and I were in the green room in advance of a major panel discussion in which Nancy had been asked to participate, along with the likes of Secretary Madeleine Albright and Ben Affleck."  Heather recalls fondly that "when we pulled Nancy over to introduce her to Jennifer Garner, Ben's spouse, she warmly asked the A-list star, 'So, Jennifer, what do you do?'" (We are relatively certain that this only served to charm the equable starlet, who was well-accustomed to the bright lights of Hollywood and who likely welcomed this rare moment of relative anonymity.)
Given Heather's many talents, the next step in her post-CGD career was a clear and seamless transition. In 2010, Heather became manager of programs at the Meridian Center, an institution well known in DC circles not only for its beautiful historic buildings, but also for hosting hundreds of different wide-scale and high-level events in the international community—such as the Meridian Ball, which includes the participation of some twenty embassies around Washington hosting pre-Ball dinners. Today, as director of Meridian's public programs, Heather's role includes planning, developing, and executing programs ranging from lecture series, symposia, roundtables, and major forums that support Meridian's mission.
This year, Heather has spearheaded key programs and events at Meridian including the Fourth Annual US Global Leadership Project, a discussion on the Changing Middle East and the Implications for Women and Girls featuring Kim Ghattas (BBC State Department Correspondent and author), and the 2013 Global Perspectives Film Series. Heather also recently returned from planning a reunion summit for the President's Young African Leaders Initiative (YALI) Seminar in Dakar, Senegal, which convened many of Africa's top emerging leaders to deepen and expand networks they have built over the last three years, and to provide a platform and chart a path forward for developing their businesses and organizations.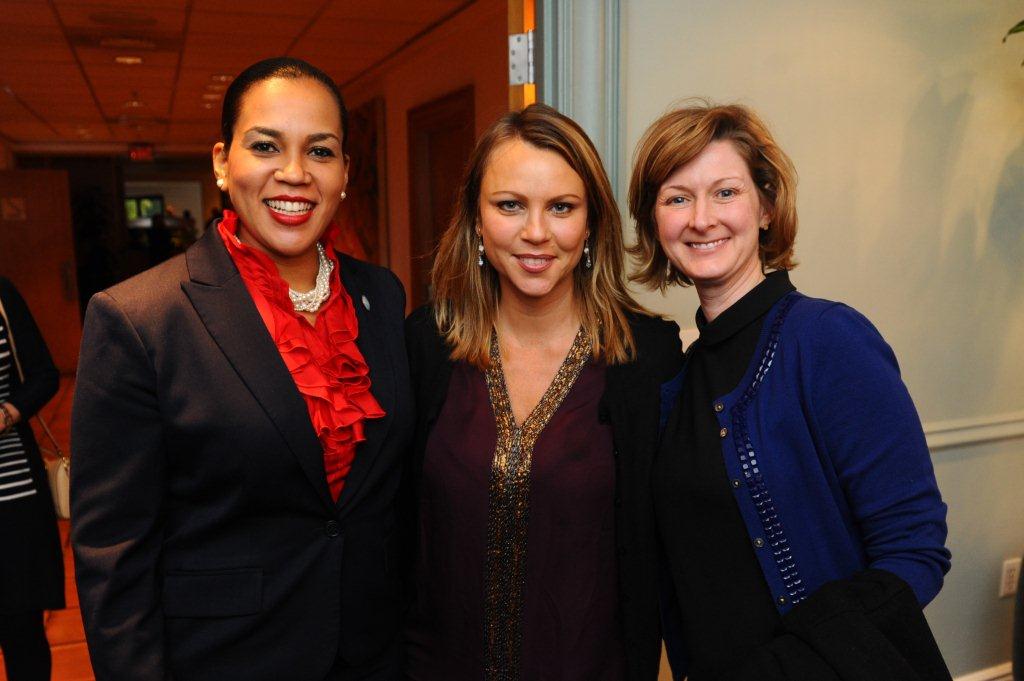 Heather with a colleague and journalist Lara Logan (center), who received the Meridian Center's International Women of Courage Award in 2013.
Heather's deep-seated drive to make the world a better place is embodied not only through her professional career, but through her many passions. Many of you will remember Heather's humbling determination to "walk the walk" when it comes to public service and helping those in need, especially those living in our own backyard. She has been a long-time regular volunteer with DC's Columbia Lighthouse for the Blind, and explained that while she lauds CGD's unique mission and knows that many CGDers are
involved in regular community service in an individual capacity, she'd love to see the Center as an organization that internally promotes more regular volunteer opportunities in DC, as well as provide more opportunities for junior staff to travel to the developing countries in which their research work is focused when possible. As an institution that tackles inequality and poverty across the globe, we would gladly incorporate this—along with many of Heather's remarkable traits—into the CGD DNA.
Heather and her husband John, who recently returned from the Middle East in 2011 (after two years in Iraq with the US Treasury's International Affairs Division), live in Takoma Park, MD with their two adorable whippets, Jasper and Pablo.  
Did You Know? Alumni Developments
Have news to share with CGD and alums? Please send your news and developments to Anna Moran.
Former program coordinator Christina Droggitis (2009-2011) recently completed her Master's Degree in Public Administration at George Washington University and is now a policy analyst at USAID.
Former policy outreach assistant Kaci Farrell (2009-2011) recently completed her Master's Degree in Public Policy at the University of Chicago and is now an associate program officer of global development programs at the Bill and Melinda Gates Foundation.
Former program manager Gargee Ghosh (2003-2004) has been appointed as a member of President Obama's Global Development Council. 
Former constituent relations coordinator Aaron Hoffmeyer (2009-2011) is now a platform operations analyst at Twitter, Inc.
Former communications intern Lauren Konopacz (2008) is currently in Rio de Janiero, conducting research on livelihood systems and conservation as development for her Master's program in Development Practice from Trinity College in Dublin.
Former director of institutional advancement Sarah Marchal Murray (2007-2013) is now senior vice president of development and communications at the END Fund in New York City.
Former policy outreach assistant Chris Molitoris (2011-2012) and former communications intern Alli Blount (2012) recently announced their engagement.  Best wishes to the happy couple!
Former research intern Amaka Okechukwu (2012) recently founded Afrimind, a non-profit organization that serves as a community platform for business, politics, and economics ideas throughout Africa.
Former financial services research intern Alexandra Rock (2011-2012) is now a project manager at the Federal Reserve Board.
Former research assistant Bilal Siddiqi (2005-2006) is now a postdoctoral fellow at Stanford University's Center on Democracy, Development, and the Rule of Law.
Former research assistant Ross Thuotte (2010-2012) was recently promoted to senior economic and financial analyst at the Federal Reserve Bank of New York.
Senior fellow emeritus David Wheeler recently published his own action/mystery thriller e-book, Drone Strike, which features young Americans and Iraqis who are thrown together by two drone strikes in 2008 (author's note: all characters are fictional, including himself—he uses the pen name Nathan Mosby).
If you are a CGD Alum and would like to connect with current and former colleagues at the Center, please join our LinkedIn Group or contact Anna Moran.