2011 Sabot Lecture by Esther Duflo: Can Evidence Play a Role in the Fight against Poverty?
Esther Duflo, who will deliver this year's Sabot Lecture on April 11, is alleged by some French reviewers to be making development economics "chic." That's no small feat, even for the recipient of the prestigious 2010 John Bates Clark Medal, awarded each year to the American economist less than 40 years old judged to have made the most significant contribution to economic thought and knowledge.
Duflo is professor of poverty alleviation and development economics at the Massachusetts Institute of Technology and co-founder of the Abdul Latif Jameel Poverty Action Lab (J-PAL). She is best known for her work applying randomized controlled trials and other forms of impact evaluation in field experiments to identify which development interventions actually work.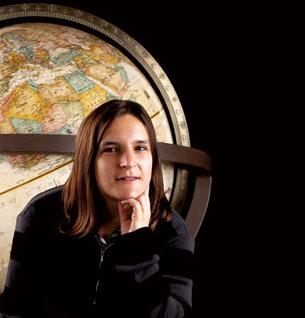 Photo Len Rubenstein: www.lenrubenstein.com
"Esther's success in improving development outcomes through rigorous research and savvy policy engagement, combining the roles of scholar and development policy entrepreneur, make her the perfect choice to deliver the sixth annual Richard H. Sabot Lecture," says CGD president Nancy Birdsall. "I'm looking forward to hosting her talk."
The lecture honors the life and work of Richard "Dick" Sabot, a professor, celebrated development economist, and successful internet entrepreneur who was a founding member of CGD's board of directors.
Birdsall will moderate a discussion following the April 11 talk. The event, which is already booked to capacity, will be available on the CGD homepage through a live webcast starting at 5:00 p.m. EDT
In Duflo's 2010 Ted Talk on Social Experiments to Fight Poverty, she compares implementing development projects without knowing what works to the Medieval medical practice of using leeches to treat patients.
"If we don't know whether we are doing any good we are not any better than medieval doctors and their leeches. Sometimes the patient got better, sometimes the patient died. Is it the leeches? Is it something else? We don't know."
Duflo's Sabot Lecture will expand upon these ideas, drawing upon her new book with J-PAL co-founder Abhijit Banerjee, Poor Economics: A Radical Rethinking of the Way to Fight Global Poverty. Duflo and Banerjee's research has led them to identify new aspects of the behavior of poor people, their needs, and the way that outside assistance can affect their lives.
Duflo joins a distinguished list of previous Sabot speakers, including Kenneth Rogoff, Thomas D. Cabot Professor of Public Policy and professor of economics at Harvard University; Kemal Dervis, vice president and director of Global Economy and Development at the Brookings Institution; Lord Nicholas Stern, IG Patel Professor of Economics at the London School of Economics and author of the Stern Review; Ngozi Okonjo-Iweala, former finance minister and minister of foreign affairs of Nigeria and distinguished visiting fellow at the Brookings Institution; and Lawrence H. Summers, former president of Harvard University and former Secretary of the Treasury. You can view the past Sabot Lectures and learn more about the series' namesake on our website here.