More than 5000 international personalities and technical experts are wrapping up the Women Deliver Conference in Copenhagen this week. The topic: how to empower women, reduce gender inequality, and improve the sexual and reproductive health of women and girls in low- and middle-income countries.
Family planning and reproductive health commodities are central to this broader agenda. Yet according to our onsite sources, the conference has barely (if at all) remarked on the funding cuts that UNFPA, the United Nations Population Fund, has experienced since last year.
This funding crisis unfortunately has its roots in Women Deliver's Scandinavian backyard. Denmark, the country playing host to the conference, has actually cut its funding to UNFPA in half since last year, thereby affecting the organization's ability to purchase family planning commodities on behalf of low-income countries. The Guardian also reported that Finland, two years ago UNFPA's third largest donor, has reduced its core funding to the agency from €33.55m (£26.3m) last year to €19m in 2016.
These cuts to UNFPA run deep. Worse still, most of these decisions have been taken with little advance notice, from one fiscal year to the next, allowing no time for other donors to substitute or for recipient country governments to budget the expenditure themselves.
While there is much to say about how to make UNFPA more effective, the organization's family planning commodities procurement and distribution program (UNFPA Supplies) is a star, purchasing and supplying commodities for about a third of all users of modern contraceptives in Family Planning 2020 focus countries. The UNFPA commodities program is also notable for its data transparency and demand forecasting efforts (see here).
Data provided to me by UNFPA suggests that the supplies trust fund had a terrible year in 2015 (receiving about 40% of what it received in 2014) and the situation looks about the same for 2016.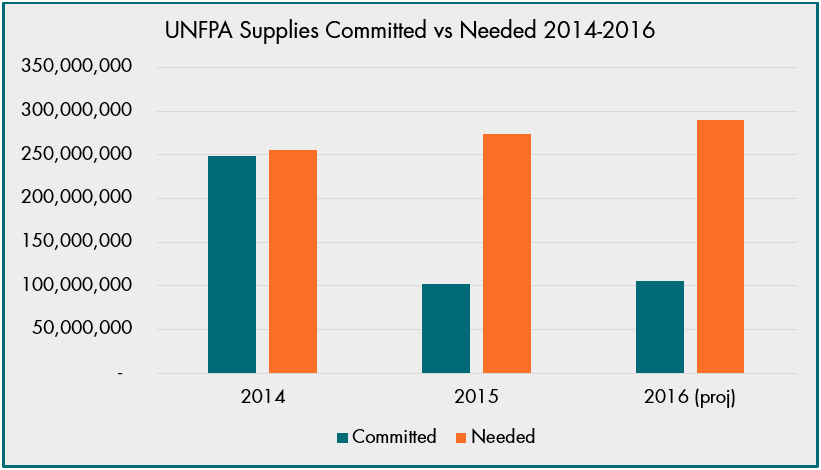 So what's going on? Aid budgets are under pressure to respond to the European refugee crisis, as in Sweden. UN contributions are increasingly scrutinized, as in Finland. Norway bet its money on the Global Financing Facility at the World Bank.
Together, it's a perfect storm for UNFPA Supplies; the agency now estimates a US$750 million funding gap for 2016-2020 just to maintain current activities. And on the current trajectory, achieving the FP2020 or SDG goals looks entirely off the table.  
What is Women Deliver—an advocacy conference—doing to help raise money for the cause? Where is Family Planning 2020 on this topic? Here is a do-or-die moment for the so-named accountability mechanisms to create accountability; can they rise to the occasion? 
Disclaimer
CGD blog posts reflect the views of the authors, drawing on prior research and experience in their areas of expertise. CGD is a nonpartisan, independent organization and does not take institutional positions.