Funding for overseas aid is under fire. And more shots are sure to come. Politicians will be questioning aid's effectiveness and value, perhaps reshaping aid to stress domestic interests.
So it's a good moment to remember: Development cooperation goes way beyond sending money. Aid is important. But we have barely explored the potential for innovative, non-aid cooperation to offer mutual benefits for richer and poorer countries.
Here's exactly what we mean: a small pilot project between the US and Haiti showed that the US could directly and effectively assist Haitian families to earn dignified livelihoods—at negative cost to US taxpayers. That is, the two countries could cooperate for development in a way that actually adds value to the US economy. It did this with short-term work visas.
In 2010, one of us (Clemens) proposed a new idea to help Haitians recover from that year's devastating earthquake: open up limited new channels for lawful mobility between the two countries. Over the course of five years, this idea became a reality: first when the US Department of State made Haitians eligible for temporary work visas with bipartisan support, and next with a pilot project matching Haitian farmers with unfilled agricultural jobs in the United States.
Watch a US farmer and a Haitian farmer describe in their own words how this program has benefited both of them, and both countries:
We recently conducted an impact evaluation to assess the project's impact on both the Haitian and US economies, now forthcoming in the peer-reviewed IZA Journal of Labor and Development. A recent piece by The Economist explains what we found:
A new study by Michael Clemens and Hannah Postel of the Centre for Global Development compares those Haitians who secured visas through the project with unsuccessful applicants left behind. The benefits were mind-boggling: the temporary migrants earned a monthly income 1,400 percent higher than those back in Haiti. Most of their earnings flowed back home in the form of remittances. For comparison, a 10–30 percent raise would normally be cause for celebration.
The sample for the study was small. But its findings match those for a similar scheme that offered temporary agricultural work in New Zealand to people from Tonga and Vanuatu. That policy was assessed by economists at the World Bank as "among the most effective development policies evaluated to date".
But that effectiveness for Haitians is just the beginning. We find that granting temporary work visas to people from developing countries has three major benefits compared to traditional foreign aid. It is larger: Haitian households with a worker who traveled to the US doubled their annual income in just a few months. It is more direct: workers brought more than 85 percent of their earnings home. And it also benefits the United States: in one month, each Haitian worker added $4000 to the US economy.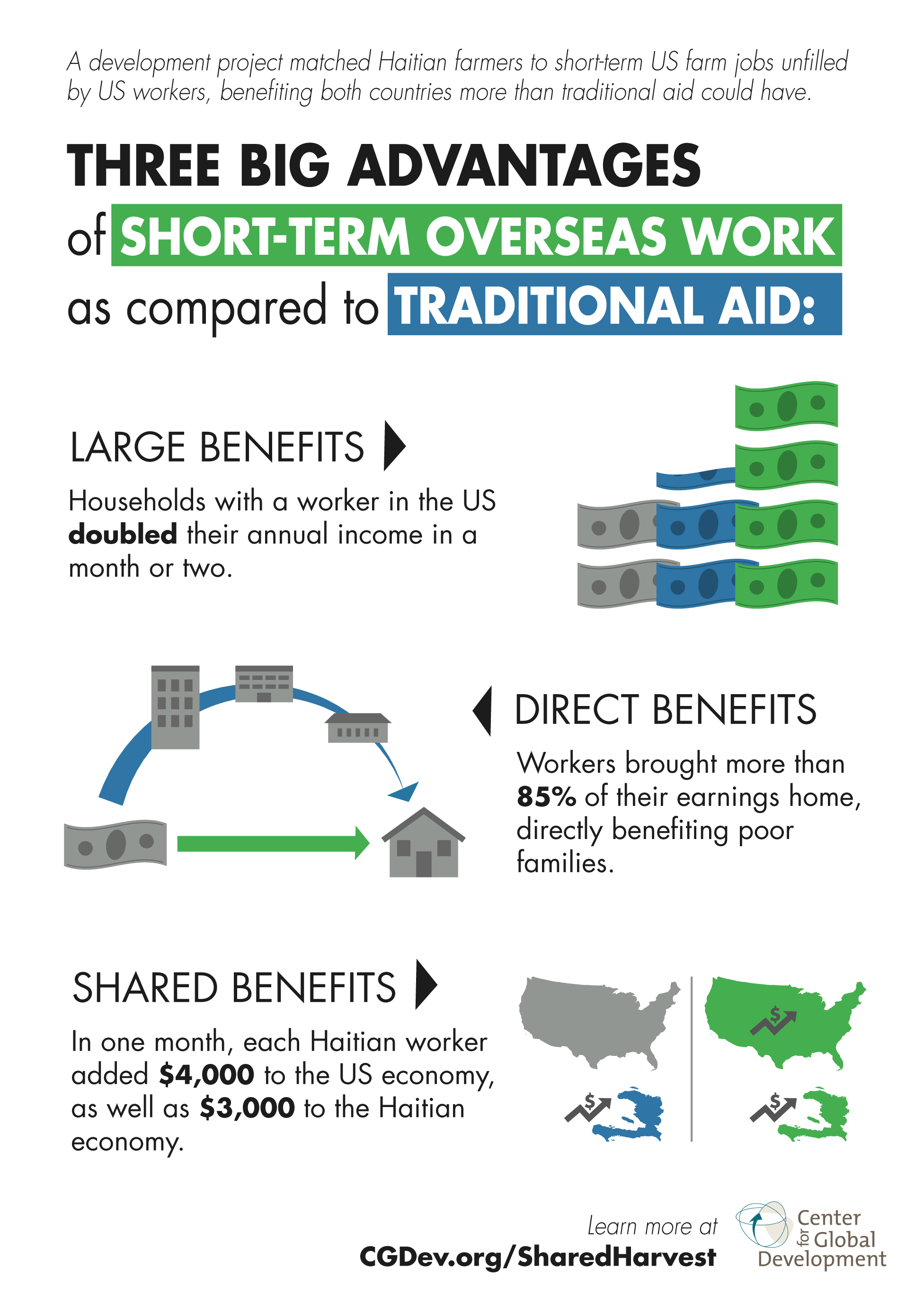 These results suggest large unexplored potential in fostering temporary labor mobility to benefit rich countries while effectively assisting the poor overseas. Such a program checks all the boxes for politicians expected to prioritize donor-countries' national interest and cost-effectiveness in setting strategy for development cooperation.
This is not a call to replace aid. It's a call to innovate, to break the mold and test out new ways of doing development cooperation: new and more effective forms of aid, new and more effective ways to cooperate without aid. Traditional aid may be entering something of a crisis. But crises have an upside if they push us to open up new possibilities.
Disclaimer
CGD blog posts reflect the views of the authors, drawing on prior research and experience in their areas of expertise. CGD is a nonpartisan, independent organization and does not take institutional positions.