The New Liberia: From Conflict to Recovery
Monday, February 12, 2007 -

9:00am

to

10:30am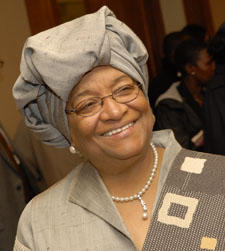 Liberia's 14-year civil war left the country in ruins. Following the inauguration of President Ellen Johnson Sirleaf in January 2006, the country has begun the long journey to recovery. The new government has resettled tens of thousands of refugees, begun training new security forces, increased government revenues by more than 40 percent, restored electricity and water to parts of the capital, substantially increased primary school enrollment, and begun to rebuild roads and other critical infrastructure.
President Sirleaf, Africa's first elected female head of state, provided an overview of Liberia's first year and described the major challenges facing Liberia as it moves forward. She also provided a preview of her expectations for the Liberia Partner's Forum, in which Liberia will meet with its major international partners this week in Washington D.C. to describe its progress, outline its strategy for the near future, and discuss the ways in which the partners can best support Liberia's efforts towards recovery and sustained development.
The event featured: H.E. Ellen Johnson Sirleaf, President of the Republic of Liberia with discussants Congressman Jesse L. Jackson, Jr. (D-IL) U.S. House of Representatives, Antoinette M. Sayeh Minister of Finance, The Republic of Liberia, and Steven Radelet Economic Advisor and Senior Fellow, Center for Global Development and was moderated by Nancy Birdsall President, Center for Global Development.
Read the speeches delivered by:
or
*Watch video clips from the event:
*(The video streams in Quicktime. If you do not have Quicktime player on your computer download it for free, if you have trouble watching the streaming video, please use the download links
Upcoming Events
In a recent paper, Kate Ambler and coauthors studied the impact of one-season cash transfers for agricultural investment in Senegal and Malawi, using data from a randomized control trial (RCT) in each country. They found evidence that transfers reduced both the number of decision makers and female decision making in Senegal in the short-run, particularly for measures directly related to agriculture. However, the effects disappeared two years after the transfers. Conversely, the authors find transfers in the Malawi program led to robust transitory increases in these measures, seeing a greater impact related to the number of decision makers in the household persisting after two year period. Join us for the latest CGD Invited Research Forum to discuss these opposing findings on the effects of cash transfers on household decision making.