Related Content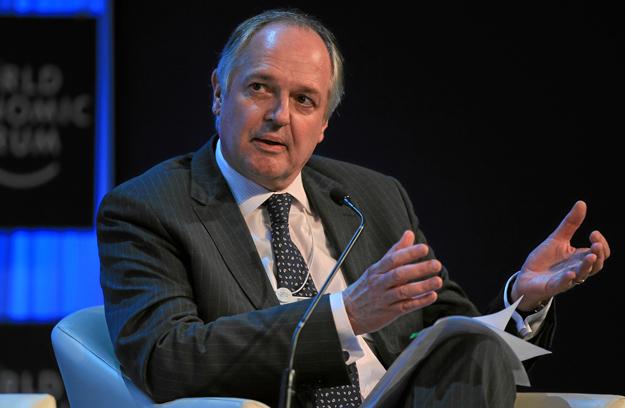 Washington, D.C. (December 16, 2013)
– Paul Polman, Chief Executive Officer (CEO) of the multinational consumer goods company Unilever, has been named the winner of the 2013 Commitment to Development Ideas in Action Award for a range of activities including his global leadership in efforts to reduce tropical deforestation, an important driver of climate change.
Bestowed annually since 2003, the Commitment to Development Ideas to Action Award honors an individual or organization for making a significant contribution to changing attitudes and policies of the rich and powerful toward the developing world. The award, sponsored jointly by the Center for Global Development (CGD) and The FP Group, the publishers of Foreign Policy, will be presented at a dinner at CGD's Washington headquarters on February 11.
Mr. Polman has been an outspoken and effective advocate for reducing tropical deforestation associated with the production of consumer goods across the industry. He has also been active in nutrition promotion and as a participant in high-level UN discussions on the post-2015 development goals.
"Paul Polman is making a real difference in both attitudes and practices of international businesses, especially those that rely on raw materials from tropical developing nations for the production of consumer products," said CGD president Nancy Birdsall. "The Center for Global Development and the FP Group are delighted to honor his leadership with the 2013 Commitment to Development Ideas to Action Award."
David Rothkopf, the CEO and Editor-at-Large of Foreign Policy, said "Mr. Polman is setting a great example for other corporate CEOs. The world would be a far better place if we had more business leaders with his foresight and commitment." Rothkopf has written extensively on global elites. His most recent book is Power, Inc.: The Epic Rivalry Between Big Business and Government and the Reckoning that Lies Ahead.
"We have never had a better opportunity to eradicate poverty and at the same time achieve a more sustainable future," said Polman. "Future generations will not forgive us if we fail to act.  Business has to be a part of the solution and I am deeply honored that's Unilever's leadership role has been recognized with the CGD/FP Commitment to Development Award. It only takes a handful of sizeable companies to reach a tipping point and to transform markets - and that is exactly what we try to achieve through the Tropical Forest Alliance and others."
Unilever is the third-largest consumer goods company in the world; Dove, Lipton, Sunsilk, Hellman's, and Knorr are among the company's many brands. Many of these products rely on tropical agricultural products, especially palm oil. Clearing tropical forests for palm oil production is a significant driver of deforestation, which reduces biodiversity, eliminates livelihood opportunities for people who depend on forest-based income, and increases the greenhouse gas emissions driving climate change, the effects of which are already being felt by poor people in developing countries.
Mr. Polman has used Unilever's global reach to publicly confront and minimize these adverse impacts. In 2010, he created Unilever's Sustainable Living Plan, which aims to cut by half the environmental impact of Unilever products by 2020, lift out of poverty half a million small holder farmers who produce agricultural materials for Unilever products, and help a billion people improve their health and wellbeing.
These efforts are showing results: In the first two years of the program, Unilever's use of sustainably-sourced agricultural materials grew to 36 percent, greenhouse gas emissions per Unilever consumer fell by 6 percent and production-associated waste per Unilever customer fell by 7 percent. Unilever publicly tracks its progress, with updates on the company website.
Mr. Polman is the Chairman of the World Business Council for Sustainable Development (WBCSD), a CEO-led organization of companies dedicated to creating a sustainable future for business and society. The organization recently launched Action 2020, a project focused on identifying and meeting the targets that must be achieved by the year 2020 in order to create a sustainable world for 9 billion people in 2050.
Mr. Polman has also been at the forefront of sustainability projects led by the Consumer Goods Forum (CGF), a global network of industry leaders, serving as the co-sponsor of the CGF Sustainability Pillar. In 2012, CGF partnered with the US Government to establish a private-public partnership called the Tropical Forest Alliance (TFA), an effort to end tropical deforestation associated with the production of global agricultural commodities by 2020.
Achieving this goal would have dramatic effects on climate change and hence on development. Mr. Polman noted in a 2009 speech in Copenhagen that tropical deforestation was then responsible for about 20 percent of greenhouse gas emissions, with much of this driven by demand for globally-traded tropical commodities.
That percentage has since fallen, mostly due to increased emissions from other sources. Nonetheless, tropical deforestation remains a serious contributor to climate change, as well as loss of biodiversity and of livelihoods for poor people living in and near the forests.
The Commitment to Development Ideas in Action Award also honors Mr. Polman's contributions to development in non-forestry fields.  
Mr. Polman served as a member of the UN High Level Panel on the Post-2015 Development Agenda. He helped organize a business outreach program to include the private sector in the development discussion; his efforts reached companies in over 30 countries, accounting for nearly 10 percent of global GDP.
As part of the B Team, a group of global business leaders, Mr. Polman contributes to an on-going conversation to create a new plan to make businesses a driving force for social, environmental, and economic good.  
Mr. Polman is member of the Scaling Up Nutrition Movement, a consortium of governments, organizations, and individuals working towards ending hunger and malnutrition.
Previous winners of the Commitment to Development Award include: the European ministers of international development who constituted the Utstein Group (2003); Oxfam's Make Trade Fair Campaign (2004); then-Chancellor of the Exchequer Gordon Brown (2005), then-U.S. Congressman Jim Kolbe (R-AZ) (2006), Global Witness (2007), the ONE Campaign (2008), Diego Hidalgo Schnur (2009), Publish What You Pay (2010), former president of the International Center for Research on Women Geeta Rao Gupta (2011), and then-U.S. Senator Dick Lugar (R-IN) (2012).