Every day I see a consistent flow of new research and analysis in global education. Sometimes it feels like a deluge! There are some policy areas where we already have a great deal of research, but in other cases, one or two studies from a couple of countries drive our knowledge, and new evidence can make a big difference to our understanding. Here are five recent findings that I came across this week that struck me.
As an additional note (not a finding), the Research on Improving Systems of Education (RISE) program for 2019 is up! Register your interest in attending, bookmark it on your calendar (June 19-20) to watch live online, or just peruse the papers: nine of them are already available for you to read.
Figure of the Week: Higher temperatures = lower test scores, across countries and across US counties
Across countries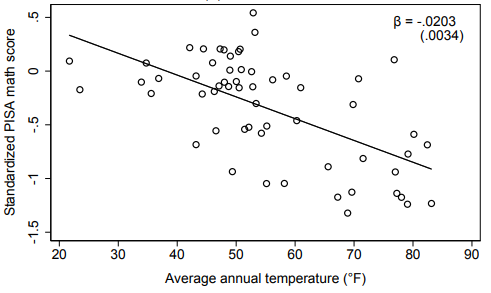 Across U.S. counties

Source: Goodman et al. 2019
Disclaimer
CGD blog posts reflect the views of the authors, drawing on prior research and experience in their areas of expertise. CGD is a nonpartisan, independent organization and does not take institutional positions.