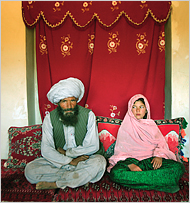 In "The Bride Price," a compelling feature in Sunday's New York Times, correspondent Barry Bearak and photojournalist Stephanie Sinclair (photo featured in this post) focus on the all-too-common phenomenon of early marriage in the developing world. In parts of South Asia, the Middle East and Africa, girls barely into their teens -- and sometimes younger -- are married off to much older men. They are destined to forfeit opportunities for education and work outside the home, and instead face early childbearing and a life of hard labor and little autonomy. In the poorest states in India and in Bangladesh, more than one-third of girls are married off before they reach 15 years. In Nigeria, home to about one-quarter of Africa's children, half of all girls are married off by that age. The families' motivations: a dowry, the chance for daughters to have their basic needs taken care of by another family, compliance with cultural norms.
The dowry may be paid by the groom's family, but the real price of child marriage is paid by the girls, their children and society at large. Early marriage and childbearing bring ill health to the girls and their families, and contribute to the transmission of poverty from one generation to another. Society loses out on the potential economic contributions of its women. Early marriage -- and what can be done to deal with it by civil society organizations and official development agencies -- is the subject of an event on Wednesday (jointly organized by the International Center for Research on Women and CGD) featuring Mahdere Paulos, Molly Melching, Geeta Rao Gupta, Anju Malhotra and Marlaine Lockheed.
Given the prevalence of child marriage in very poor countries, and its profound social and economic consequences, this is not marginal to the development challenge; it's at the heart of the matter.
Disclaimer
CGD blog posts reflect the views of the authors, drawing on prior research and experience in their areas of expertise. CGD is a nonpartisan, independent organization and does not take institutional positions.