Sometimes the thriftiest thing to do is to buy your own place. This is true for families deciding whether to rent or buy, and it turns out to be true for think tanks as well. For us at the Center for Global Development the logic of buying a home, something we had not previously considered much, became blindingly obvious when my colleagues Todd Moss and Ellen McKenzie sat down and did the numbers early last year.
In an astonishingly short time, we will soon be packing up our books and computers and moving to a new headquarters, the entire fifth floor of 2055 L Street, NW, a newly rejuvenated mid-century modern office building, just a few blocks from our current location.  If all goes according to plan, we will be up and running in the new location on November 25.  
It's not only because we are currently located on a leased third floor that I see this fifth-floor purchase as moving up in the world. I'm excited that CGD's new headquarters will include a 170-seat state-of-the art conference facility and a 60-seat boardroom / ideas lab that we will use for roundtable discussions, Board of Directors and Partners Council meetings, and our fortnightly all-staff Research-in-Progress (RIP) lunch seminars.  Also in the works:  a multimedia studio for our burgeoning production of short videos and my weekly Global Prosperity Wonkcast. 
While we will increase our floor space by half, to 33,000 sq. ft., we won't be much bigger in terms of the number of offices (about 30) or open-space workstations (40). That's deliberate, because our president,  Nancy Birdsall,  has long believed that having about 50 to 60 full-time staff on site is a good size for an organization devoted to the creation and rapid exchange and dissemination of knowledge and ideas. That opinion is widely shared in CGD, but we all recognize that it can be hard to resist the temptation to grow. By buying a home with space for about the same number of people as we have now, we impose a binding constraint that will help us to stick by our declared intention to stay small.
Of course, buying a home only makes sense if the finances work. In our case they work out brilliantly, and I'm proud to share just how smart my colleagues have been in working this out. We are disclosing the key numbers in part because of our commitment to transparency and in part because we hope that the math will be helpful to other modestly sized not-for-profits faced with similar rent-or-buy decisions, perhaps especially those based in Washington DC.
The total project cost is $18.3 million, which includes a purchase price of $13.5 million (about $400 per square foot) and $4.8 million for construction, furniture, and fixtures and various taxes, legal fees, and financing charges.
As a relatively young organization that began 12 years ago with a generous start-up gift from our founding board chair, Ed Scott, CGD has no endowment. But we have over the years accumulated a modest reserve fund. Drawing on these reserves and with additional generous gifts from our board and other supporters, we have covered the upfront costs, including a 20 percent down payment. We financed the balance through a District of Columbia program that enables tax-exempt financing for non-profits  and helped to keep the interest rate on our mortgage under 3 percent.
Like a family that stretches to buy its own home, we will be avoiding the risk of future rent hikes. While annual costs initially will be somewhat higher than leasing, they will be lower within seven to eight years, based on conservative assumptions, and all the while we will be building equity.
Our real-estate deal reflects much of what I love about being part of CGD. We aim to be smart, thrifty, and agile because our mission—improving the policies and practices of the rich and powerful to promote shared global prosperity—requires that we make the most of the resources entrusted to us by our supporters.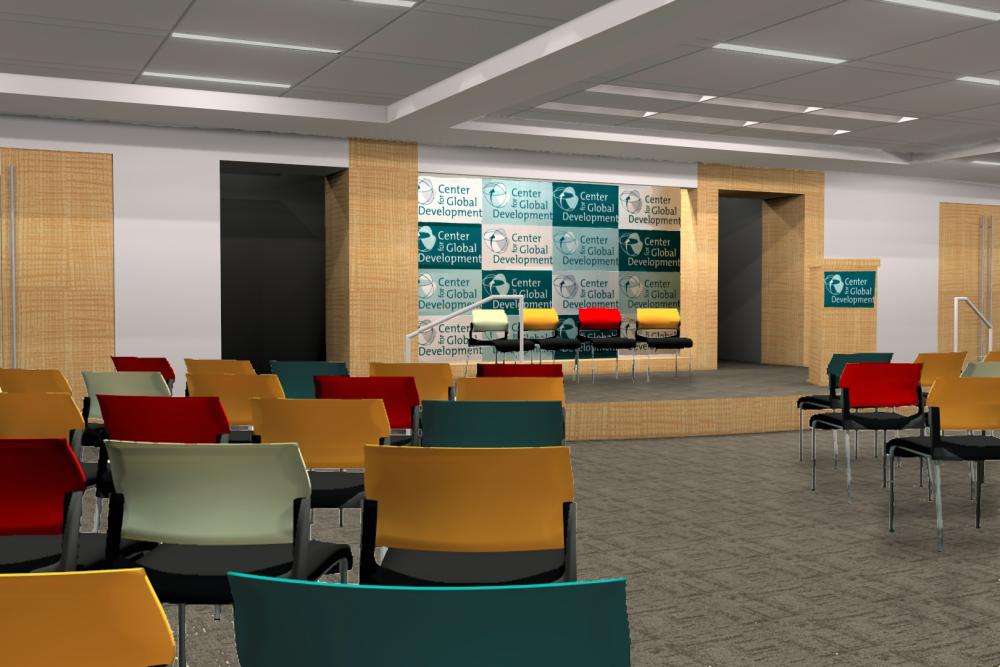 Much has changed since Nancy, Ed, and Fred Bergsten, the founding head of what is now the Peterson Institute, created CGD in 2001. CGD is no longer confined to Washington, having established two years ago a feisty
CGD in Europe
program, with an office in London. Both locations serve as a nexus for those who believe that changes in the policies and practices of the rich and powerful can make a world of difference to the 5 billion people who struggle each day to meet their basic needs.
Still, for the time being at least, CGD's center of gravity remains in Washington which, for all its opera buffa travails, continues to be of outsized importance in the world of global development policy.
I am excited that our new Washington offices, including our own in-house conference facilities and state-of-the-art telecommunications, will help us do a better job of putting innovative development policy ideas on the US and global agenda.  There is no doubt that we will be better positioned to serve as a global development policy hub, hosting events for Washington residents and visitors, and staying in closer touch with our colleagues in Europe, a growing number of partners around the world, and CGD's impressive roster of visiting and non-resident fellows.  
All of this, I hope, will help us to become even more effective in pursuing our mission of reducing poverty and inequality in the world's poorest places.
My colleagues and I look forward to welcoming our friends and supporters to our new headquarters at the corner of L and 21st streets in northwest Washington DC. While our regular programming will resume soon after the move, we plan to use the remainder of the year to get settled in our new home before holding a series of open-house receptions in early 2014.  If you aren't already receiving invitations to CGD events and you would like to be included, sign up now. Members of the Partners Council and CGD Society will be honored at special receptions.
Disclaimer
CGD blog posts reflect the views of the authors, drawing on prior research and experience in their areas of expertise. CGD is a nonpartisan, independent organization and does not take institutional positions.
Topics