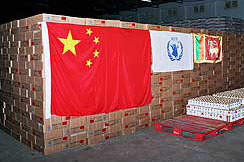 The World Food Program (WFP) has just released its annual Food Aid Monitor with data for 2005 on where food aid comes from and where it goes. At the top, there are no surprises: The U.S. is by far the largest donor, providing 4.0 million of the 8.2 million tons of total food aid. Sub-Saharan Africa is the largest recipient, taking all of that and more, for total food aid delivered of 4.6 million tons. Some people might be surprised that fast-growing Asia also received 2.4 million tons of food aid, but in fact there are more hungry people in Asia than in Africa. Rapid growth offers promise for Asia, but South Asia in particular starts from a very low base with massive poverty.
The big surprise, appropriately flagged in the WFP press release, is that China has emerged as the third largest food aid donor, providing 0.6 million tons. We cannot tell from the WFP report where this food aid went, but I'll bet that China's food aid is being used in the same strategic way that China uses the rest of its foreign assistance--to win friends and access to natural resources. For a fine summary from an African perspective, see Beijing Woos Africa's Contemptibles, by Alec Wescott, an intern at the South African Institute of International Affairs, published last week in South Africa's BusinessDay.
Over the past decade China has emerged as a serious player in the foreign assistance game. But it is not part of the OECD Development Assistance Committee (DAC), does not report its foreign assistance budget or country flows to the outside world, and seems at times to be at loggerheads with coordinated efforts by the DAC donors to bring better governance, improved human rights and less corruption to countries receiving foreign assistance (It is hard to "harmonize" foreign assistance when a key player is not at the table and is perhaps not even interested in the rules of the game.)
China's foreign assistance program needs study. Even before any evaluation can take place, the simple facts need to be put on the table. Alec Wescott's account is a good start. Volunteers?
Disclaimer
CGD blog posts reflect the views of the authors, drawing on prior research and experience in their areas of expertise. CGD is a nonpartisan, independent organization and does not take institutional positions.