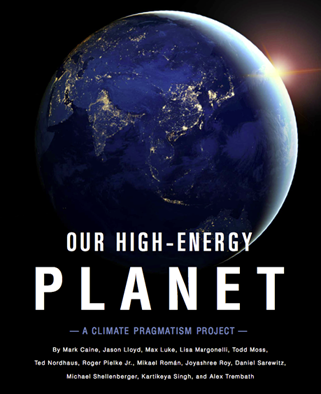 We need to get ready for a world of a whole lot more energy. Recognizing and embracing this reality is a more practical starting point for meeting the development and environmental challenges that we face. That's the bottom line of Our High Energy Planet, a report by an eclectic mix of thirteen authors released today by the Breakthrough Institute and Arizona State University. I was pleased to participate since I've been increasingly worried about energy poverty in Africa and that our policies in Washington aren't yet up to the task. A taste of the report:
So overwhelming and undeniable is the importance of energy to quality of life that any agenda intent upon advancing human development and dignity must place universal and equitable access to modern energy services at its center.... Rather than limiting energy access and consumption, a coherent strategy for human development begins with the assumption that energy equity is necessary for a just, prosperous, and environmentally sustainable society. By building out the worldwide energy system in support of human dignity and widely shared prosperity, we create fertile conditions for the innovations that will generate progressively lower-carbon developmental pathways…. A high energy planet with universal access to affordable, cleaner, and plentiful energy, we argue, is the most practical way to secure socioeconomic development while ensuring environmental protection.
The full Our High Energy Planet report is here.
Disclaimer
CGD blog posts reflect the views of the authors drawing on prior research and experience in their areas of expertise. CGD does not take institutional positions.