I was in Delhi last week and saw Pratham—India's largest non-governmental education organization—in action, thanks to its irrepressible CEO Rukmini Banerji, who arranged a tour of local Pratham sites for me. Just as a picture is worth a thousand words, seeing a program of this caliber and magnitude operating on the ground is worth a thousand research papers.
Finally, after many years, I understand how truly revolutionary Pratham is.
I've been an admirer from afar ever since the economist Abhijit Banerjee and others reported notable increases in test scores on reading and math of remedial sessions led by volunteers using the Pratham method for children struggling in government schools in Mumbai, India. That was in the early 2000s. Not long after, almost by accident, I heard Banerji, now head of Pratham and the godmother of the simple Pratham-designed test ASER (Annual Status of Education Report), speaking at the Hewlett Foundation in California about the Pratham test of learning: a simple test administered orally every year by over 20,000 volunteers to children 5-16 in a representative sample of Indian villages that addresses the following: Does a child recognize letters? Can she read a sentence, a paragraph? Does he know numbers? Can he subtract and divide? And a few years ago, I heard Banerji here at CGD talking about Pratham's efforts to bring its philosophy and its method to government schools in four states, including Bihar, one of India's poorest states. This paper tells that story.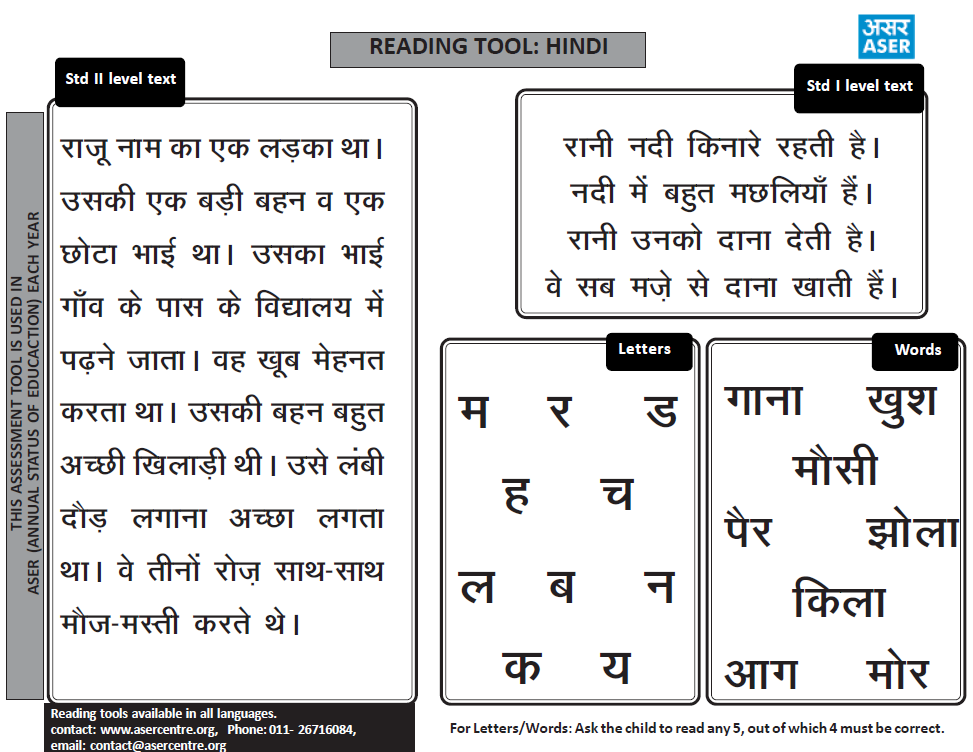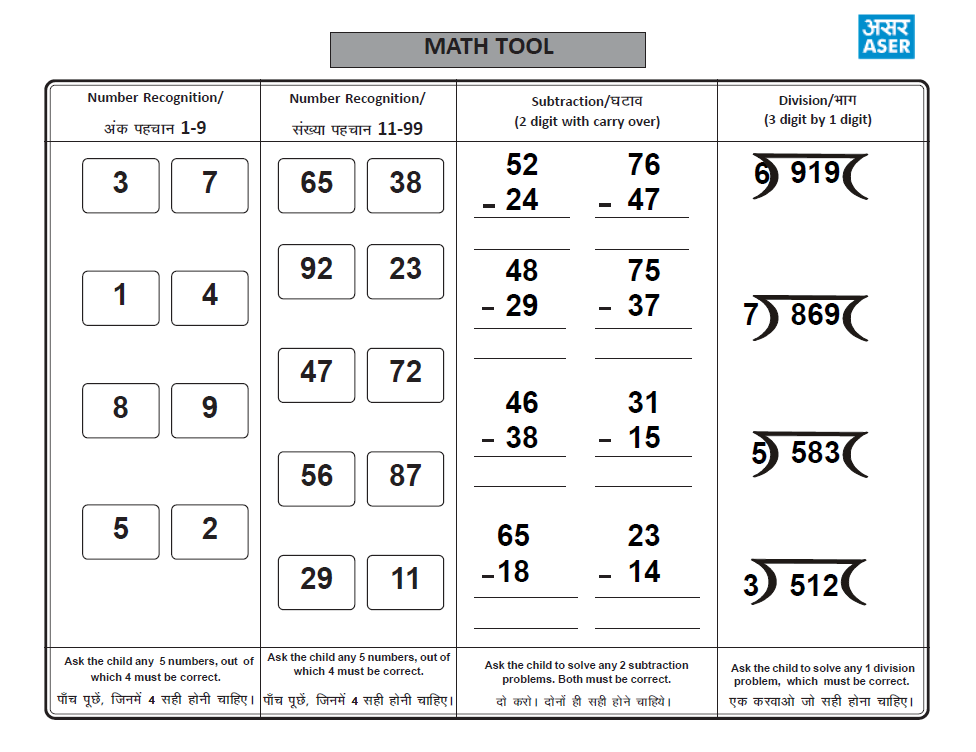 A look at Pratham's ASER test.
What's the revolution exactly? It's the combination of the method (teaching at the right level), the ASER test that clarifies what children have learned or not, and the philosophy (listen, innovate, experiment, evaluate, iterate, listen and do it all again). Finally, there is a practical approach to implementation at scale, namely working with and through government.
The method is known as Teaching at the Right Level (TaRL). It's so straightforward it takes a while to recognize its genius—and why it is setting off a quiet revolution in India, and now in Zambia, Botswana, and other countries as well. The method is to group children not by age or grade level but by what they know already, whether in groups outside of or in school. If they're in fifth or sixth grade and they haven't learned the "foundational" basics of reading and arithmetic, don't expect them to follow the fifth and sixth grade curriculum. They need catch-up, remedial education.
The test is purposefully simple. It alerts parents, communities, and school leaders to the learning crisis in their own village or local school, in a way no major global report (e.g., this one led by Gordon Brown) can. A child's maximum success on what is a simple test—administered in a matter of minutes—indicates she's attained second grade level. In India and in most developing countries, most children— even those in fifth, sixth and higher grades—haven't. (Nor is the US immune for some children.)
The philosophy. See above. (listen, innovate, experiment, evaluate, iterate, listen and do it all again)
The implementation at scale. The idea is to work with governments, passing on ownership of the package: ASER, TaRL, and a spirit of innovation by working with and through government schools, teachers, and local public officials. I saw this in action in Delhi. The reformist Aam Aadmi Party (AAP) that swept the Delhi municipal elections three years ago knew something of Pratham and asked Pratham to work with them on transforming the way schools work in Delhi. A Pratham staff member has been seconded to the Delhi system to learn and listen there, and help introduce the Pratham method. The only woman on the Parliamentary ticket of AAP party knows Pratham philosophy and method well.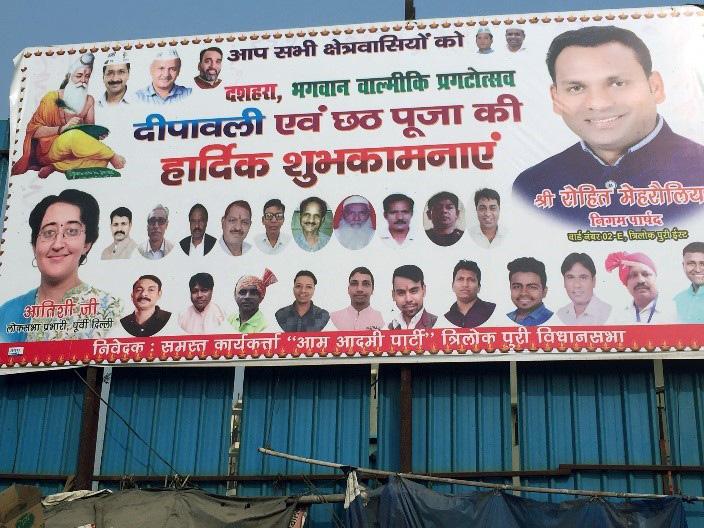 The only woman on the AAP ticket is familiar with Pratham.
Pratham staff Samyukta and Shwetha took a colleague and me first to a Delhi government community preschool using Pratham methods (learn by play) in a poor neighborhood—with lessons for how to do preschool for US cities.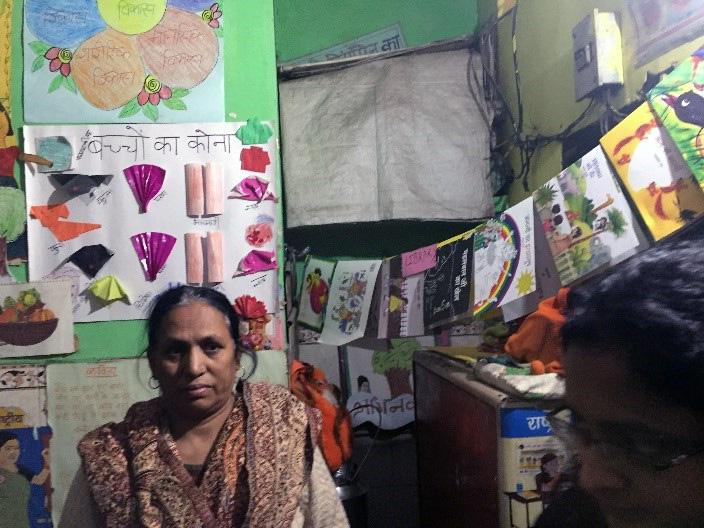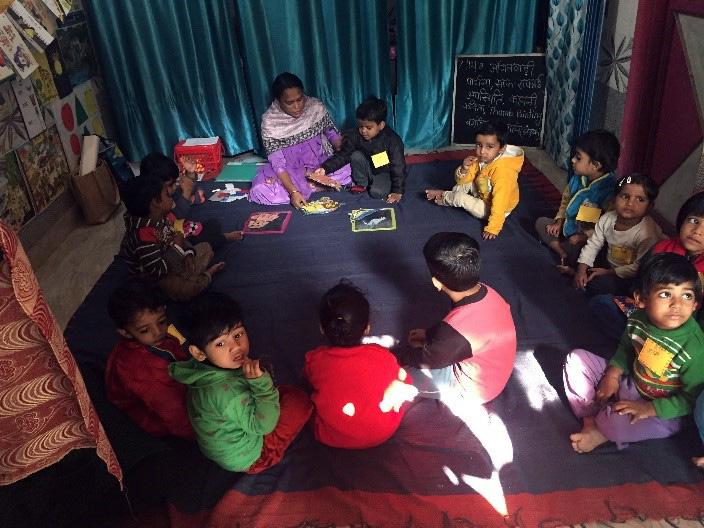 A look at the Delhi government community preschool doing learn-by-play.
We then went to a Delhi "municipal corporation" school and a Delhi municipal middle school. In the municipal school, children were grouped not by age or grade—but by learning level. Two clearheaded and dedicated "mentor" teachers trained by Pratham were eloquent in their enthusiasm for what they were doing. The head of school took us on a visit to a "happiness" class, where a half-dozen of the children (aged 9 to perhaps 14) in a 60-odd seat classroom did the talking and reporting about their thoughts on sharing during two minutes of mindfulness.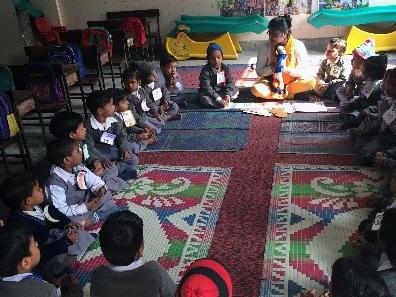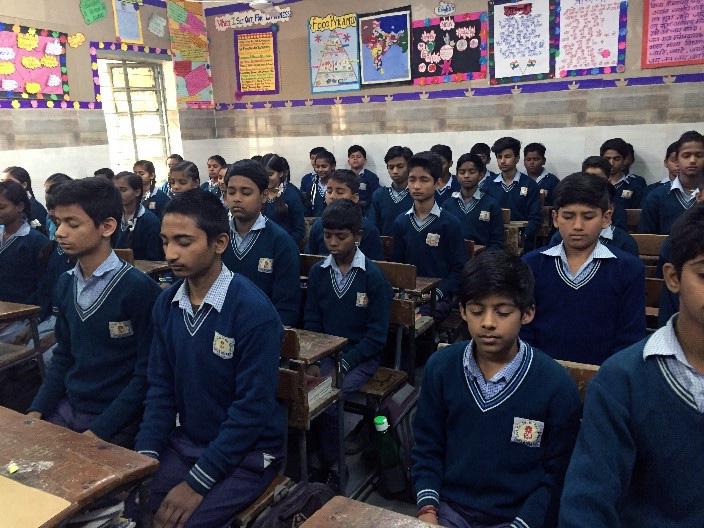 Left: A look into a Delhi corporation school classroom. Right: Practicing mindfulness in happiness class.
Barbara Bruns, a visiting fellow at CGD, has convinced me that measuring learning is the critical first step to better education policies and programs. Pratham's work over almost 20 years shows change, starting with a simple test, can happen at the system level, if you work from the ground up and emphasize local ownership and leadership of the process.
If you worry that too many children in third, fourth, and higher grades in Africa and South Asia are "learning" only that they cannot learn—a crime against those children and a waste for their communities and countries of human talent and potential—and you want to see that changed across the developing world, consider a donation to Pratham (www.pratham.org or www.prathamusa.org) in this season of giving. One of the greatest gifts you can give a child, after all, is the chance to find out she can learn.
Thanks to Kyle Navis for the links. 
Disclaimer
CGD blog posts reflect the views of the authors, drawing on prior research and experience in their areas of expertise. CGD is a nonpartisan, independent organization and does not take institutional positions.