November 27, 2019
Recommended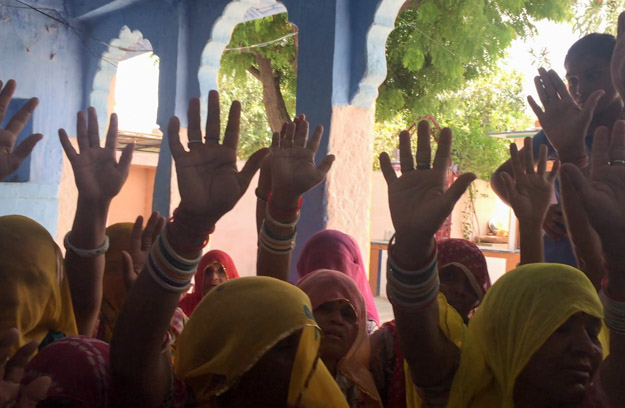 CGD NOTES
What a New Survey of Aadhaar Users Can Tell Us
December 12, 2017
It has now been a decade since India's biometric identification system, Aadhaar, was set in motion. It has been an interesting journey with many twists, turns and speed bumps along the way, but one that is finally settling down into a more predictable path.
Aadhaar now covers 95 percent of adults and is used regularly across a wide range of services as an identity credential. Most people have experienced clear benefits from Aadhaar, especially the convenience of having a single, universally accepted ID and the perception that it has made food rations, workfare programs, and social pensions more reliable.
At the same time, it is difficult for people to update their Aadhaar information. Features such as offline authentication through QR code are not widely used, and problems with Aadhaar data can lead to denial or exclusion from welfare services for a small minority. On the whole, over 90 percent of people are satisfied with Aadhaar and trust the system to keep their data safe, but many believe—incorrectly—that Aadhaar is mandatory for opening a bank account or school enrolment.
These are some of the key findings from the 2019 State of Aadhaar Report released this week by Dalberg, a consultancy, drawing on a survey of over 167,000 individuals spread across India—making it the largest primary dataset on biometric ID in the world. The report also draws on in-depth personal interviews conducted as part of this exercise to put some of the findings in the context of people's lived experience with Aadhaar. Together, they provide a comprehensive picture of the current state of Aadhaar—its contribution to India's digital transformation, its impact on delivery of public services and transfers, and more importantly, its challenges going forward.
At the Center for Global Development, we have explored some of these issues in our ongoing work on digital governance, and have come to similar conclusions. Our surveys in Rajasthan and Krishna district in Andhra Pradesh show significant support for Aadhaar, mainly due to the perception that it has improved delivery of food rations, social pensions, and LPG cooking gas subsidy. States have built on Aadhaar's basic identification and authentication architecture to digitize the delivery of their own programs, reforming supply chains, restructuring incentives for providers, and using digital feedback loops to improve quality and accountability of public services, subsidies and transfers. The findings of the 2019 State of Aadhaar Report support our view that Aadhaar has had a broadly positive impact on both government and the people. But we are still in the initial stages of understanding the full ramifications and tradeoffs that inevitably accompany the shift to a 'digital-first' ID and governance system, both in India and globally.
That means, while considering the successes, we need to be mindful of the downsides and risks that the report clearly points out. First and foremost, the remaining gap in Aadhaar coverage needs to be addressed with urgency—not only the states where coverage is low (Assam and Meghalaya) but also to actively include the most disadvantaged, the homeless, and people belonging to the third gender, for example. Aadhaar's offline authentication remains underutilized, but, done right, it can help address the exclusion of genuine beneficiaries. Finally, Aadhaar needs to continue keeping the trust of the people by keeping their data safe—and by following the posted speed limit as it drives along the digital highway.
Disclaimer
CGD blog posts reflect the views of the authors, drawing on prior research and experience in their areas of expertise. CGD is a nonpartisan, independent organization and does not take institutional positions.