November 18, 2022
Recommended
The authors of this blog will be backing England at the World Cup. But if your team isn't at the World Cup, or if one were to support a team altruistically—which team's victory might produce the largest total amount of happiness?
We update analysis undertaken by (new USAID chief economist) Dean Karlan to look at this question, and bring an effective altruism lens to the World Cup. We explain why altruists should favour Brazil, Cameroon or Mexico, and why Qatar ranks last in our assessment.
How should we measure the utility of a World Cup win?
Eight years ago, economist Dean Karlan produced the World Cup Utilitarian Fan Index—answering the question which team you should support if you only care about the utilitarian principle—how to create the most happiness for the most people.
This index starts with population—bigger countries have more people to enjoy a win. It adds a measure of how much people care about football. The final measure included is income—this is a familiar idea for effective altruists—a boost to income or, in this case, happiness means more to those with very few resources. Indeed, this income effect is strong—empirical and theoretical work suggests giving $100 to someone earning $1,000 a year is expected to have more than ten times the impact on utility as for someone earning $10,000 per year. By the same logic, a world cup win is likely to mean a lot more to people in a country without the resources to enjoy life in other ways.
Clearly this simple 3-factor model can't include everything. For example, we should also consider diminishing marginal utility to wins. Are you going to be as excited about your country's fourth World Cup win as its first? We should also expect unexpected wins to make people happier than expected wins. To be precise, economists Peter Dolton and George MacKerron calculated that unexpected wins add twice as much to happiness as expected wins. Another team of economists have shown the value of tournament wins in nation-building—which might nudge you towards picking younger or more fragile countries. We don't include these extra considerations in our model, so you'll have to make your own mental adjustments.
Vai Brasil?!
Brazil emerges as the nation who would benefit most on pure utility grounds, as it did in 2014, on the basis of being a very large, middle-income, and soccer-mad country. Behind Brazil are Cameroon, Mexico, Ghana, Iran, Senegal, and Morocco. A win for any of these teams could produce between a third and a half of the happiness gains from a Brazil win, but still over 10 times more total happiness than a win for England or the US.
The five countries that would get the most happiness from a World Cup win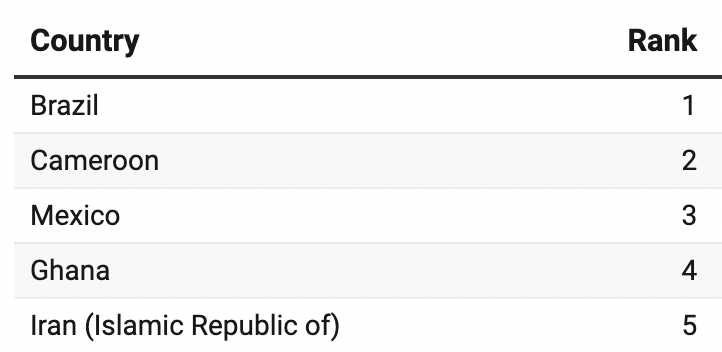 The final ranking will also depend on how much you want to weight either unexpected or new wins. The bookies give Brazil a 20 percent chance of winning the tournament, compared to a less than 1 percent chance for Ghana. So if you think that such an unexpected win might make an individual Ghanaian 2-3 times happier than an individual Brazilian with a win (all else equal), you should go for Ghana. Cameroon, who rank second in our utility calculations, have never won the tournament. If Cameroon's first win is worth twice as much to them as Brazil's sixth win would, then a Cameroon win could maximize overall utility. The same is also true for Mexico who are fractionally behind in third and whose most successful quarter-final appearance (1986) was even longer ago than Cameroon's 1990 appearance at that stage. Things could get even more complicated if we think of rivalries—an Argentinian win would arguably cause the most pain given the impact in Brazil, but we've left that out of our analysis.
What about the World Cup hosts?
Qatar are controversial world cup hosts—with a poor record on civil rights and political freedom (more on this below). Just in terms of our model, they rank last—there may be greater football engagement among the population hosting the competition, but its population is relatively small, and wealthy. In fact, over 80 percent of Qatar's population are (often poorly-treated) migrants, most from South Asia—who, despite being home to nearly a quarter of the world's population, alas have no teams in the tournament. Google searches also put cricket well ahead of football in South Asia so, taken together, there's little case for supporting a home victory.
The five countries that would get the least happiness from a World Cup win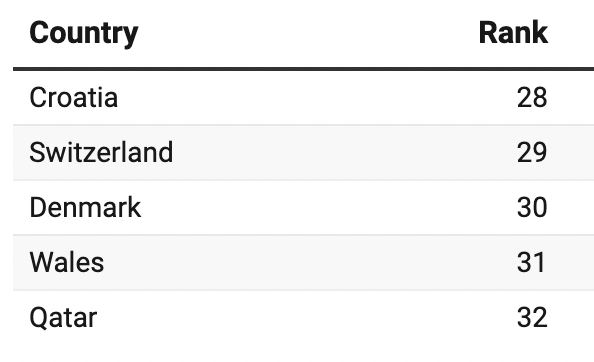 Altruism vs Values
You might be thinking that utilitarianism has had a bad week, with the collapse of billionaire and self-described utilitarian Sam Bankman-Fried's crypto-currency exchange, FTX. So should we be using that approach at all? Is there a virtue ethics or deontological approach to picking World Cup teams?
If we were picking our favourite team based on what they do for the world, Sweden tops both the CGD Commitment to Development Index and the "Good Country" index—but did not unfortunately qualify for the World Cup. Runner-up in the commitment to Development Index is France; and they also deserve development plaudits for the number of migrants in their line-up. Other countries with large migrant contingents are Australia, Morocco, Tunisia, Senegal, Qatar and Wales. Or you might want to support the Netherlands, whose team have taken time out to meet with some of the migrant workers in Qatar who built the stadiums.
Gay rights have also been in the spotlight, as same-sex relations can be punishable by the death penalty in Qatar. Online magazine Outsports ranks countries by their Equality Index, and recommends against supporting teams of countries where simply being gay can result in being sentenced to death or imprisoned—these are Cameroon, Ghana, Iran, Morocco, Senegal, Saudi Arabia, Tunisia, and Qatar (coincidentally, also several of the top countries from the utilitarian index). These are reasons not to favour the leadership in a country but actually, these restrictions to human rights to people in those countries could be just another reason why those people might deserve a World Cup win.
Or perhaps you should put all thoughts of both utilitarianism and politics aside and focus on backing the best footballing team to win—judged by bookmakers to be Brazil.
Still England for us
Hopefully for us England will go all the way for the first time since 1966, and we won't need to come to a final decision on how to weigh up all these factors. But we hope this blog gives you some food for thought on which team (or second team) you might give your support to, and also illuminate the very wide differences in the utility of a positive income or other boost for people in different countries.
You can dig into the data for the full index here.
Disclaimer
CGD blog posts reflect the views of the authors, drawing on prior research and experience in their areas of expertise. CGD is a nonpartisan, independent organization and does not take institutional positions.
Topics