Molly Kinder is fairly certain that she holds the CGD record for repeat hires: four different CGD stints, spanning more than a dozen years and working for some of the legends of CGD's past and present.
She first joined CGD in January 2003 as a program assistant working for Ruth Levine in the newly formed global health program. CGD was just over a year old at the time—so new that the staff only occupied a section of the third floor at 1776 Mass Ave.
How Kinder came to CGD is a story in itself. A year out of undergrad at Notre Dame, she arrived in DC looking for her first job in international development, much the same way an aspiring (and unemployed) country music singer might show up in Nashville, with a guitar and hopes of making it. She landed in DC in the summer of 2002 with a one-way airplane ticket, one suitcase, savings from months of waitressing back home in Buffalo, an offer to crash on a classmate's couch, and one professional contact: the head of Notre Dame's Washington program. On Kinder's first day in Washington, she explained her passion about the issue of poverty in the developing world to him. He tipped her off to the existence of a strip of think tanks on Mass Ave and suggested she look at those. Kinder immediately took the red line to Dupont Circle, found the block of think tanks, walked into each one, and picked up their brochures.
In the Peterson Institute's brochure, she spotted a half-page description of the brand new Center for Global Development. She looked up CGD's website and knew instantly that she had found her dream organization. After finding Sarah Lucas's bio in the staff directory, she sent her a cold email introducing herself as a recent undergrad who had volunteered in Chile and Kenya and was interested in her work. Lucas invited Kinder to CGD to meet and ultimately passed her name on to Ruth Levine, who several months later was looking for a young person to help her set up CGD's first global health program. In the meantime, Kinder worked full time as a waitress at a steak restaurant and interned for free at Oxfam—each day walking by CGD's office (with her waitress jacket hanging off a hanger from her backpack), looking up at CGD's third-floor office at 1776 Mass Ave and wondering how to get so lucky as to get a job there.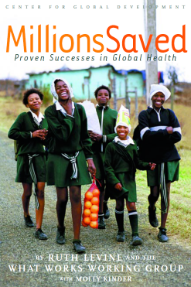 Three months later, Kinder received a call from Ruth Levine about a position and was indeed lucky enough to start her career at CGD. While she didn't strike it rich, she was wise enough to recognize it was truly her dream job. She worked for two and a half years on Levine's team, helping set up the global health program. Much of her time was spent supporting the "What Works" working group, including drafting several of the case studies in the book Millions Saved: Proven Successes in Global Health. A sign of CGD's empowerment of young staff, Levine recognized her contribution with a "with Molly Kinder" co-authorship.
Kinder left CGD for a brief stint at the Gates Foundation before moving to India and Pakistan with the World Bank. She returned the following summer (stint #2) for a brief consultancy to update Millions Saved with several new chapters before heading to graduate school.
After graduate school, she returned to CGD in 2008 (stint #3) as a policy analyst working with Steve Radelet and Sheila Herrling on the Rethinking US Foreign Assistance program. Kinder then began work in 2009 with Nancy Birdsall and Wren Elhai as a senior policy analyst to start CGD's work on Pakistan, managing (and later directing) the Pakistan working group and helping broaden CGD's policy connections in the national security and foreign policy community in Washington. Birdsall, Elhai, and Kinder had a marvelous time together—it was a truly wonderful experience for her.
She left CGD to work in the Obama administration in 2011 to help set up the DIV (Development Innovation Ventures) program: a new USAID initiative that funds the piloting, rigorous testing, and scaling up of evidence-based development solutions. In 2013, she returned to CGD (stint #4) in London in the capacity of a consultant, working on the startup of the Global Innovation Fund, a brand new independent, venture capital–styled fund in London that invests in innovative development solutions. Modeled in part on DIV, the new Global Innovation Fund has received $200 million from five donors. CGD supported Kinder's position during the early start-up of the Fund, which was launched last September . She now serves in a full-time role as vice president for policy and outreach.
Kinder states there is no question that CGD has both defined and propelled her career in international development. She says that she has not only learned and grown immeasurably at CGD in her various roles over the years, but her CGD work and network have directly led to her other positions. Indeed, every single job she has held outside of CGD has resulted from contacts with a CGD alum, board member, or non-resident fellow, whether at the Gates Foundation, ONE Campaign, the World Bank, the Obama Administration, or at Harvard. In other words, Kinder's entire career has been either at CGD or just one step away.
When asked what she would do if she were in Nancy Birdsall's shoes as CGD president for a day, she says would start a CGD fellowship or network of under-35 professionals in development policy in DC from the World Bank, US government, regional development banks, foundations, and nonprofits. The rising stars of the foreign policy and national security communities in DC are very organized through the Council on Foreign Relations, Truman National Security Project, Center for New American Security, and other fellowships and networks. The development community, in contrast, is fragmented across so many different institutions with shockingly little interaction between rising leaders and little direct exchange of ideas. CGD, with its incredible reach across all of the top development institutions, would be a terrific center for such a network.
Last May, Kinder got married just outside of Washington, DC, to her British bobby better half, Jayme. Not surprisingly, CGD was well represented at the wedding with colleagues and dear friends from her numerous stints at CGD. Both Birdsall and Levine, as well as "Millions Saved," even made it into her dad's father-of-the-bride speech. Kinder has just moved back to Washington with husband Jayme and baby Harry, who was born at the end of April and who looks forward to attending his first CGD event.