Expanding Labor Market Access for Refugees and Forced Migrants Advisory Group - Member Biographies

Click here to go back to the main page for the Expanding Labor Market Access for Refugees and Forced Migrants Advisory Group .
Working Group Co-Chairs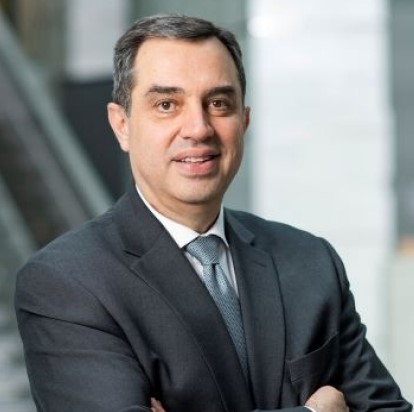 Mr. Imad Fakhoury (Co-Chair)
Director, Infrastructure Finance, PPPs & Guarantees, World Bank and former Minister of Planning and International Cooperation, the Hashemite Kingdom of Jordan
Imad N. Fakhoury joined the World Bank as Director of the Infrastructure Finance, PPPs & Guarantees Group in November of 2019. Fakhoury comes most recently from the IFC, where he held the position of Senior Adviser for Private Sector Solutions. There, he worked to strengthen efforts to mobilize finance for development through leveraging private-sector solutions, creating markets, and reducing public debt. Before joining the World Bank Group, Fakhoury served in successive Jordanian governments as Minister of Planning and International Cooperation, Minister of Public Sector Development, and Minister of State for Mega-projects. He served as Senator in the Jordanian Parliament and as Chief of Staff/Director of Office of His Majesty King Abdullah II. In his capacity as Minister of Planning and International Cooperation, Fakhoury led pioneering work to launch Jordan 2025, successive resilience-based Jordan Response Plans to the Syria refugee crisis and the Jordan Compact. He also served as Governor of Jordan at the World Bank Group, the European Bank for Reconstruction and Development, the Islamic Development Bank Group, the Asia Infrastructure Investment Bank, and the Arab Fund for Economic and Social Development. In his ministerial capacities, Fakhoury chaired several committees including the Economic Development Cabinet Committee, the Ministerial Committee on Decentralization, the Public Sector Development Committee, and the Infrastructure and Mega-projects Committee. He was also a leading member of the PPP Ministerial Committee. Fakhoury chaired the Civil Service Council, the National Training Institute, and the Department of Statistics of Jordan. He was a leading member of the Jordan Investment Commission ministerial board, and the Deputy Chairperson of the Jordan Investment Fund. Fakhoury was one of the key architects of the Aqaba Special Economic Zone as Deputy Chief Commissioner, Commissioner for Investment and Economic Development, and Chairman/CEO of the Aqaba Development Corporation. He also served as His Majesty's Chief of Staff for Planning and Programming, Regional Program and Policy Manager for Arab States at UNDP in New York, as well as Advisor and Director of Research and Economic Affairs for the Peace Process at the Jordanian Ministry of Foreign Affairs. Fakhoury has served as a co-founder and board member in several national strategic infrastructure PPP companies, public organizations, and councils—locally and internationally. Fakhoury has a bachelor's degree in biomedical engineering, a master's degree in engineering management from Case Western Reserve University, a master's in public policy from the Kennedy School of Government at Harvard University, and an executive MBA from Kellogg Business School at Northwestern University. Mr. Fakhoury is the recipient of several medals and awards. He was awarded Al Hussein Medal by His Majesty King Abdullah II in recognition of his dedicated efforts towards economic development and investment attraction. He was also awarded by His Majesty The King of Belgians the Grand Croix De L'Ordre De La Couronne as national decoration of Belgium. Fakhoury was also awarded by H.E. Italian President Sergio Mattarella the Medal of Honour of the Commander Rank (Stella d'Italia). Fakhoury is an Eisenhower Fellow since 2002. Fakhoury is married and has two sons.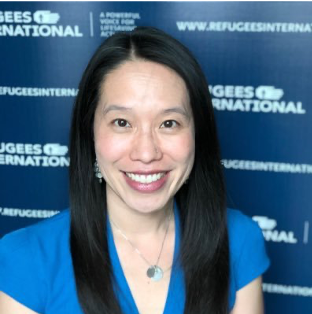 Dr. Cindy Huang (Co-Chair)
Vice President for Strategic Outreach, Refugees International and Visiting Fellow, Center for Global Development
Cindy Huang is vice president of strategic outreach at Refugees International and a visiting fellow at the Center for Global Development. She develops and leads initiatives to build local, state, and national support for improved protection and outcomes for displaced people—both in the United States and around the world. As a senior executive in government and nonprofit sectors, Cindy has led major policy and outreach initiatives on pressing global issues, including forced displacement, food security, and conflict prevention. Previously, she was co-director of migration, displacement, and humanitarian policy, and senior policy fellow at the Center for Global Development, where she managed a team conducting research and outreach on more effective responses to protracted displacement. While in government, Cindy served as deputy vice president for sector operations at the Millennium Challenge Corporation, director of policy of the State Department's Bureau of Conflict and Stabilization Operations, and senior advisor to the State Department's counselor and chief of staff. In her latter role, Cindy managed and represented the interagency leadership team of Feed the Future, a presidential initiative launched by a $3.5 billion commitment to agricultural development and food security. Cindy has also worked for Doctors Without Borders in Kenya, South Sudan, and Nigeria, as well as the Human Development Center in Pakistan.  She holds a Ph.D. in cultural anthropology from the University of California, Berkeley, a Master of Public Affairs from Princeton University's Woodrow Wilson School, and a Bachelor of Arts in Ethics, Politics and Economics from Yale University.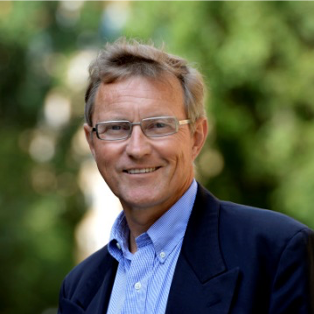 Per Heggenes (Co-Chair)
Chief Executive Officer, IKEA Foundation
Per Heggenes is the CEO of IKEA Foundation, the philanthropic arm of Stichting INGKA Foundation, the owner of the Swedish home furnishings company, IKEA. As CEO, Heggenes sets and drives the Foundation's funding and innovation strategies, and is a tireless advocate for children living in some of the world's poorest communities. Since becoming the Foundation's first CEO in 2009, Heggenes has presided over the Foundation's evolution into a global, grant-making philanthropy that funds programs in more than 45 countries. He serves as an Advisory Group member of the Humanitarian Policy Group at the Overseas Development Institute, London. Heggenes is also a Councilor for the World Refugee Council, Canada and a member of the World Commission for Forced Displacement. Previously, Heggenes held global and regional leadership roles for the shipping and logistics company Wallenius Wilhelmsen Logistics and global public relations firm Burson-Marsteller, based in London and New York. Heggenes served in the Norwegian Air Force and graduated from the University of Augsburg in Germany with a "Diplom Oekonom" (MBA).
Advisory Group Members
Alexander Betts
Professor of Forced Migration and International Affairs, University of Oxford
Alexander Betts is Professor of Forced Migration and International Affairs, William Golding Senior Fellow in Politics at Brasenose College, and Associate Head (Graduate and Research Training) of the Social Sciences Division, at the University of Oxford. He served as Director of the Refugee Studies Centre between 2014 and 2017. His research focusses mainly on the political economy of refugee assistance, with a focus on Africa. He is author of 10 books, including Refuge: Transforming a Broken Refugee System (with Paul Collier), recognised by the Economist as one of the best books of 2017. He is a World Economic Forum Young Global Leader, was named by Foreign Policy magazine in the top 100 global thinkers of 2016, and his TED talks have been viewed by over 3 million people. He has previously worked for UNHCR and has served as a Councillor on the World Refugee Council. His writings have appeared in the New York Times, the Washington Post, and the Guardian. He currently leads the IKEA Foundation-funded Refugee Economies Programme, which undertakes participatory research on the economic lives of refugees in Uganda, Kenya, and Ethiopia. He received his MPhil (with distinction) and DPhil from the University of Oxford.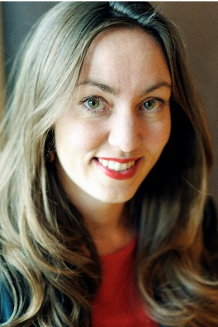 Annemarieke Edwardine Eva de Haan
Managing Director Malaysia & Singapore, Unilever
Annemarieke Edwardine Eva de Haan, Dutch citizen, is Managing Director for Unilever Malaysia and Singapore, and Chairman for Unilever Malaysia Holdings since 2017. She serves as a board member of the Malaysian Dutch Business Council and lives in Kuala Lumpur. Annemarieke is a strong advocate for talent development, workplace diversity and sustainability goals. She plays a leading role in plastics reduction in Malaysia, as well as refugee working rights. She was awarded Best Sustainability Leader in November 2019. She has served Unilever for more than 20 years in various roles across categories. She has worked and lived in different countries, such as the Netherlands, France, Indonesia, Malaysia and Japan. Graduated at Erasmus University Rotterdam and Leiden University with a bachelor's degree in Economics and a master's degree in Japanese language and culture. Apart from English, French, German and Dutch, she speaks Japanese, Mandarin and Bahasa Indonesia.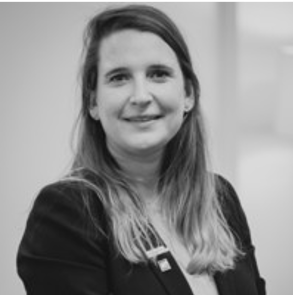 Barri Shorey
Senior Director, Economic Recovery and Development, International Rescue Committee
Barri Shorey is the Senior Director of the Economic Recovery and Development Unit of the International Rescue Committee, which works to ensure that people whose lives and livelihoods have been shattered by conflict or disaster have their most basic survival needs met and have the assets and income to prosper. She manages a team of 30 people supporting quality implementation, research and evidence building, and strategy development of the IRC's global cash and livelihoods programming. Barri began working at IRC in 2006, and has previously serving in technical adviser and program coordinator roles, providing support to and managing programs in IRC's West Africa, East Africa, Middle East, and Europe programs, with a specific focus on curriculum development, microenterprise development, and private sector partnerships. Barri has a BA from Colgate University and an MA from The George Washington University.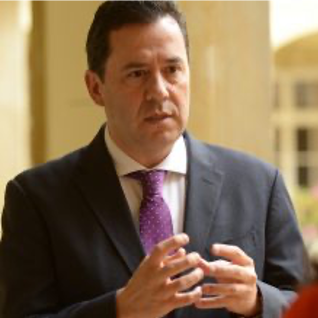 Felipe Muñoz
Advisor to the President of Colombia for the Colombian-Venezuelan Border, Government of Colombia
Felipe Muñoz has been advisor to the President of Colombia for the Colombia-Venezuela Border since February 2018, where he has been in charge of coordinating government responses to the migration influx from Venezuela at the national and regional levels, as well as of integrating related efforts from donors, international actors, and civil society organizations. Previously, he was senior counselor for the Board of Executive Directors of the Interamerican Development Bank. His vast experience in Colombia's public sector includes serving as Private Security Superintendent, Director of the National Intelligence Agency, and posts as advisor to Bogota's Mayor and to the Minister of Finance, among others. He holds a BA in Finance and International Relations from Universidad Externado in Colombia and a Master in Regional and Urban Planning from the London School of Economics and Political Science.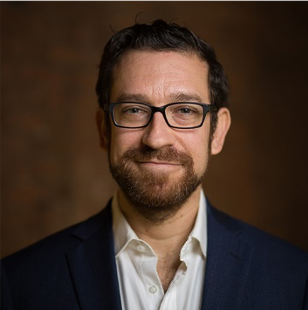 Gideon Maltz
Executive Director, Tent Partnership for Refugees
Gideon Maltz is the Executive Director of the Tent Partnership for Refugees. He previously served as deputy chief of staff to Ambassador Samantha Power at the U.S. mission to the United Nations; director of human rights and multilateral affairs at the U.S. National Security Council; and senior advisor to the Administrator of the U.S. Agency for International Development. Prior to government service, Gideon worked as an attorney in the international trade practice of Hogan Lovells and as a consultant at McKinsey & Company. He has also served as a junior fellow at the Carnegie Endowment for International Peace and a Predoctoral Fellow at Stanford's Center for Democracy, Development and Rule of Law. Gideon has a BA from Yale and a JD from Stanford Law School.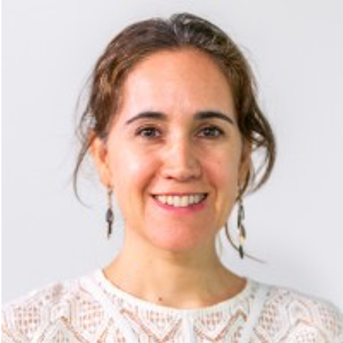 Héloïse Ruaudel
Senior Technical Specialist on Crisis Migration, International Labour Organisation
Héloïse Ruaudel joined the Labour Migration Branch of the International Labour Organization in January 2019. She has seventeen years of experience on humanitarian assistance and protection activities, including in fragile and post-conflict contexts. She has expertise in refugees, forced displacement, humanitarian and development policies. She served as policy analyst, evaluator, researcher, and project manager for a wide range of international organisations, government ministries, non-governmental organisations and academic institutions, including the OECD, the World Bank, the ILO, OCHA, the Finnish, Danish and Swiss Ministries of Foreign Affairs, the Start Network, the Norwegian Refugee Council, Geneva Call, and the Refugee Studies Centre (University of Oxford). She has also worked over the years both for and with UNHCR, in the field as well as at headquarters. In 2016 she has done a substantive research with Roger Zetter, Emeritus Professor at the Refugee Studies Centre, University of Oxford for the World Bank on Refugee's Rights to Work and Access to the Labour Market  and on strengthening ILO's policy framework on forced displacement. She is the co-author of the background paper for the ILO Tripartite Meeting that led to the adoption of the Guiding principles on the access of refugees and other forcibly displaced person to the labour market . In 2017 she undertook a meta-analysis for the OECD on the Response to Refugee Crises in Developing Countries . Before joining the Labour Migration Branch, she assisted the Government of Finland to review its forced displacement programmes and policy. Héloïse holds a Master of Economic and Social Studies in International Politics from Aberystwyth University in Wales and a Master (Hons) in Public Law from the Faculty of Law and Political Sciences of Rennes in France.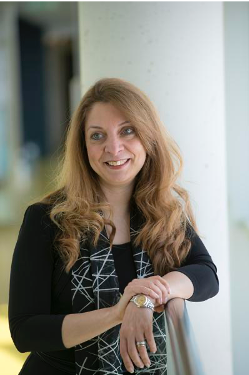 Jackline Wahba
Professor of Economics and Research Director, Economics Department, University of Southampton
Jackline Wahba is a Professor of Economics at the University of Southampton in the United Kingdom. She obtained her PhD from the Department of Economics at the University of Southampton. She is a member of the UK Migration Advisory Committee. She is an economist with substantial experience in international migration and labor markets. She leads the migration research within the ESRC Centre for Population Change at the University of Southampton. She has acted as an advisor to several international organizations, including the EC, the World Bank, the African Development Bank and OECD. She is a Research Fellow of IZA, CReAM, and ERF. She is a member of the Economic Research Forum Board of Trustees, and a member of the Advisory Board of the Migration Observatory, University of Oxford. She is also a member of the Academy of Europe.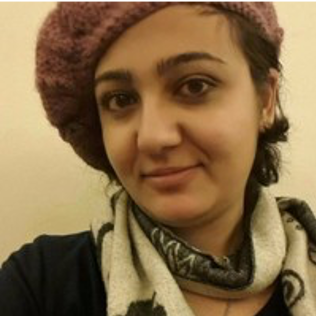 Joanna Ibrahim
Co-Founder & Business Developer at Open Taste & Bluefields Aceleradora
Joanna is a social entrepreneur and currently leads the Open Taste Project and she is a business developer and co-founder of the Accelerator Bluefileds Development. Joanna worked at the Department of Public Relations in local and international companies in Syria. She is also Media influencer.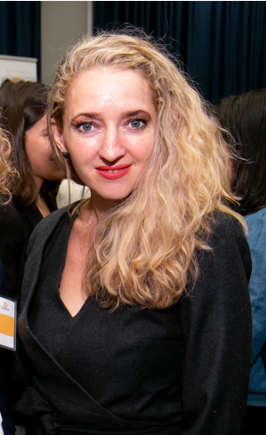 Kellie Leeson
Initiative Lead, Refugee Self-Reliance Initiative with RefugePoint and the Women's Refugee Commission
Kellie C. Leeson leads the Refugee Self-Reliance Initiative with RefugePoint and the Women's Refugee Commission. She has over fifteen years of experience working in East and West Africa, Latin America, and Russia designing and leading health, education, and livelihoods programs for the displaced. She served as Country Director for Kenya and Deputy Regional Director for East Africa with the International Rescue Committee (IRC), and as Managing Director of New York University's Development Research Institute. She has also held advisory and management positions with Concern Worldwide and the American Institutes for Research. Kellie was the initiator and architect of IRC's urban refugee initiative where she developed urban programs, partnerships and platforms and presented widely on the topic. Kellie's work with urban refugees led to her current interest in self-reliance, including co-creating the Well-Being and Adjustment Index and co-founding the Refugee Self-Reliance Initiative. She holds a B.A. from the University of North Carolina, Chapel Hill and a M.A. from Teachers College, Columbia University.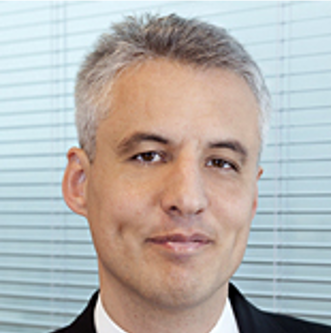 Xavier Devictor
Practice Manager for the Fragility, Conflict and Violence Program, World Bank
Xavier manages the Operational Support and Forced Displacement unit of the Fragility, Conflict, and Violence Group at the World Bank. He has broad experience across regions on country programs, strategy, and policy dialogue, including as Country Manager for Poland and the Baltic Countries (2011-2014), Country Program Coordinator for Egypt, Yemen and Djibouti (2007-2011) and Senior Operations Officer and project manager for Burundi, the Democratic Republic of Congo, the Republic of Congo, and Rwanda (2003-2007). He joined the Bank as a young professional. Earlier in his career, he was Program Manager for UNHCR in the former Yugoslavia, where he managed humanitarian programs including leading humanitarian convoys into conflict areas. He holds a Masters of Economics, Ecole Polytechnique, Paris.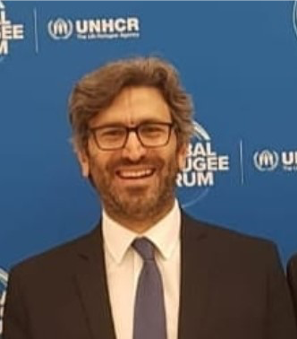 Ziad Ayoubi
Head of UNHCR Livelihoods Unit
Ziad Ayoubi is the Head of Livelihoods Unit at UNCHR (HQ). He has been working on local economic development since 2002. He joined UNHCR in 2012 and since then he has been working on refugees' economic inclusion, resilience and solutions. He is leading the global livelihoods and economic inclusion strategy in UNHCR.