Each year billions of dollars are spent on thousands of programs to improve health, education and other social sector outcomes in the developing world. But very few programs benefit from studies that could determine whether or not they actually made a difference. This absence of evidence is an urgent problem: it not only wastes money but denies poor people crucial support to improve their lives.
In 2004 the Center for Global Development, with support from the Bill & Melinda Gates Foundation and The William and Flora Hewlett Foundation, convened the Evaluation Gap Working Group. The group was asked to investigate why rigorous impact evaluations of social development programs, whether financed directly by developing country governments or supported by international aid, are relatively rare. Its final report, "When Will We Ever Learn?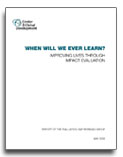 Improving Lives through Impact Evaluation," published in 2006, called on developing countries, aid agencies, foundations and NGOs to close the evaluation gap by adopting good practices in terms of independently evaluating the impact of their own programs and by collectively creating and financing an independent agency to promote and finance rigorous impact evaluations of interest to the entire international community. The analysis and recommendations are also summarized in "Learning from Development: the Case for an International Council to Catalyze Independent Impact Evaluations of Social Sector Interventions."
Today, countries and agencies are putting more resources into impact evaluation. Following the recommendations of the Evaluation Gap Initiative, twelve countries, foundations and NGOs established The International Initiative for Impact Evaluation in 2009. This new organization has not only financed studies that are important to policy decisions but assisted countries in institutionalizing the conduct and use of rigorous evidence in policymaking.
In this four-minute clip from 2010, CGD senior fellow William Savedoff and former vice president Ruth Levine tell the story of how CGD's Closing the Evaluation Gap initiative led to the creation of the International Institute for Impact Evaluation (3ie).
The Center for Global Development continues to follow developments in this critical area for improving public policy in developing countries and improving aid effectiveness through its research, blogs and a newsletter that is published six times a year.