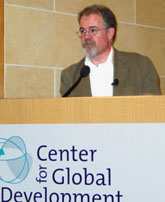 Download the full text transcript (PDF, 91 KB)
Download Dr. Easterly's powerpoint slides (PDF, 221KB)
Watch Dr. Easterly's presentation*
*(Video streams in Quicktime-- if you do not have Quicktime on your computer download it for free)
William Easterly, author of The White Man's Burden: Why The West's Efforts To Aid The Rest Have Done So Much Ill And So Little Good, has added his voice to the growing demand for independent evaluation of foreign aid. A professor at New York University and a CGD non-resident fellow, Easterly said in a CGD talk last week that development assistance lacks CIAO: Customer feedback, Incentives, Accountability, and, therefore, good Outcomes. The solution, he said, is independent evaluation.
"We need independent evaluation of foreign aid. It's amazing that we've gone a half century without this," he said. Truly independent evaluation of aid would "give feedback to see which interventions are working and give incentives to aid staff to find things that work," he said. As a result, aid agencies would "start specializing much more in individual, monitorable tasks for which they can be held accountable."
Senior Fellow Ruth Levine, who chaired the event, is co-chair of the CGD Evaluation Gap working group that recently put forward a draft proposal for a new independent evaluation organization focused on social sector interventions, such as health and education. Levine said that the group has been investigating "why there has been such a deficit of good evaluation about what works in social development programs" and how the development community could do a better job of learning what works. Levine and Easterly testified Tuesday at U.S. Senate Foreign Relations Committee hearing on improving the effectiveness of the multilateral development banks. (Read Levine's testimony; access this and other materials from the hearing on the Senate Website.
Presenting the main arguments of his book at the packed CGD event, Easterly contrasted two approaches. First, an ineffective planners' approach that he said lacks the knowledge and motivation to achieve overambitious, arbitrary targets. Second, what he regards as a more constructive searchers' approach: individuals always on the lookout for piecemeal improvements to poor peoples' well-being, with a system to get more aid resources to those who find things that work.
Kicking off the lively discussion, David Devlin-Foltz, director of the Aspen Institute's Global Interdependence Initiative, saluted Easterly's "terrifyingly acerbic wit" but challenged him to present his arguments in ways that would build support for more effective aid rather than demolish support for aid altogether. "I would ask Bill to do what he can to frame this book consistently as a call for reform, not a death sentence, to mend aid, not end it," he said.