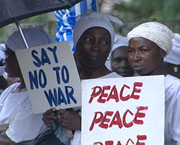 The Center for Global Development (CGD) is excited to announce the six Scott Family Liberia Fellows for 2007-2008.
The selections follow several months of work aimed at identifying fellows to work for one year in Liberia as "special assistants" to senior Liberian government officials, primarily cabinet officials, in a wide range of areas and activities. The fellows are funded through the generosity of the family of CGD Board Chairman Edward W. Scott, Jr. working in a collaborative effort between the Liberian government, the John Snow, Inc. Research and Training Institute (JSI R&T) and CGD.
Liberia is beginning to rebound from over a decade of war and destruction. Although President Ellen Johnson-Sirleaf's government has made significant progress in its first year, the government faces huge challenges. Unfortunately, its ability to address those challenges is constrained by severe capacity shortages at the sub-ministerial level, since many skilled civil servants were either killed during the war or fled the country. The Scott Family Liberia Fellows Program aims to make a small but vital contribution to partially filling this capacity gap and improving the productivity of ministers and other senior officials in Liberia.
CGD senior fellow Steve Radelet, who leads the Center's work in Liberia, said that he was astonished at the impressive qualifications of the applicants. "When we first advertised this program we expected to receive a number of highly qualified applicants, but nothing could have prepared us for the avalanche of incredible applicants that we received," he said.
A total of 230 applications poured in from as far away as India, Russia, Sweden and South Africa. "The applicants were a tremendously talented group, with significant experience, impressive educational backgrounds, and strong writing skills," Radelet said. "With such a talented group, making the final selections was difficult, but we are confident that the fellows will make a significant contribution to Liberia over the coming year."
The six Scott Family Liberia Fellows are:
| | |
| --- | --- |
| Conor Hartman | Conor Hartman served as special assistant to the vice president at the Center for Global Development from 2006-2007. Prior to joining CGD, Hartman held several positions with the Atlanta-based Carter Center, founded by former US President Jimmy Carter. In early 2005, Hartman worked in southern Sudan as a Carter Center technical advisor to the Guinea Worm Eradication Program. There he traveled in remote areas to gather epidemiological data and to jumpstart eradication efforts through community-led volunteer programs. In mid-2005, he returned to Nairobi, Kenya to build partnerships with European governments in support of the Carter Center's efforts in Sudan. Hartman holds a BA in history from Duke University. |
| Dan Honig | Dan Honig is a proud midwesterner from Detroit. Dan is quick to point out the many wonderful things - from Jeffrey Sachs to Madonna ­- that the motor city has given our world. Dan has previously worked in India, Israel, Thailand, and East Timor (where he founded a rural youth empowerment NGO), and has traveled through 20%20 countries. Dan is taking a year out from his graduate studies at Princeton's Woodrow Wilson School to serve as a Scott Family Fellow, and holds a BA in political science and philosophy from the University of Michigan. Dan's long-term interests include reform of foreign aid institutions, aid evaluation, and incorporating entrepreneurship into development practice. |
| Chara Itoka | Chara Itoka has four years of experience working in the field of forced migration. She recently worked at the Massachusetts Office for Refugees and Immigrants as a program coordinator on a pilot project, which targets Somali Bantu, and West African refugees (particularly Liberians) who face multiple barriers to employment and English language/literacy. This is her first trip back to Liberia since 1986. Chara looks forward to contributing her passion and energy to support the repatriation and reintegration process for returnees. She holds a Bachelor of Arts in international affairs from the American University of Paris and a Master of Science in Forced Migration from the University of Oxford. |
| Robtel Pailey | Robtel Neajai Pailey is passionate about activism and writing as forms of personal and social transformation, particularly after traveling throughout Africa and studying in Egypt, Ghana, Italy, South Africa, and Switzerland. Her essays and stories have appeared in Pambazuka News, The Washington Informer Newspaper, Clamor Magazine, Port of Harlem Magazine, allAfrica.com, Global Woman Magazine, The Liberian Analyst, Black Star News, Sea Breeze Journal of Contemporary Liberian Writings, and Mano Vision Magazine. A native of Monrovia, Liberia, Pailey is currently completing a master's degree in African studies at the University of Oxford in Oxford, England. She is a graduate of Howard University, and an aspiring writer/academic. |
| Benjamin Spatz | Benjamin J. Spatz is a graduate of Georgetown University's Master of Science in Foreign Service program, where he focused on conflict management and complex humanitarian emergencies. Ben holds bachelor degrees cum laude in international studies and philosophy from the University of Washington. Currently, Ben is an analyst intern with the political risk consulting firm Eurasia Group and is also completing a research fellowship with the National Defense University's Institute of National Strategic Studies. Ben's recent field experience includes work with the relief and development organization CHF International in Darfur, Sudan and with the United Nations Office for Project Services in Liberia. While in Liberia, Ben served as a UN election observer volunteer for the 2005 elections. Ben is also a photojournalist; his photographs have appeared in a variety of national venues and have won numerous national and international awards. |
| Norris Tweah | Norris Tweah is a proud Liberian, who studied at the University of Liberia from 1995 until 1999. Norris has research interests in development-related areas as diverse as post-conflict accountability and reproductive health. He received the Howard Wolpe African Field Research Award and the Zoa D. Shilling Award (twice) from Western Michigan University's political science department. In 2006 he returned to Liberia and worked briefly for the Center for Transparency and Accountability in Liberia (CENTAL). Currently, he is a member of the board of directors of Able and Willing, an international education foundation that builds schools in Congo- Kinshasa, and is chairing the organization's exploratory initiative for a micro-finance project to benefit poor urban women in Monrovia. He holds a Bachelor of Arts in journalism and a Master of Development Administration from Western Michigan University. |