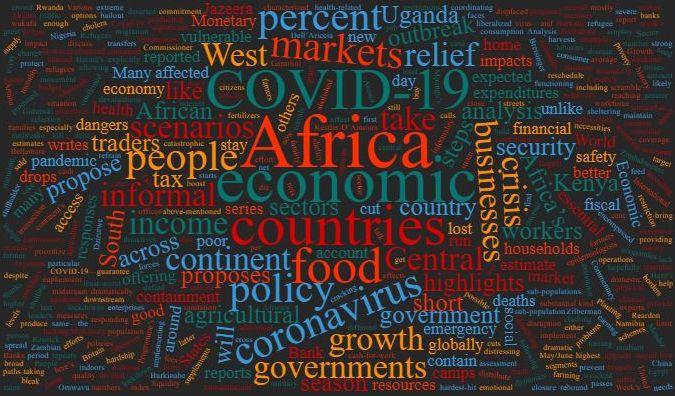 A word cloud of the most common words used in the pieces linked.
The coronavirus pandemic continues to take its toll on the African continent. While the continent as a whole still accounts for relatively few deaths from the disease, the numbers are rising, with more than 4,700 confirmed cases and 127 deaths. As countries scramble to contain the virus—and are affected by the efforts of other countries to do the same—the economic impacts grow.
Here's a selection of this week's coverage on the observed and expected economic impacts across the continent, divided into growth and income, sectors and sub-populations, policy responses, and commentary.
Growth and income analysis
Sector and sub-population analysis
Economic policy responses
Commentary
Many thanks to Amina Mendez Acosta for identifying many of the articles.
Disclaimer
CGD blog posts reflect the views of the authors, drawing on prior research and experience in their areas of expertise. CGD is a nonpartisan, independent organization and does not take institutional positions.

Image credit for social media/web: Photo by Jonathan Ernst / World Bank