April 07, 2020
Recommended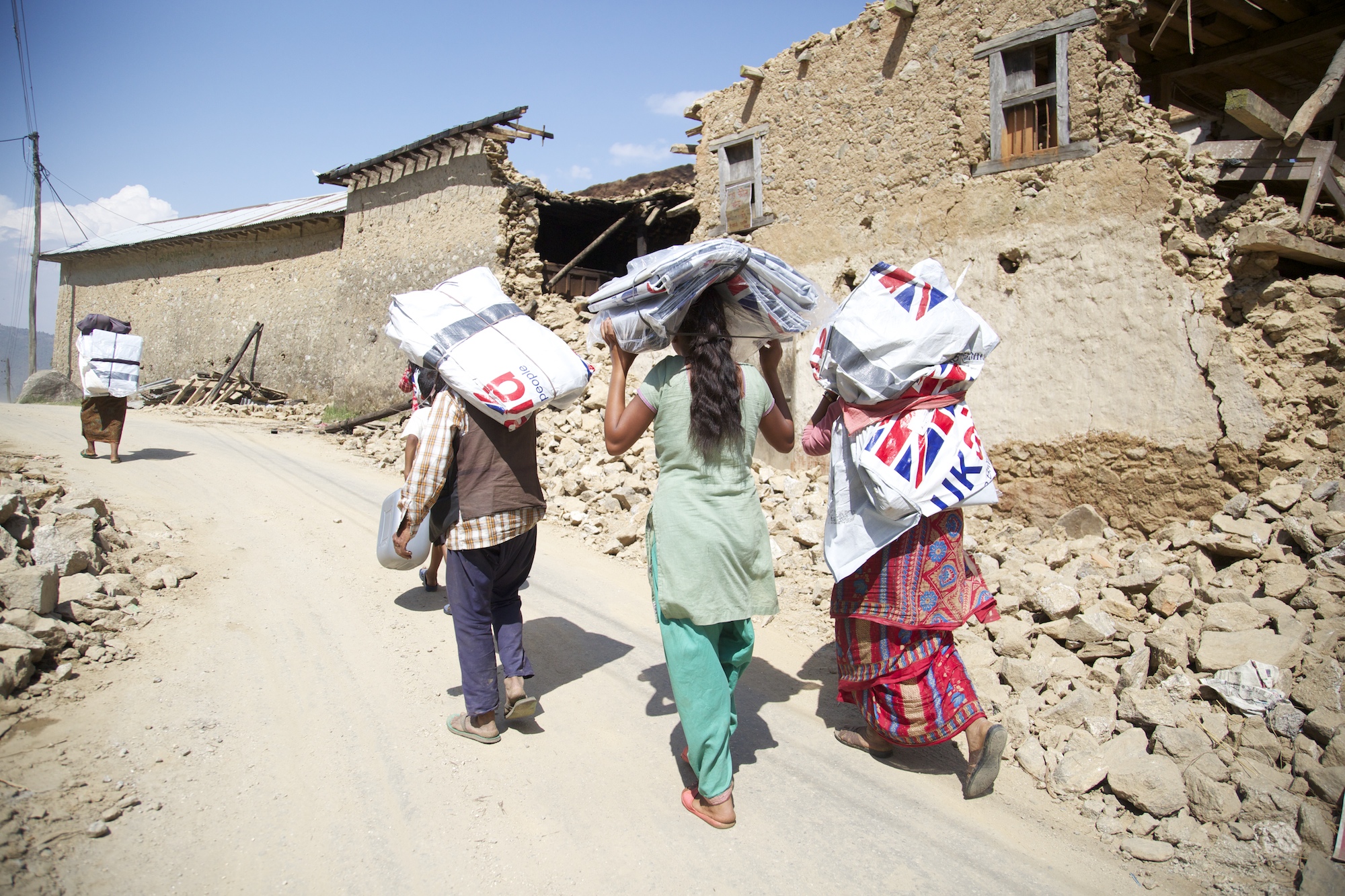 CGD NOTES
Five Takeaways on the Future of Humanitarian Reform
August 07, 2019
On March 25, the UN launched a $2 billion humanitarian response plan to deal with the most urgent impacts of the pandemic in countries already in crisis as a result of conflict, political upheaval, and natural disasters. The plan aims to respond to immediate public health needs, humanitarian and economic needs, and logistics and supply chain infrastructure to sustain this effort. Critically, the UN plan also calls for funding to be additional–warning against diverting funds away from existing humanitarian programmes.
These are the right priorities – but the humanitarian system cannot treat this as it would any other disaster.
A robust humanitarian response to COVID-19 is in everybody's interest. The pandemic is set to wreak havoc in low and middle-income countries with fragile health systems, where vulnerable populations lack the means to implement the most basic protective measures such as handwashing and social distancing. These are places where the disruption could increase the risk of other outbreaks, and reduce the ability to deal with other threats. COVID-19's other impacts, such as loss of livelihoods or increase in violence against women and children, if not mitigated, could also have devastating consequences.
This is a crisis of truly global scale and it will place enormous constraints on traditional humanitarian operations: models accustomed to surging support toward geographically delimited crises must now tackle a geographically unlimited crisis and huge obstacles to surging personnel and resources. Aid agencies' program continuity needs to be balanced with duty-of-care imperatives and strict national measures. The loss of international and national humanitarian staff due to social distancing measures has also made adapting existing humanitarian programmes more difficult.. Humanitarians will have to rethink the way the response is planned, coordinated and financed.
All this should press traditional humanitarian actors toward a deeper and more equitable partnership with, host governments and local actors – both because local leadership in this crisis is critical to success, and because it is an operational inevitability. Yet while the proposed appeal pays lip service to this, fully 95 percent of the funding it seeks is for the UN itself (far higher than in normal humanitarian appeals), rather than the partners who will have to lead this fight at the frontlines.
This crisis will call for a new approach rather than a reversion to old business models, and the UN's appeal misses an opportunity to address that head-on. Donors should respond quickly and generously to the March 25 appeal, but think twice about whether UN agencies should be the principal platform for financing this effort. Instead, donors (and ideally the UN itself) should explore making creative use of pooled fund models and quasi-developmental funding tools to finance a response that will blur the boundaries between relief, public health, and development; and between international and local.
First: use a systems approach.
As the Centre for Humanitarian Leadership has argued, rather than creating parallel health systems on the ground, COVID-19 presents an opportunity for humanitarian organisations to strengthen national health systems, including by rapidly upskilling national healthcare workers and equipping local healthcare structures with supplies such as personal protective equipment, and supporting nation-wide surveillance and testing. Here, humanitarians have a crucial role to play in advocating for equitable distribution of resources and access based solely on need, rather than wealth or legal status. This will become even more important when a vaccine becomes available.
A similar approach should apply when addressing the socio-economic impact of the crisis. Humanitarian actors are already thinking of how to scale-up cash and vouchers programmes. As governments around the world are designing social protection responses to the crisis, there is a clear opportunity for humanitarians to support the process and to advocate for the inclusion of particularly vulnerable groups, rather than creating new parallel cash transfer systems.
Because this systems approach blurs the line between humanitarian and other development work, and involves much more engagement with national governments, humanitarians might instinctively fear that humanitarian principles will be compromised. This assumption should be tested on a case-by-case basis and balanced against the efficacy of the overall response. When parallel systems are unavoidable, they should as a minimum be tightly coordinated and based on common standards. This approach should be underpinned by strengthened national-level leadership and coordination, and a common financing strategy. Earmarking funding by agency or type of activity could lead to duplication and gaps. Donors should instead provide country-level block grants to be allocated against prioritised national plans.
Second: localise.
As Sorcha O'Callaghan explains, by disseminating information on safe practices and countering misinformation, savvy community engagement is essential to controlling the spread of disease. One major lesson from the response to the Ebola outbreaks in West Africa and the DRC is that communities are part of the solution, not the problem. Local actors are much better placed to engage communities than international organisations. Travel bans also mean that international aid workers will increasingly be unable to be physically present in the field. Ed Schenkenberg rightly points out that the localisation agenda in the Grand Bargain will need to be urgently accelerated. To do this, dichotomies between international and local actors should give way to more deliberate partnership and complementarity, based on comparative advantage. The role of international actors must inevitably evolve from delivery agents to enablers, monitors and advocates.
New or expanded mechanisms are needed to channel significant resources to local actors. All donors interviewed by CGD as part of our ongoing research into humanitarian financing practices have said that they lack the capacity to significantly expand direct funding to local actors. It is thus important to rapidly identify the financing intermediaries that are best placed to put local partners in the driver's seat, and leave international partners in the back seat. UN agencies regularly use local actors as sub-contractors, but this approach sits uncomfortably with the need to build the response from the ground up. Country-based pooled funds have recently been more successful at funding local NGOs more directly, but their normal model focuses on small-scale complementary interventions. Their capacity would need to be dramatically expanded for them to become a strategic instrument to deliver a more localised response.
Third: be anticipatory and adaptive.
Forecasting the impacts of the COVID-19 crisis in fragile and conflict countries is difficult. Epidemiological and economic modelling for this pandemic has shown it is not fail-proof. In the absence of a vaccine, a rapid spread of infection in humanitarian contexts, with possible secondary waves, is likely. Lockdowns could have damaging socio-economic impacts . The nature, speed, scale and duration of those impacts will depend on the vulnerability of each country, the type of containment measures, and the effectiveness of international support. The humanitarian response to the pandemic will thus inevitably–and rightly–involve "building the plane as you're flying it."
To enable, not hinder, such adaptation, finance should be provided on a "no-regrets" basis. It is critical that donors make as much liquidity as possible available now, on very flexible terms. The prevailing humanitarian financing model is not fit for purpose in this crisis. Donors should instead frontload–or at least pre-arrange–large-scale contributions that could be then allocated to country programmes according to the severity of risk in each country rather than donor preferences. Rather than be tied to rigid schedules and deliverables, funds should be used flexibly to prepare and respond to emerging risks as soon as they can be forecast, rather than after they materialise.
An unprecedented crisis calls for unprecedented measures in all sectors. While the international humanitarian system valiantly mobilises a rapid response and does its best to maintain existing programmes, necessary changes to its business model should not wait. This is the only way to significantly increase the chances of effectively mitigating the worst impacts of the pandemic on countries already affected by conflict and disaster.
Disclaimer
CGD blog posts reflect the views of the authors, drawing on prior research and experience in their areas of expertise. CGD is a nonpartisan, independent organization and does not take institutional positions.

Image credit for social media/web: DFID/Flickr