Here at the Center for Global Development we're concerned with how the practices of rich countries affect developing countries.  So with Brazilian President Dilma Rousseff visiting President Obama this week, it's a natural time to ask, who gets invited to White House State Dinners and who gets left out in the cold?  It turns out that Europe and Latin America get wined and dined, while Sub-Saharan Africa has gotten snubbed.  So, for that matter, has Southeast Asia.
Now, State Dinners may not be the most important way that the United States Government interacts with the rest of the world, compared to aid, trade, migration, or security relationships. But State Dinners are a high-profile sign of respect and hospitality and an opportunity to conduct affairs of state over Texas ribeye and California Chardonnay. And they're a chance for foreign dignitaries to enjoy the musical stylings of some of America's finest entertainers, from James Taylor to Beyoncé.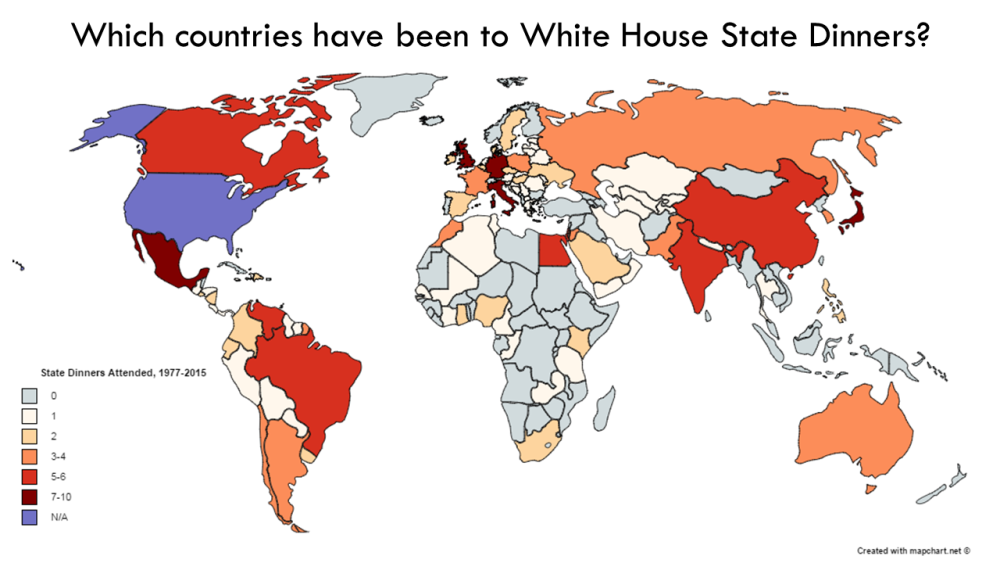 Sara del Fierro and I have compiled a data set of what we think are all the state dinners since the beginning of the Carter Administration nearly 40 years ago.[i] That's a total of 160 dinners and 187 visiting heads of state, heads of government, or monarchs (some of the dinners had more than one guest).  The presidential guest list includes towering historical figures such as Mikhail Gorbachev and Nelson Mandela, as well as a few that with the benefit of hindsight they'd probably rather take back, like Augusto Pinochet and Nicolae Ceauşescu.
Leading the pack is the United Kingdom with ten dinners, followed by Japan (8), Mexico (8), Germany (7), Italy (7), China (6), and Israel (6).  Europe is heavily represented.  Nearly every country in Latin America has visited; many in one fell swoop on September 7, 1977.  But only 15 State Dinners have hosted guests from Sub-Saharan Africa, and only three of these were in the 21st century.  There haven't been many invitations to Southeast Asia, either, outside of the Philippines (2), Singapore (1), and Thailand (1).
A fun fact: June is the most popular month for State Dinners, with 29, followed by April with 21 (cherry blossom season in DC).  Just four state dinners have been held in December, and only two have been held in August, when DC turns into an inhospitable swamp.
State dinners have dwindled steadily over the years. President Carter made the most of his single term, hosting 40 state dinners with 66 heads of state. By comparison, Presidents George W. Bush and Obama have hosted just 13 dinners combined.  21st century presidents, they're just like us — struggling for that elusive work-life balance. 
In fact, President Rousseff's visit to DC this week won't even come with a State Dinner. She was invited in October, 2013 but cancelled in protest after evidence surfaced of widespread spying within Brazil by the National Security Administration.  She would have been just the eighth female head of state or government, after Margaret Thatcher (twice), Benazir Bhutto, Corazon Aquino, Violeta Chamorro, Mary Robinson, Gloria Arroyo, and Angela Merkel. (There have been numerous first ladies, several queens, and Princess Diana).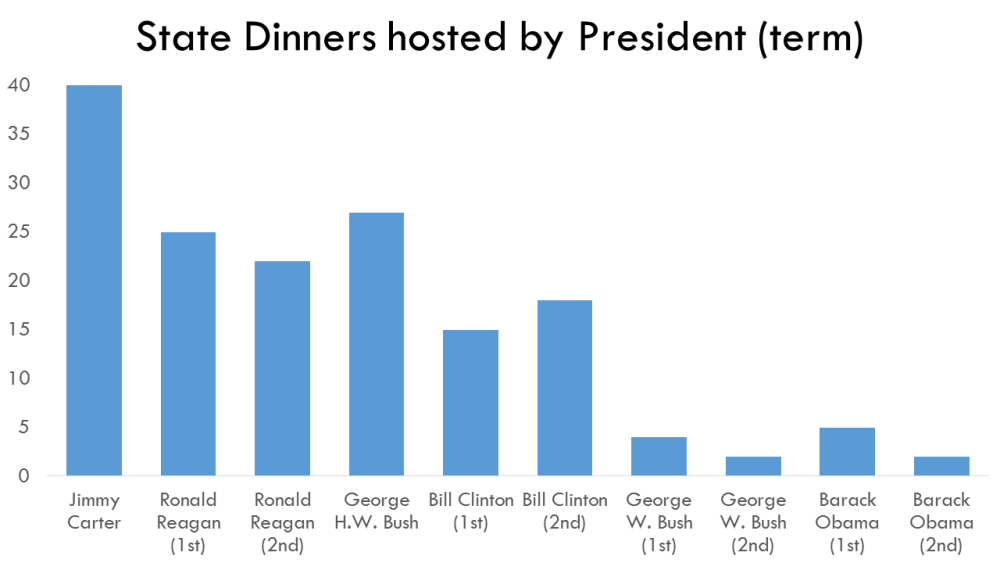 It may not come as a surprise that most State Dinner invitations have gone to America's friends and neighbors. But it does seem a little unfair that this high-profile event isn't more representative of the world as a whole, in line with the high ideals of the office of the president.
President Obama has used his invitations sparingly, and he's mostly played it safe by inviting big trading partners India, Mexico, China, Germany, the United Kingdom, France, and Japan. In his final 18 months in office, might he make history by inviting a historical adversary to dinner, like Cuba or Vietnam?
Personally, I'd like to see President Obama host an African head of state for dinner before the end of his second term.  When Liberian President Ellen Johnson-Sirleaf visited the Oval Office in February, Obama praised her for her leadership during the Ebola crisis. He missed an opportunity by not asking her to stick around for dinner.
---
[i] We supplemented the surprisingly incomplete Wikipedia page on U.S. State Dinners with information from the Ronald Reagan Presidential Library and Museum (here and here),  the George Bush Presidential Library and Museum (via e-mail), the William J. Clinton Presidential Library (via email), and the George W. Bush Presidential Library and Museum. We are grateful to archivists at the Presidential Libraries of Ronald Reagan, George H.W. Bush, Bill Clinton, and George W. Bush. We coded Czechoslovakia, the USSR, and Yugoslavia in the map above according to their borders at the time.
Disclaimer
CGD blog posts reflect the views of the authors, drawing on prior research and experience in their areas of expertise. CGD is a nonpartisan, independent organization and does not take institutional positions.