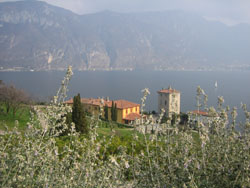 "Countries know where they want to be, but they may not know the best way of getting there. We would like to see the development of a new institution which can help us generate and use impact evaluation findings and help build capacity within our country to develop evidence and answer some of our enduring questions." --Margaret Kakande, Ugandan Ministry of Finance, Planning and Economic Development
Bellagio, Italy, may be far removed from the government offices in developing countries where policymakers seek evidence to guide large social and economic programs. Nevertheless, a couple of weeks ago important strides were made at the Rockefeller Foundation's conference center there toward the launching of a new entity that will promote learning for social and economic development across the globe. At a meeting convened by CGD, representatives from India, Mexico, Uganda, the UK Department for International Development, the Netherlands Ministry of Foreign Affairs, the Millennium Challenge Corporation, the African Development Bank, the Bill & Melinda Gates Foundation and the Hewlett Foundation agreed to move forward with an ambitious new effort to promote and strengthen the measurement of the impact of development programs on individuals and communities. It is expected that this work will lead to the creation of the provisionally-titled "International Initiative for Impact Evaluation" (3IE), which will contribute to more high quality studies of how development programs affect poverty reduction, health and education outcomes. The design of this new independent entity will be finalized over the next several months, and other governments, development agencies, NGOs and foundations will be invited to join the initiative.
The Bellagio meeting considered and modified recommendations from The Evaluation Gap Working Group report, which identified particular gaps in the evidence available to guide policy in developing countries. The new institution developed in Bellagio is designed to address some of the reasons behind this "evaluation gap." For example, 3IE will provide flexible, just-in-time money when innovative development programs are being designed, to take best advantage of opportunities to learn about program impact. 3IE will also fund some impact evaluations, potentially on a matching basis, so that, as the Hewlett Foundation's Smita Singh says, "In five years, we can hope to see a sizeable set of resources devoted to impact assessment and fewer tradeoffs between program monies and monies for impact evaluation."
To enhance the real-world utility of impact evaluations, 3IE will engage the policy community in countries like those represented at the meeting to set priorities. It will identify opportunities for learning across countries that are facing similar types of development challenges -- for example, increasing school completion among excluded groups, preventing HIV infections, and protecting families from the financial hardship of paying for health care. 3IE will address some of the obstacles that hinder the collection of good data and the use of rigorous evaluation methods, responding to the call from India and others for an international body that can verify the quality of impact evaluations and help share findings across countries and institutions. Finally, 3IE will conduct its work in the spirit of mutual capacity-building to help ensure that learning within countries and agencies occurs in a sustainable fashion.
Creating 3IE will only solve part of the problem. Participants proposed specific provisions to assure that 3IE collaborates, coordinates and shares information with other organizations and initiatives that seek to strengthen impact evaluation work, including low- and middle-income country governments, societies of professional evaluators, and development agencies among others. DFID's Jeremy Clarke says he "sees that this approach adds value to a larger set of activities by motivating collective action to fund new studies that are coordinated across questions that are relevant to policymakers in our partner countries."
A full meeting report will be posted on our website in mid-March.
Disclaimer
CGD blog posts reflect the views of the authors, drawing on prior research and experience in their areas of expertise. CGD is a nonpartisan, independent organization and does not take institutional positions.