Beware the zombies, ghouls, ghosts, and vampires that will flood streets across the country this Halloween Friday. Of course they're mostly just children in costume with one thing on their minds: candy. And lots of it. Every year Americans shell out over $2 billion for Halloween treats, and in the United States, chocolate is king. It's an $18 billion industry that is expected to grow to over $20 billion by 2018.
Where does all this chocolate come from? Two countries, Ivory Coast and Ghana, account for more than 70 percent of global exports of cocoa beans, but they export less than $50,000 worth of processed chocolate to the United States every year (nearly 70 percent of US chocolate imports come from Canada and Mexico). In other words, Africa is missing out on millions of dollars more in export value and many more potential jobs in value-added processing.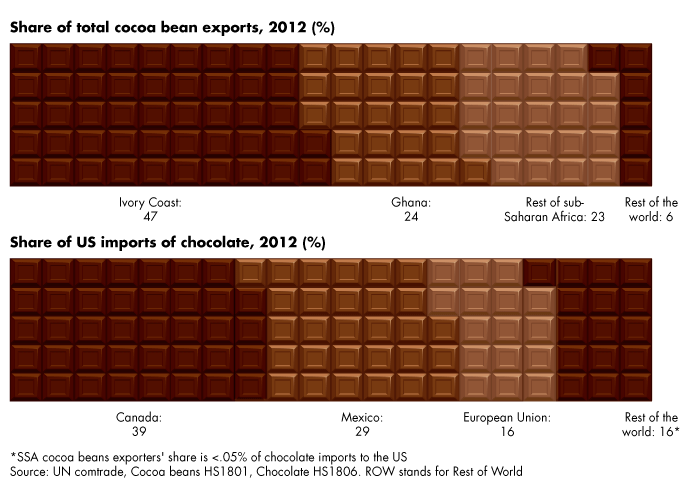 [Tweet this]
Why Doesn't West Africa Export (More) Chocolate to the United States?
African producers face a range of domestic challenges when trying to export, including poor infrastructure, inadequate access to finance, and limited capacity to certify compliance with food safety standards. But lingering US trade barriers directly block the export of a number of agricultural products, including sugar, beef, peanuts, tobacco, and dairy products, as well as chocolate and other confectionary that contain sugar and dairy products. The quantitative restrictions on US imports are typically allocated across US trading partners based on historical trade patterns. And, unfortunately for Africa, bilateral trade with the United States was essentially non-existent when these quota allocations were set.
Potential African exporters have only very small quota allocations or none at all, or they are lumped with the rest of the world under "first come, first served" residual allocations. That creates uncertainty about access to the US market, discourages investment, and makes it extremely difficult for new exporters to break into the market.
A Pragmatic Proposal to Make Future Halloweens Sweeter for Africa
The African Growth and Opportunity Act (AGOA) provides duty-free access to US markets for most manufactured goods, but it ignores these potential opportunities in the agriculture sector. The World Bank reports more than 60 percent of sub-Saharan Africa lives in rural areas where agriculture frequently provides the majority of jobs. Growing access for agricultural exports could significantly expand the number of countries and people that benefit from AGOA.
Ideally, Congress should extend duty-free, quota-free market access to all agriculture goods when it extends the AGOA program before it expires in September 2015. Short of that, the Secretary of Agriculture or the US Trade Representative could reduce the uncertainty surrounding access to the US market by providing specific quota allocations for chocolate and other agricultural products to African countries. This CGD note highlights where there are unused quota allocations that could be granted to African exporters with little or no disruption to other US trade partners. By taking this action, the Obama administration could spur growth in African agriculture, and in downstream processing, and make the world a little less scary on future Halloweens.
Disclaimer
CGD blog posts reflect the views of the authors, drawing on prior research and experience in their areas of expertise. CGD is a nonpartisan, independent organization and does not take institutional positions.