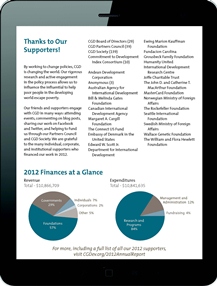 By working to change policies, CGD is changing the world. Our rigorous research and active engagement in the policy process allows us to influence the influential to help poor people in the developing world escape poverty.
Our friends and supporters engage with CGD in many ways: attending events, commenting on blog posts, sharing our work on Facebook and Twitter, and helping to fund us through our Partners Council and CGD Society. We are grateful to the many individual, corporate, and institutional supporters who financed our work in 2012.
CGD Board of Directors (29)
CGD Commitment to Development Index Consortium (10)
Partners Council (39)
CGD Society (139)
Andean Development Corporation Anonymous (3)
Australian Agency for International Development
Bill & Melinda Gates Foundation
Canadian International Development Agency
Margaret A. Cargill Foundation
The Connect US Fund
Embassy of Denmark in the United States
Edward W. Scott Jr.
Department for International Development
Ewing Marion Kauffman Foundation
Fundacion Carolina
Grousbeck Family Foundation
Humanity United
International Development Research Centre
Joffe Charitable Trust
The John D. and Catherine T. MacArthur Foundation
MasterCard Foundation
Norwegian Ministry of Foreign Affairs
The Rockefeller Foundation
Seattle International Foundation
Swedish Ministry of Foreign Affairs
Wallace Genetic Foundation
The William and Flora Hewlett Foundation

Board of Directors
(as of December 31, 2012)
Edward Scott, Chair*
Timothy D. Adams*
Q. Munir Alam
C. Fred Bergsten
Nancy Birdsall*
Henrietta Holsman Fore
David Gergen
Thomas R. Gibian*
David F. Gordon
C. Boyden Gray
James Harmon
Brad Horwitz
Enrique V. Iglesias
Kassahun Kebede
Susan B. Levine*
David Lindauer (ex officio)
John Lipsky
Mark Malloch-Brown
Edward E. McNally*
Robert Mosbacher, Jr.
Ngozi Okonjo-Iweala
Dina Habib Powell
Sheryl Sandberg
S. Jacob Scherr
Smita Singh*
Patty Stonesifer
Belinda Stronach
Lawrence H. Summers
Toni G. Verstandig
*Executive Committee Members
Honorary Members
John L. Hennessy
Sir Colin Lucas
Amartya K. Sen
Joseph E. Stiglitz
Former Members
Bernard Aronson
Kwesi Botchwey
Jessica P. Einhorn
Timothy Geithner
Bruns Grayson
Jose Angel Gurria Treviño
J. Bryan Hehir
Rima Khalaf Hunaidi
Carol Lancaster
Reynold Levy
Nora Lustig
M. Peter McPherson
Paul O'Neill, Jr.
Jennifer Oppenheimer
Kenneth Prewitt
John T. Reid
William Ruckelshaus
Jeffrey Sachs
James Gustave Speth
Ernest Stern, Jr.
Adam Waldman
Kevin Watkins
2012 Partners Council
Chairman's Circle ($50,000+)
Cargill
Goldman, Sachs & Co.
McKinsey & Company, Social Sector Office
Nestlé S.A.
Edward W. Scott Jr.
Anonymous

President's Circle ($25,000+)
Chevron
The Coca-Cola Company
Private Investors for Africa
Sheryl Sandberg
Smita Singh & Tim Westergren
Patty Stonesifer & Michael Kinsley
Leadership Circle ($10,000+)
Munir Alam & Samira Ramatullah
Nancy Birdsall
Ernst & Young
Henrietta Holsman Fore
Bruns Grayson
McCall MacBain Foundation
Karl & Kirsten Pfleger
Lawrence Summers
Development Circle ($5,000+)
Tony Barclay
Steve Cashin
Brad Horwitz
Kassy & Liya Kebede
Benjamin Leo
Lord Mark Malloch-Brown
Dan & Felicia Morrow
Robert Mosbacher, Jr.
Champions Circle ($2,500+)
Timothy Adams
Liaquat Ahamed
Tony Fratto
Alan Gelb
David F. Gordon
Susan B. Levine
Jennifer Potter
Witney Schneidman
Benjamin Stein
Adam Waldman
Jim Wolfensohn

2012 CGD Society
Don Abramson
George Alleyne
Paul V. Applegarth
Robert Armstrong
Charles Avery
Robert Ayres
Alicia Bannon
Owen Barder
James Bernstein
John Birdsall
Bruce Bolnick
Larry Bridwell
Carl Bruch
David Calderon
Youssoufou Congo
Kenneth Dam
Whitney Debevoise
Catherine Dom
Paul Dowling
Ronald Duncan
Koldo Echebarria
A. Edward Elmendorf
R. Anthony Elson
Patricia Enekwe
Sunday Fagbenro
Gary Filerman
Janet Forest
James Fox
Frank Frigon
Anthony Gasbarro
Rainer Geiger
Peter Geithner
Tarek Ghani
Gargee Ghosh
Barbara Gibian
Abner Greene
Vishal Gujadhur
Jonathan Gunthorp
Jose Angel Gurria Trevino
Eric Haas
Lawrence Hannah
Robert Hans
Gerry Helleiner
Devin Hibbard
John Hicklin
George Hill
Jennifer Hillman
Embry Howell
Steve Isaacs
Henry Jackelen
Willene Johnson
Jorge Kamine
Martina Kampmann
Robert Kaplan
Ki Seok Kim
Drew Kinder
Thomas Kleine-Brockhoff
Daniel Kress
Daniel Kyba
Suellen Lazarus
Carol Lee
Jean-Pierre Lehmann
Francis Lethem
Ruth Levine
Robert Liebenthal
Douglas Lucius
Lawrence MacDonald
Ryan Martel
Raymond Martin
Miguel Martinez
Jacky Mathonnat
John May
Hunter McGill
M. Peter McPherson
Jacob Meerman
C. Gary Merritt
James Michel
Greg Miles
Karin Millett
Stephen Moseley
Max Moss
Stephen Murray
Bruce Murray
Joan Nelson
Lisa Nichols
Steve Noakes
Gloria Ospina
Gerard Pemberton
Jan Piercy
Arturo Porzecanski
Thomas Powell
Vijaya Ramachandran
Reehana Raza
Syed Saqib Rizavi
Raymond Robertson
Susan Rose-Ackerman
Nilmini Rubin
Edward Salt
Jose Pedro Sanguinetti
Carlos Santiso
William Savedoff
Lelde Schmitz
Jane Schubert
William Schuerch
Nancy Scott
Valeria Seifert
Irène Serot
Almeras
Alexander Shakow
Joseph Sinatra
Jerome Smith
Joshua Steinberg
Maria Concepcion Steta
Raymond Struyk
Michele Teitelbaum
Stokes Tolbert
Ibrahim Modibo Toure
Sergio Trindade
Edwin Truman
Nicolas van de Walle
Roberta van Haeften
Armand Van Nimmen
James Wallar
Christine Wallich
Marielle Walter
Sherie Welch
John Westley
Rosa Whitaker
Daniel Whitman
Carol Wise
Susan Wittenberg
Jan Peter Wogart
Prashant Yadav
Yang-Ro Yoon