In many large federal or decentralized countries, the majority of public spending on health is executed by state and district governments (see graph below). Improving health in these countries—and globally—depends on improving the sufficiency, efficiency, and effectiveness of health spending at the subnational level. The Intergovernmental Fiscal Transfers for Health Working Group, a partnership of CGD and the Accountability Initiative in India, is tasked with identifying practices that improve health and increase the efficiency of subnational allocations.
Health status, access, and care vary greatly across subnational entities, and the decentralization of health systems and spending has mixed and complex results. To understand this complexity better, CGD and researchers at the Accountability Initiative (AI) in India have examined national-to-subnational fiscal transfers in India to identify practices that have global implications. The goal is to identify lessons for domestic reforms and implications for countries and donors facing similar challenges. We have also examined worldwide experience in allocating budgets according to health needs, leveraging greater subnational spending on health, and boosting subnational performance on health outcomes and delivery.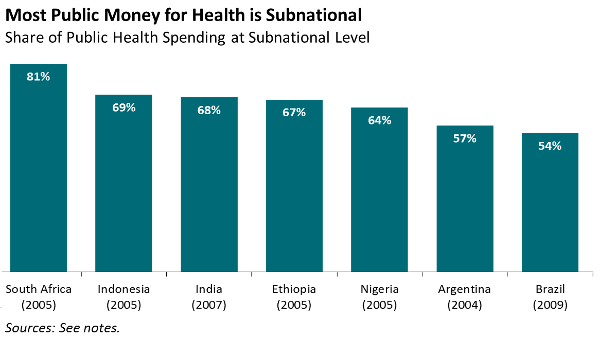 Key questions for the working group
What are better practices in intergovernmental fiscal transfers for health worldwide that can also help improve health outcomes in India?
How can the central government create incentives for increased allocation to health by states, given low levels of current spending?
What should be done to increase synergies in health expenditure by the central government and states?
What role can intergovernmental fiscal transfers play in supporting state and district level innovations to improve health outcomes?
What role for external funders in this space? What is the policy research and data agenda going forward?
Working Group Members
Yamini Aiyar, Accountability Initiative, Center for Policy Research
Sambit Basu, IDFC Foundation
Pinaki Chakraborty, 14th Finance Commission
Samik Chaudhuri, Institute of Economic Growth
Mita Choudhury, National Institute of Public Finance and Policy
Ravi Duggal, International Budget Partnership
Victoria Fan, University of Hawaii at Manoa
Saurabh Garg, Ministry of Finance
Amanda Glassman, Center for Global Development
Indrani Gupta, Institute of Economic Growth
Nishant Jain, GIZ
Avani Kapur, Accountability Initiative, Center for Policy Research
Anit Mukherjee, Center for Global Development
Aparajita Ramakrishnan, Bill and Melinda Gates Foundation
Rajeev Sadanandan, Ministry of Labor and Employment
Deepak Sanan, Government of Himachal Pradesh
Shakthivel Selvaraj, Public Health Foundation of India
Tapas Sen, National Institute of Public Finance and Policy
 
Non-CGD Publications
Going Local by Victoria Fan and Amanda Glassman (Finance & Development - International Monetary Fund).