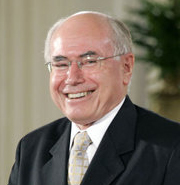 In June 2002, Australia renounced its ratification of the Kyoto Protocol and joined the US in outright opposition to the treaty. Conservative Prime Minister John Howard offered this explanation to Australia's Parliament: "It is not in Australia's interests to ratify. The protocol would cost us jobs and damage our industry." The table below clearly shows the source of Howard's concern: according to CGD's CARMA database, Australia's power sector is hugely dependent on coal, which is by far the most potent source of greenhouse gas emissions. In fact, Australia's 74% coal share in the energy sector dwarfs America's 48% share.
Energy Sources for Power Plants (%)*
| | | | | | | | |
| --- | --- | --- | --- | --- | --- | --- | --- |
| Country | Coal | Oil | Gas | Total Fossil Fuels | Non-Emitting Sources** | Other Sources | Total |
| Australia | 74.0 | 0.9 | 8.3 | 83.2 | 15.6 | 1.2 | 100.0 |
| United States | 47.6 | 3.2 | 15.5 | 66.3 | 31.9 | 1.8 | 100.0 |
* Source: CARMA database, Center for Global Development
** Renewables and nuclear
Nevertheless, Prime Minister Howard has just reversed himself and embraced greenhouse emissions reduction. According to today's Australian: http://www.theaustralian.news.com.au/story/0,25197,22080702-601,00.html "In a determined bid to turn around the Coalition's electoral fortunes, John Howard will this week outline the key elements of a national emissions trading scheme, to come into effect from 2011. The Prime Minister will seek to revive the Coalition's faltering election hopes by outlining plans to further develop low emissions technologies in key sectors such as coal."
So the people of Australia have spoken clearly on the matter, and Australia's conservative Prime Minister has listened. Australia will join the UK, Canada and New Zealand in aggressively reducing greenhouse emissions. In this sphere, the traditional five-country alliance has evaporated and the US now stands alone.
Meanwhile, US opponents of proposed emissions reduction legislation continue to bombard Congress with dire warnings about the potential cost to our "coal-dependent" economy. The burden is now on them to answer a simple question: "If our traditional allies the Australians can do this, despite a coal dependency over 50% greater than ours, why can't we?"
We await an honest answer.
Disclaimer
CGD blog posts reflect the views of the authors, drawing on prior research and experience in their areas of expertise. CGD is a nonpartisan, independent organization and does not take institutional positions.