In the big federal countries where global disease burden is concentrated, most public money for health isn't ultimately spent by the national ministry of health, the traditional counterpart for global health funders and technical agencies. Instead, most money is programmed and spent subnationally (see figure 1).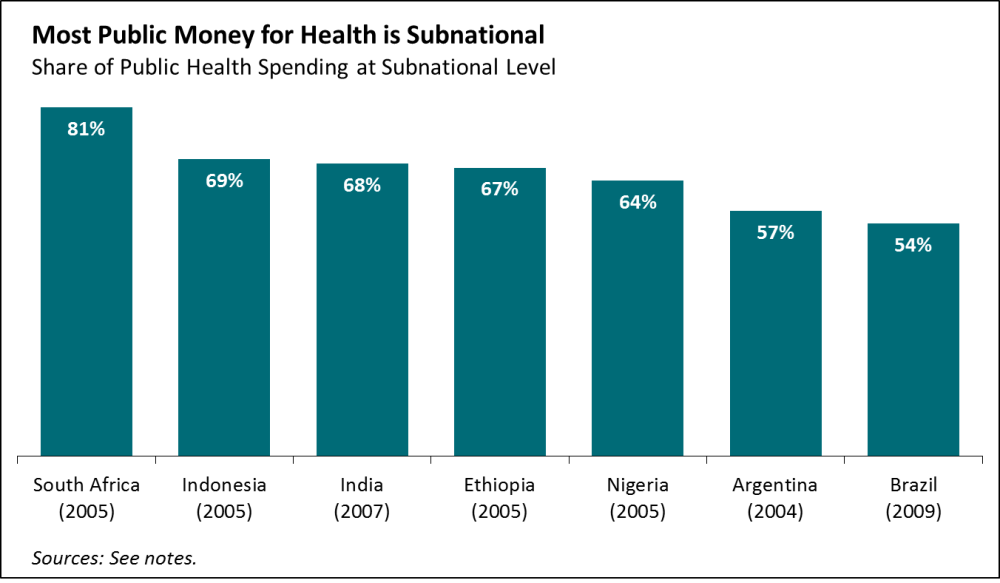 Greater subnational public spending reflects growing democratization and local self-determination, particularly in middle-income countries, and responds to the conviction that local decision-makers understand local realities better than a bureaucrat sitting in the capital city. Yet evidence on the effectiveness of subnational spending on health is mixed, and incentives for greater spending, better performance, and enhanced accountability can be weak. 
As more donors hope for greater levels of domestic funding for global health priorities in middle-income countries, it's important to know how well that money is being spent. We took a look at whether allocations of public money to subnational jurisdictions are done according to need, whether they create incentives for better performance or more spending on health, and whether they generate accountability for spending and results. The results of our analysis inform the consultation draft of "Intergovernmental Fiscal Transfers for Health: Overview Framework and Lessons Learned"  (comments welcome by December 15), which intends to trigger a rethink on how governments and donors engage to achieve health goals.
Our draft is rich in detail but boils down to five key messages:
What does it all mean for donors and advocates?
Whether a donor or advocate cares most about increasing spending on AIDS or child health in middle-incomes and assuring a smooth "transition" from aid, or whether focused on health systems and UHC, the plumbing involved in a country's system of inter-governmental fiscal transfers merits a closer look.  Opportunities to act on lessons learned and learn from on-going reforms should be seized, and more systematic joint learning with country policymakers, as well as a policy and learning agenda should be launched.                                                    
What more can be done? We hope you'll check out the consultation draft of the lessons learned paper that includes examples where countries successfully improved health outcomes through better practices. We welcome your comments by the end of the year. And watch for papers and working group reports from our collaboration with India's Accountability Initiative on the same topic.
Sources for Figure 1:
South Africa: IMF Government Finance Statistics (2011)
Indonesia: World Bank (2008). Investing in Indonesia's Health: Challenges and Opportunities for Future Public Spending – Health Public Expenditure Review 2008. Washington DC, World Bank
India: IMF Government Finance Statistics (2011)
Ethiopia: Garcia, M. and A. S. Rajkumar (2008). Achieving Better Service Delivery Through Decentralization in Ethiopia. World Bank Working Papers. Washington DC, World Bank
Nigeria: Olaniyan, O. and A.O. Lawanson (2010). Health Expenditure and Health Status in Northern and Southern Nigeria: A Comparative Analysis Using NHA Framework. Paper presented at the 2010 CSAE conference held at St. Catherine's College, University of Oxford, Oxford, UK
Argentina: IMF Government Finance Statistics (2011)
Brazil: Langevin, M. (2012). Brazil's Healthcare System: Towards Reform? A BrazilWorks Briefing. Washington DC, BrazilWorks
Bolivia: IMF Government Finance Statistics (2011)
Disclaimer
CGD blog posts reflect the views of the authors, drawing on prior research and experience in their areas of expertise. CGD is a nonpartisan, independent organization and does not take institutional positions.