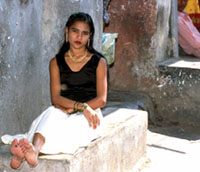 The sudden resignation on Friday of Ambassador Randall Tobias, the first U.S. director of foreign assistance, stunned staff at the U.S. Agency for International Development (USAID) and the State Department and left the administration's beleaguered aid reform effort without a leader. The acting deputy administrator of USAID, Jim Kunder, wrote to staff late in the afternoon that he had just received the "shocking" news that the White House would soon announce Tobias's immediate resignation for "personal reasons."
Things got more shocking when news broke that Tobias had confirmed to ABC News that he had patronized a high-end call girl firm run by Deborah Jeane Palfrey. Federal prosecutors allege Palfrey was providing $300-an-hour prostitutes, and a grand jury indicted her in February. Palfrey, who maintains that she provided a "legal high-end erotic fantasy service," has given her business phone records to ABC. Speaking on ABC's Good Morning America on Saturday reporter Brian Ross said Tobias told him that he had used the service for massages but "no sex." Ross quoted Tobias as saying that he recently has been getting his massages from another service, "with Central American gals."
What's wrong with this picture? Whatever Mr. Tobias did or did not do, his resignation and connection to the escort service creates a major problem for US development assistance. As the top U.S. official responsible for development, and the former head of the multi-billion-dollar President's Emergency Plan for AIDS Relief (PEPFAR), Tobias was responsible for overseeing implementation of the "Anti-Prostitution Pledge."
Under the pledge, organizations that receive USAID or PEPFAR funds must adopt specific positions opposing prostitution. Health providers, humanitarian organizations, and AIDS advocates have argued (for example, in a May 2005 letter to President Bush signed by 200 groups) that the pledge impedes their efforts to win the trust of those people who are most likely to contract and spread HIV.
According to Nandini Oomman, director of CGD's HIV/AIDS Monitor, these restrictions undermine HIV prevention efforts, by prohibiting organizations that receive U.S. funds from providing services, such as condoms and HIV testing and counseling, to women involved in sex work--precisely those women who need these services the most. Worse, the pledge bars recipient NGOs from helping such women using funds from other donors.
Health organizations have been fighting the pledge requirement in the courts; early favorable rulings were reversed on appeal last month. Nils Daulaire, president of the Global Health Council, was among those who decried the new ruling, calling it "chilling."
Senior officials should be as entitled to privacy as the rest of us. It's hard not to feel some sympathy for those whose foibles are suddenly and unexpectedly exposed. But when a man's private behavior is so fundamentally at odds with the public policies he champions, the problem is no mere sex scandal. It's hypocrisy. Tobias had the good sense to understand all of this in the space of a few hours and to quickly resign.
That's more than can be said of another embattled Bush administration development appointee, Paul Wolfowitz. On Monday he was busy trying to explain to a specially convened ad hoc committee of the World Bank board why he should keep his job as the head of the word's leading development institution, despite the overwhelming opposition of his own senior management, the staff, the board, the vast majority of the shareholders, and most of the rest of the international development community. By comparison with that sorry performance, Tobias, by knowing when to leave, looks like a hero.
Disclaimer
CGD blog posts reflect the views of the authors drawing on prior research and experience in their areas of expertise. CGD does not take institutional positions.