President Obama delivers his sixth State of the Union address tonight before Congress. The media is sure to make much of the fact that the president's constitutionally encouraged remarks will fall on the ears of a GOP-led House and Senate for the first time since he took office in 2009. But here at CGD, we'll be listening less for signals of congressional engagement and more for commitments to global engagement.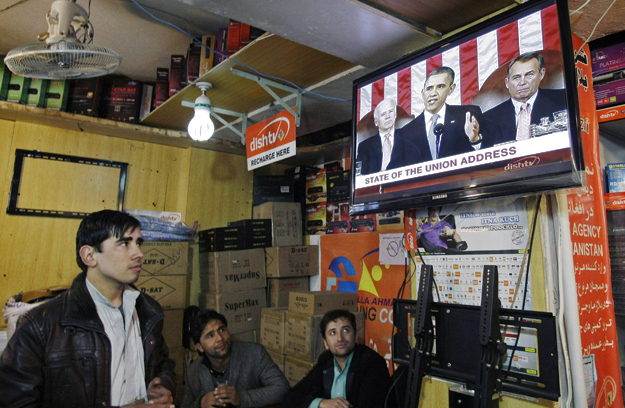 In 2014, we were reminded again and again that many of the greatest challenges facing the United States are without borders. From terrorism to disease outbreaks, climate change to cyberattacks, in today's connected world isolationism is not an option. The good news is that when it comes to combating these threats, the United States need not go it alone. And in fact, international cooperation can contribute to America's success not only in tackling obstacles but in realizing economic opportunity and furthering development.
So let's hope President Obama uses his 2015 State of the Union address to highlight the ways in which global engagement can strengthen America's hand while also helping the developing world. Here are a few hoped-for phrases and ready ideas from CGD experts:
On immigration, Michael Clemens
On transparency in Ebola response, Charles Kenny
On support for reformers, Nazanin Ash
On US Middle East policy, Nazanin Ash
On multilateral institutions, Scott Morris
Kim Elliott on trade
"We all know trade is important to our economy, but it is also a critical tool to reduce global poverty. As the United States pushes to conclude negotiations with trade partners around the Pacific and across the Atlantic, we remain committed to the multilateral trade system that is so crucial to American and global prosperity."
In the year since I expressed a similar hope for the 2014 State of the Union speech, not much has changed. Negotiations across the Pacific and with the European Union will continue to dominate the US trade agenda. The greatest risk for smaller, poorer countries is that these "mega-regional" deals will weaken the World Trade Organization and leave those countries with no refuge from discrimination and bullying by more powerful trader partners. Some poor countries, particularly Bangladesh and Cambodia, could also see their exports fall as a result of more favorable market access granted to competitors that are included in these deals, such as Vietnam. (To mitigate the latter risk, President Obama should work with Congress to finally extend duty-free market access to the world's poorest and most vulnerable countries. But I'm already blue in the face so I won't hold my breath.) At the WTO, I hope President Obama will direct US negotiators to focus on getting a broad food security agreement that addresses leftover issues from the old agenda, such as reducing agricultural subsidies and reforming food aid in advanced countries, and tackles new agenda items, including helping developing countries meet their food security goals without relying on beggar-thy-neighbor policies.
Michael Clemens on immigration
"In the third quarter of last year, the US economy grew at its strongest pace in more than a decade. In the year ahead, I am committed to doing even more to advance our economic priorities and help American businesses compete in the global marketplace. That's why I'm working to establish strategic bilateral agreements that promote investment and enhance labor mobility, starting with one of our closest neighbors, Mexico."
It's no secret that immigration is among the most contentious issues in Washington today. But the fact remains that migration should be a part of any sensible economic policy and a key part of any development agenda. Mexican development and stability, in particular, directly benefit the United States. Mexico is the second-largest buyer of US exports and the largest supplier of labor to the US economy. But for years US development cooperation with Mexico has focused mostly on aid money for security programs. There is almost no bilateral cooperation to shape regional labor mobility in ways that benefit regional development.
And, while migration generates benefits for the US economy, immigrants also benefit on a massive scale by moving to the United States. They earn more, they send money back to their home countries, and they develop skills that can be transferred to their home countries. In a world where remittances are several times larger than foreign aid, our aid-focused development policy is losing power and relevance. It's time to unlock a powerful 21st century development tool, labor mobility.
Charles Kenny on transparency in the response to Ebola
"I remain enormously proud of the Americans who stepped in to help, the nurses, doctors, and other health care professionals serving on the front lines of this epidemic. And I want to thank you, Congress, for approving $5.4 billion in emergency funding to combat this threat at home and abroad. That money is already making a difference on the ground in West Africa. But there is still much work to be done. I am committed to ensuring that US efforts are coordinated with other donor countries, along with the governments of Guinea, Liberia, and Sierra Leone, and that important information about the assistance we are delivering is made publicly available."
In his remarks, President Obama should thank Congress for approving $5.4 billion in emergency funding to fight Ebola and commit to ensuring that the money is well spent. He should start with a pledge to disclose—in full—where the money goes and how it is used, as well as to work with other donor countries and the affected country governments to do the same.
January 12 marked the five-year anniversary of the Haiti earthquake, a solemn reminder that large humanitarian response efforts are hard to manage well. Transparency can help. In the case of Haiti it has been difficult for insiders as well as friendly outsiders to hold those responsible for delivering services, whether government agencies or private contractors, accountable. The president could commit to making publicly available full and timely data on government spending, including via contractors and subcontractors.
Nazanin Ash on support for reformers and US Middle East policy
"We must keep faith with reformers. From Russia to China to Egypt and Bahrain, human rights activists risk arrest, torture, and exile to promote their vision of free and rights-respecting societies. Civil-society leaders continue to press for greater accountability, transparency, and integrity in government institutions. These are the people who will transform their societies, and they deserve our help."
The United States risks its interests if we fail to support the bearers of truth, the rights of all to have a say in the decisions that affect their lives, and to hold accountable their leaders. To elevate, protect, and create space for activists, the United States must clearly and constantly advocate for universal rights and defend activists who share our values and speak for disenfranchised constituencies. And as regimes seek to tighten the noose, we must find ever more creative ways to give local leaders the tools they need to push back on increasingly repressive regimes. These tools include a few more human rights or constitutional lawyers as constitutions are being rewritten and legal frameworks trod upon; someone to do the books as they are out mobilizing local and international communities; or a pollster or communications strategist to help design advocacy campaigns.
The United States could help establish a multilateral marketplace of service providers—lawyers, accountants, pollsters, and communication strategists—for activists to access to bolster their operations. Such service arrangements can circumvent the increasingly difficult legal environment for local NGOs partnering with US-based and other international organizations. It can create an arm of activist support that is shielded from allegations of interference, because it's private individuals and service providers, including service providers in the region, responding directly to specific needs articulated by civil society leaders. Activists hire the help they need, but the bills are paid by public and private donors, with appropriate safeguards to ensure that funds don't fall into the wrong hands.
"Today I announce a $1 billion Middle East Incentive Fund, modeled on the practices of our Millennium Challenge Corporation. This fund will support economic reform and reformers, and model the transparency, constituent engagement, and citizen accountability that must characterize the next phase in the region's transitions."
The Middle East is experiencing tectonic shifts across the region. Bright stars like Tunisia are finding their way as new democracies. Egypt has seen the resurgence of authoritarian leadership. Countries like Jordan and Morocco are pursuing gradual reforms to respond to demands from their people. While the outcomes of the 2011 revolutions have taken dramatically different paths, one thing is clear: the region will never be the same. Therefore our engagement with the region must also change, to align ourselves more closely with the aspirations of the people of the region for dignity, justice, and jobs. 
Nancy Birdsall on climate
"Climate change is among the greatest threats facing America, and the world. It is a challenge we cannot ignore, and it requires cooperation. That's why in November, I made a joint announcement with President Xi Jinping of China, reaffirming the need for bilateral cooperation and committing to action to reduce harmful emissions. Here in the US, we're already on our way to meeting our goals. Auto companies are manufacturing better vehicles that drive farther on less fuel. States are finding new ways to reduce pollution from power plants and invest in clean energy. But we can and should do more."
Climate change is a global threat—as one colleague put it— awful for the rich, but catastrophic for the poor. Many economists agree that the most efficient way to tackle climate change is to put a price on carbon. While levying a carbon tax is my preference, such a strategy is likely to face an uphill battle in Congress. As an intermediate step, President Obama should call on Congress to increase the federal gas tax. Low crude oil prices have prompted members of both sides of the aisle to throw their weight behind a gas tax hike. While still a proposal with potentially long odds, an increase in the gas tax can be accompanied by other tax lowering measures that add to its palatability and ensure the change isn't regressive.
Scott Morris on multilateral institutions:
"Just as other countries proved vulnerable to a financial crisis that ignited in this country seven years ago, the United States is also exposed to the risks of global economic problems, even when they might seem far from our shores. The IMF is vital to our interests in helping avoid crises and moving aggressively to put out economic fires when they do happen around the world. In 2010, my administration successfully led international efforts to strengthen the IMF. Unfortunately, the legislation that would implement these vital and hard won reforms has languished in this body. The IMF and its mission are too important to jeopardize due to congressional inaction. That's why I'm giving Congress 60 days to act on long overdue IMF reform. If congressional leaders choose not to move forward, then I will use existing legal authorities to reopen the 2010 reform package and work with our allies in the IMF to negotiate a new agreement, one that does not require congressional approval."
The international community signaled that it had run out of patience with the United States on long overdue IMF reform when it gave the US until the end of 2014 to deliver. Efforts by the IMF's shareholders are now likely underway to revisit the package, with an eye toward a new agreement that will not depend on congressionally authorized US approval. The Obama administration should not stand on the sidelines of these efforts. As the IMF's largest shareholder, it's critical the United States play an active role in revisiting the reform package. Peterson Institute scholar Ted Truman has outlined the ways in which a new package could move forward. If the new congress fails to act within the next two months, the administration has some room to maneuver with existing legal authorities. It's time to do so.
Casey Dunning on the Sustainable Development Goals
"In 2000, the world united behind a declaration that called for a more inclusive and equitable global community. From there we committed to tackling eight goals, marshaling resources to better the lives of the world's poorest. We have made great progress toward achieving certain goals, but much work remains. This fall, the world will come together again. We will adopt a new set of goals and in doing so commit to ending extreme poverty around the world. Delivering on this commitment will require American leadership. And it will take more than just foreign assistance, it will require aligning our trade policies, engaging the private sector, and working more closely with developing country governments."
Let's hope President Obama gives a nod to US leadership in realizing the post-2015 sustainable development agenda. Achieving the Sustainable Development Goals will require an all-hands-on-deck approach. The US strategy will need to do more than mobilize aid dollars; it will need to include orienting a wide range of policies to support development objectives.
What will you be listening to hear from President Obama? Let us know in the comments below, and if you're in DC, join us for our annual State of the Union game night.
Disclaimer
CGD blog posts reflect the views of the authors, drawing on prior research and experience in their areas of expertise. CGD is a nonpartisan, independent organization and does not take institutional positions.