The United States is negotiating trade and investment partnership agreements that would cover more than half of global trade if successful: the Transatlantic Trade and Investment Partnership (TTIP) with the European Union and the Trans-Pacific Partnership (TPP). Chile, Malaysia, Mexico, Peru, and Vietnam are part of TPP, along with Australia, Canada, Japan, New Zealand, and Singapore. But most developing countries, and all of the poorest and most vulnerable, are on the outside looking in.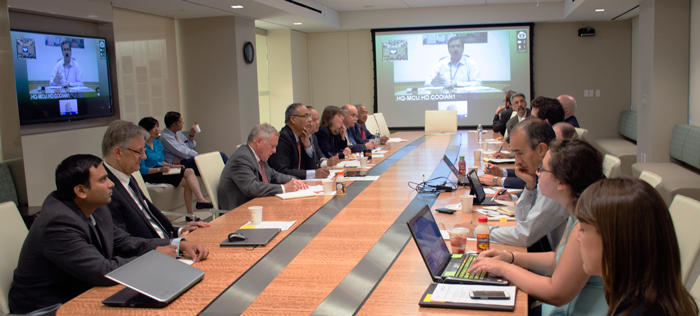 To explore the potential implications for those left out, CGD hosted a small workshop in collaboration with Harsha V. Singh, formerly a Deputy Director General at the WTO and now a Senior Fellow at the International Institute for Sustainable Development. Two background papers framed the discussion. One by Singh on the implications of a successful TPP for India, and another by Brazil's former Ambassador to the WTO and China, Clodoaldo Hugueney, on the challenges for his country of "a new generation of trade negotiations" (presented by Paolo Sotero of the Woodrow Wilson Center for International Scholars). The full agenda is here.
Should excluded developing countries be worried about these mega-regional trade agreements? If so, how should they respond? And what might these agreements mean for the World Trade Organization (WTO)?
Should Developing Countries Worry?
All preferential trade arrangements create the potential for trade diversion from outsiders to insiders. This could occur as a result of reductions in traditional trade barriers that provide preferential market access to insiders; or as a result of changes in regulatory standards or processes that raise the costs of compliance for outsiders. The impact depends, in part, on whether a country is large or small, and whether it is inside or outside the deal.
What Is the Role of Trade Policy in Large Countries?
One of the surprises of the day was the relatively limited attention to trade policy. Slowing economic growth and deteriorating trade balances are key concerns in Brazil and India and much of the discussion emphasized the need for domestic economic reform as a precursor to trade policy reform. Hugueney noted, however, that "the diagnosis of the patient is not shared by all and the proposals for change also diverge" in Brazil. Singh pointed to signs that the new Indian government is emphasizing domestic reform priorities, which may "reflect the domestic difficulties for bringing about large scale trade policy reform." He stressed, however, that a successful TPP, especially if it eventually includes China, would require the Indian government and industry to improve their capacity to comply with what would become, in effect, global standards.
If You Are a Small Country, Are You In or Out?
Le Chi Dzung, speaking on behalf of Vietnam's ambassador to Washington, had a different take. With an internal market much smaller than that of Brazil or India, improving market access for the country's exports is one goal. But the Vietnamese government views active participation in TPP as a key part of a broader strategy "to accelerate [domestic] economic restructuring and growth."
Improved market access for Vietnam may be good for that country's economy, but it could pose challenges for others. If TPP opens the US market to Vietnamese exports of clothing, footwear, and other labor-intensive products, it could be at the expense of Bangladesh, Cambodia, and other poor countries that do not have preferential access in the US market. As I noted here, the US government could mitigate such trade diversion by providing duty-free, quota-free market access for the least-developed countries.
Could Concerns about Mega-Regionals Revive Talks at the WTO?
The official participants from Brazil and India reiterated their governments' support for the multilateral trade system, and for keeping it at the center of international trade rules. Sudhanshu Pandey, from India's Department of Commerce, remarked that the possibility of new, global standards, established without input from most WTO members, "is a cause of concern for a country" like India. Ronaldo Costa, from Brazil's Ministry of External Relations (but speaking only for himself), expressed concern that one motivation for discussions of regulatory cooperation in the TPP and TTIP might be old-fashioned trade protection in disguise.
Regardless of intent, Singh's paper points out that, if any new mechanisms for determining standards compliance are available only to TPP or TTIP parties, it will affect the market access of India and other outsiders. Hugueney's paper notes "there is a clear risk that these mega-agreements… could undermine the multilateral trading system and generate a competition between different regulatory environments."
To avoid increased tensions and fragmentation of the system, Hugueney calls on Brazil, India, and China to "engage decisively" in reviving the dialogue over reform and trade liberalization at the WTO. But none of the trade officials participating offered any specifics on how to do this or how things might change to support that outcome.
What Are the Implications for the Multilateral Trade System?
Peter Allgeier, former US Ambassador to the WTO and now the president of the Coalition for Services Industries, pointed to gridlock at the WTO as a key reason that countries are turning to mega-regional negotiations. He noted, "The rules governing international trade need to be brought in line with the realities of today's digitally-connected world…. If those three negotiations [TPP, TTIP, and Trade in Services Agreement] result in coherent results, that is essentially the template for dealing with these issues multilaterally."
But what if TPP and TTIP come up with different rules, or none at all? As Dan Ciuriak of the CD Howe Institute in Canada put it, "No mega regional has ever succeeded. Ghosts of mega regionals past include the Free Trade Area of the Americas and the Free Trade Area of the Asia Pacific."
TTIP is years away at best. And, given the tough politics of trade in the US Congress, and pushback against US priorities in areas  such as intellectual property protection, a shallow TPP that breaks little new ground looks more likely than not. Even if negotiators manage to conclude both, there is no guarantee that new rules and regulatory approaches will be coherent. So negotiators will still need to find ways to make the WTO work and Brazil and India will still confront the need for domestic reform to promote sustainable growth.
Disclaimer
CGD blog posts reflect the views of the authors, drawing on prior research and experience in their areas of expertise. CGD is a nonpartisan, independent organization and does not take institutional positions.
Topics