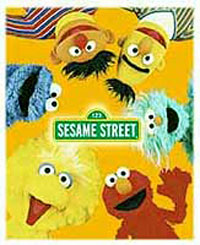 PBS TV aired The World According to Sesame Street last night, a fascinating documentary about Sesame Street and how it has gone global, not just as "American" entertainment for children, but as a catalyst for social and economic development by targeting the youngest citizens around the world. The film follows productions in Bangladesh, Kosovo and South Africa and "examines how producers from New York's Sesame Workshop take the iconic American television show and localize it with indigenous songs, puppets and curricula while facing cultural, political and production challenges."
Sisimpur in Bangladesh has been co-produced with a local Bangladeshi company to address issues of poverty and gender inequality; Rruga Sesam and Ulica Sezam in Kosovo is aired in Albanian and Serbian to assist in the peace process; and in South Africa, Takalani Sesame addresses the very real daily challenges of children living in a country with one of the world's most quickly growing HIV infection rates by creating an HIV+ muppet called Kami, who is wildly successful in communicating these messages to children, albeit with a few hiccups at the start.
How do we know that this experiment is working? An impact evaluation study could be designed in a specific country to systematically answer this question, and maybe the Sesame Workshop is already doing this. A more immediate observation from my experience of living in rural India in the early 90's tells me that if television is reaching even these very remote communities, everyone is, at the very least, watching it. If muppets can educate children to make sense of the world around them as they live it, they are perhaps sowing the very early seeds of change in future generations of this globalizing world. Can the muppets' experience also tell us "development types" a thing or two about transforming a quintessential American idea, with local capacity and content, in to a locally created and owned instrument of change in 120 countries? Five new Sesame Street co-productions in India, Afghanistan, Indonesia, Northern Ireland and Brazil are currently underway. Any guesses about what the muppets might be up to in these countries?
Disclaimer
CGD blog posts reflect the views of the authors, drawing on prior research and experience in their areas of expertise. CGD is a nonpartisan, independent organization and does not take institutional positions.