As highlighted in the New York Times on May 6, CGD has been named as one of only two US think tanks (along with our friends at the World Resources Institute) to receive the top 5-star score in a new report from transparency advocates Transparify. The Times reported
…groups like the Center for Global Development, which has published reports urging antipoverty groups worldwide to be more transparent in their business operations, said that after being pressed by Transparify and other transparency advocates, it decided to publish a detailed accounting of its donors.
Here is the full table of all US think tanks in the report: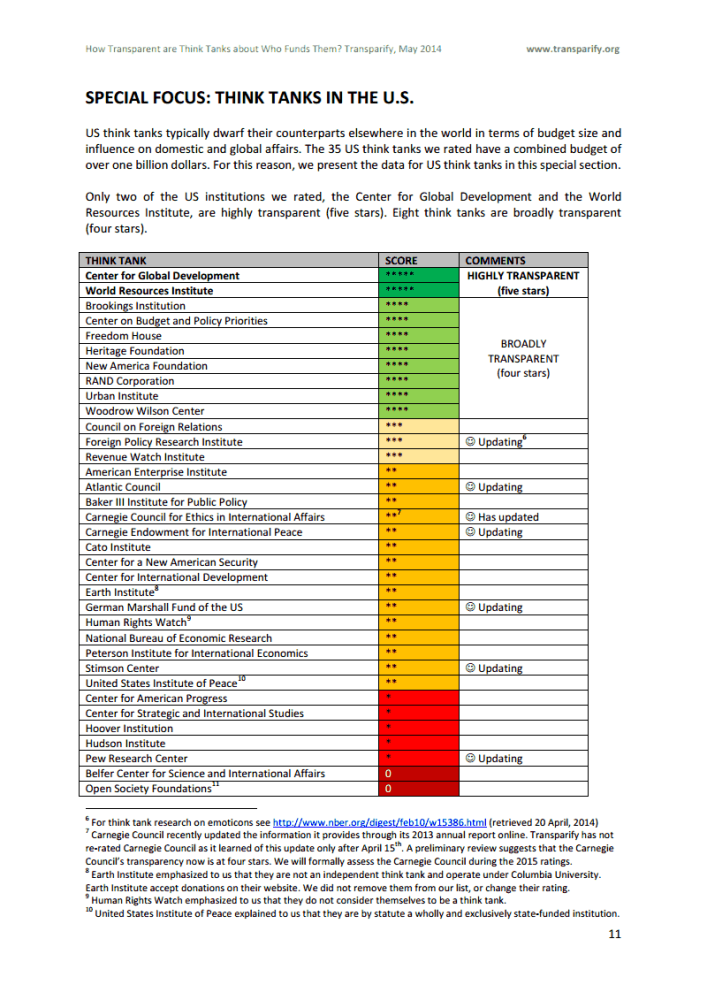 Tweet this
Source:  How Transparent are Think Tanks (Transparify Report 2014) 
As we shared in a CGD blog post earlier this year, we recently launched a new web page showing exactly How We're Funded.  We list all grants and donations, including sources and exact amounts, received in 2013 and so far in 2014 above $100,000 (roughly anything more than 1% of our annual budget). We'll update this and improve it later this year.
So far we've received universally positive responses to How We're Funded from our staff, board, and supporters. We also believe this will help CGD explain who we are and what we do, both internally and externally. More on our thinking from this blog on Transparify and this podcast from Harvard's Safra Center for Ethics.
But we also have another bigger agenda beyond improving ourselves. As noted in the Times: 
 "By aiming to raise the standards for the whole field, we hope to bolster the credibility of think tanks as independent voices," two executives at the Center for Global Development wrote this month.
Disclaimer
CGD blog posts reflect the views of the authors, drawing on prior research and experience in their areas of expertise. CGD is a nonpartisan, independent organization and does not take institutional positions.