Dueling Africa Policies: Comparing Chinese and American Rhetoric with Africans' Priorities
May 16, 2014
Within the last two weeks, top American and Chinese officials completed major trips to Sub-Saharan Africa. In classic Chinese style, Premier Li signed a laundry list of commercial deals and bilateral agreements across four countries. In fact, he reportedly signed 17 agreements in Kenya alone, including a $3.6 billion railway project. In typical American style, Secretary Kerry largely focused on conflicts, democracy, and social issues, with a single business-related visit sprinkled in.
In between the official meetings and site visits (see here and here), the two senior officials delivered major speeches outlining their country's respective Africa policies. While both were delivered in Ethiopia, the symbolism couldn't have been more different. Premier Li gave his keynote address at the Chinese-built African Union headquarters while Secretary Kerry delivered his at a botanical park on the outskirts of town.
Last week, I took a rough stab at analyzing the themes that Secretary Kerry emphasized the most and then compared them to ordinary Africans' top concerns. The major takeaway was that he might have missed the mark – under-emphasizing jobs, the economy, and infrastructure while over-emphasizing security, governance, and environmental issues.
Here is what the picture looks like for Premier Li's keynote address (see below for methodological details).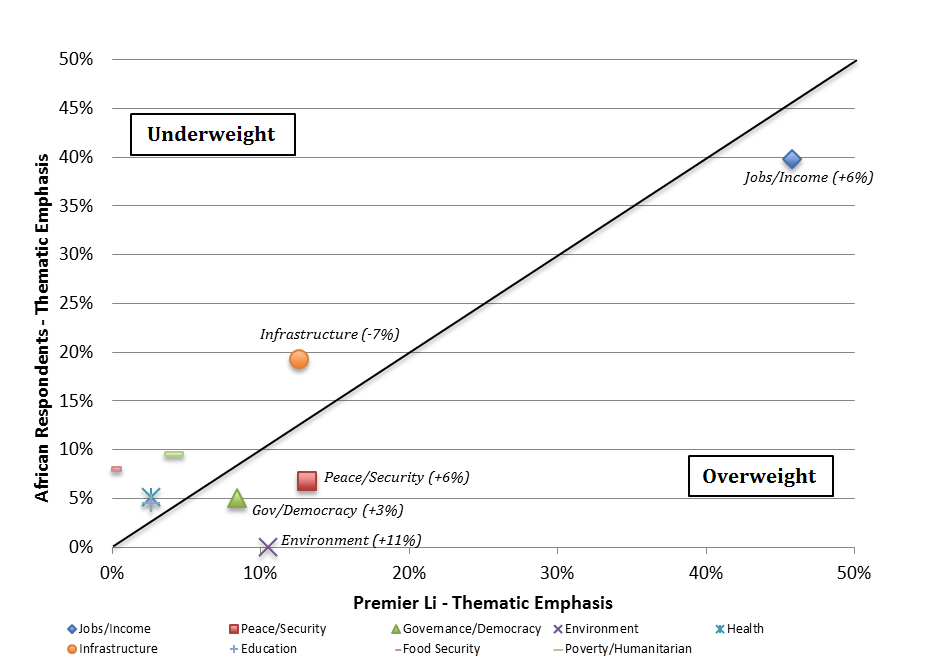 Source: Chinese Foreign Ministry, Afrobarometer, author's calculations
The key takeaway is that roughly 60 percent of his thematic references focused on jobs, the economy, and infrastructure – exactly the same emphasis that ordinary Africans place on these issues. Although, like Secretary Kerry, he also stressed environmental issues much more than surveyed Africans seem to. Overall, the correlation between the thematic content of Premier Li's speech and Africans' most pressing concerns is 0.88 (Secretary Kerry's was 0.49).
Here's how the areas of thematic emphasis compare to Secretary Kerry's major US-Africa policy speech.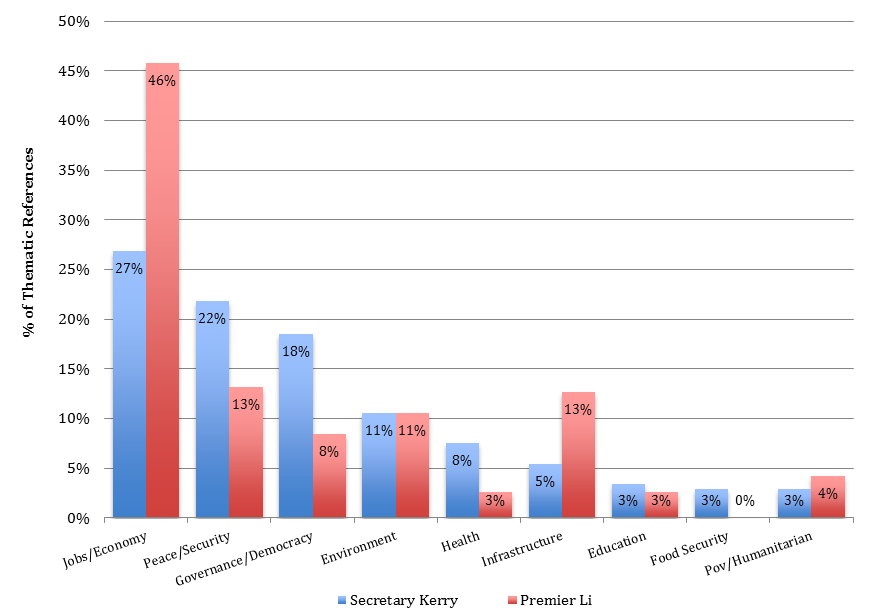 Source: US State Department, Chinese Foreign Ministry, author's calculations
Lastly, here is how each of their Africa policy addresses compares to Afrobarometer survey responses (figures represent the percentage point difference).
Policy Speech Emphasis versus African Public Attitude Survey Results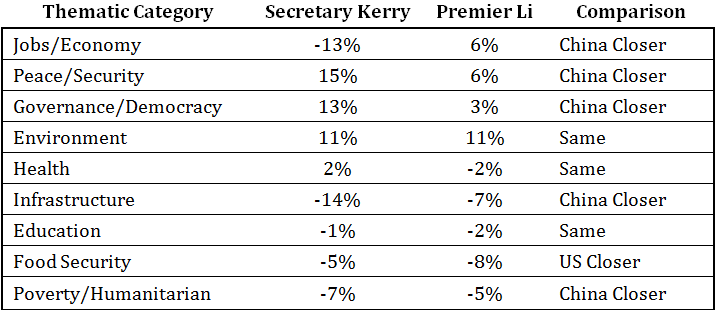 Source: US State Department, Chinese Foreign Ministry, Afrobarometer, author's calculations
So, what should we make of this? While it's always dangerous to extrapolate too much from a single speech, here are a few reflections. First, China's Africa policy seems more closely aligned with public sentiments on the continent, despite some of the criticisms about how it's actually pursuing those policy priorities. Second, Washington's foreign and development policies should be more focused on promoting win-win economic partnerships with African countries, whether that entails trade and investment treaties or promoting investment through agencies like OPIC. My hope is that President Obama, Secretary Kerry, and other senior US officials internalize this before the US-Africa Summit in early August.
Methodological Note
'Bring About a Better Future for China-Africa Cooperation' Speech
Chinese Premier Li's 'Bring About a Better Future for China-Africa Cooperation' speech was delivered at the African Union headquarters in Addis Ababa on 5 May 2014. The remarks included approximately 3,300 words; of which, 1,066 were distinct words. The speech analysis utilizes the Ministry of Foreign Affairs of the People's Republic of China official English translation.
These distinct words were then mapped against 9 thematic categories, including: (1) education; (2) environment; (3) food security; (4) governance/transparency; (5) health; (6) infrastructure; (7) jobs/economy; (8) poverty/humanitarian issues; and (9) security. The table below outlines how the key words were categorized. This reflects the same word coding methodology used for Secretary Kerry's 'Commitment to Africa' speech (for comparison, see that summary table included below). In total, roughly 18 percent of Premier Li's unique words contained in the African Union speech mapped to thematic categories. The remainder was not assigned to a specific category.
Word Count Analysis – Coding and Frequency Results (Premier Li)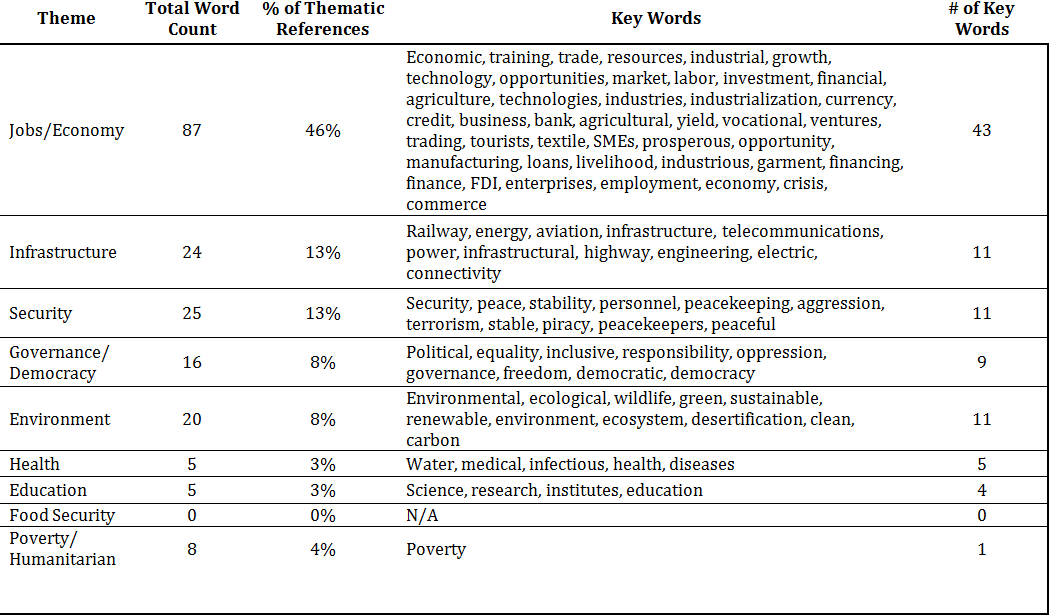 Word Count Analysis – Coding and Frequency Results (Secretary Kerry)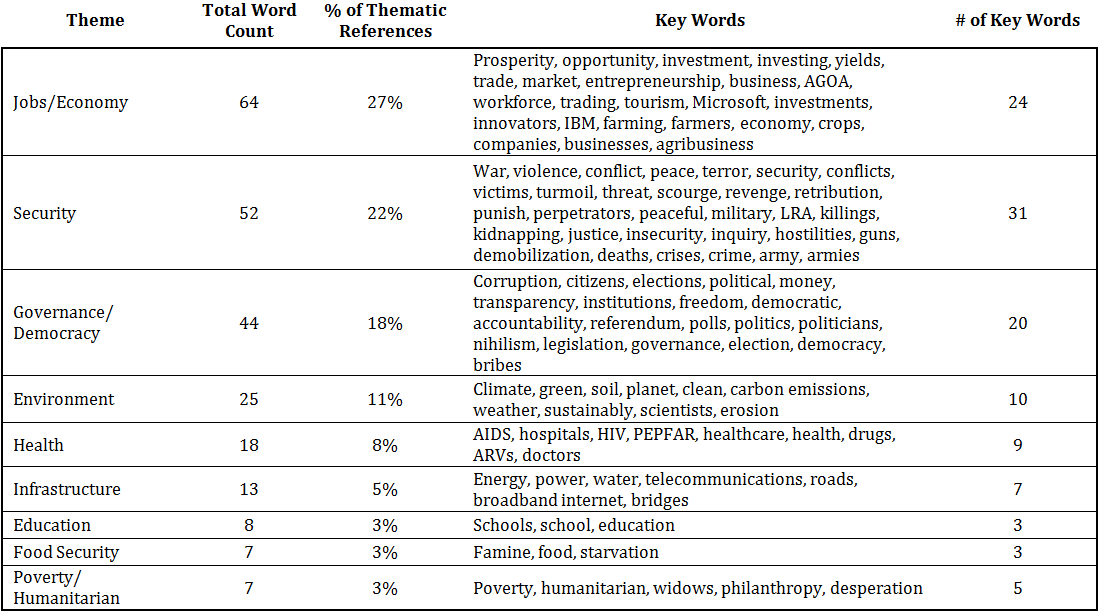 The Afrobarometer public attitude surveys cover 33 African countries, including: Algeria, Benin, Botswana, Burkina Faso, Burundi, Cameroon, Cape Verde, Cote d'Ivoire, Egypt, Ghana, Guinea, Kenya, Lesotho, Liberia, Madagascar, Malawi, Mali, Mauritius, Morocco, Mozambique, Namibia, Niger, Nigeria, Senegal, Sierra Leone, South Africa, Swaziland, Tanzania, Togo, Tunisia, Uganda, Zambia, and Zimbabwe. Collectively, there are slightly more than 50,000 survey respondents in these countries. Region-level results are based off of Afrobarometer's default weighting methodology. Additional details can be found at www.afrobarometer.org.
Disclaimer
CGD blog posts reflect the views of the authors, drawing on prior research and experience in their areas of expertise. CGD is a nonpartisan, independent organization and does not take institutional positions.