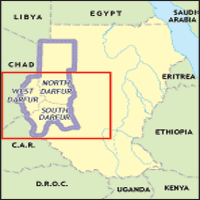 With a U.S.-brokered peace plan on life support, President Bush announced to the UN General Assembly today the appointment of former USAID administrator Andrew Natsios as Special Envoy to Sudan. This welcome if belated step reflects the deteriorating situation in Darfur, where -- two years after the U.S. found Khartoum complicit in genocide -- bands of janjaweed militia continue their policy of murder, rape and ethnic cleansing. The urgency of taking action has only increased with the prospect that the African Unions's undermanned and under-resourced mission in Darfur (pdf) may leave at the end of the month.
As reported in today's Washington Post Bush to Name Envoy for Darfur, Bush had long resisted such a step. Credit for his change of heart reflects the tireless lobbying of a broad coalition of advocacy organizations - ranging from evangelical Christian and women's rights groups - and a partnership of strange political bedfellows on Capitol Hill, including both Barbara Boxer (D-CA) and Norm Coleman (R-MN).
In tapping Natsios, the President chose a man who combines a hard head with a soft heart. For decades, Natsios has been a voluble champion of the wretched and dispossessed. Whether at World Vision or USAID, he has an enviable history of getting results in some of the world's most dysfunctional places. Those qualities will be required to help break the logjam in the way of an adequately resourced UN mission - and most importantly overcoming the intransigence of the Sudanese government. In his speech to the General Assembly, President Bush threatened that unless Khartoum complies, the Security Council will impose its will. Natsios' history of blunt speaking should help Washington drive this message home.
Disclaimer
CGD blog posts reflect the views of the authors, drawing on prior research and experience in their areas of expertise. CGD is a nonpartisan, independent organization and does not take institutional positions.