This blog is part of a special series celebrating CGD's 15th anniversary in 2016. All year, CGD experts will look back at work we've done that has had real-world impact, and forward to future research that we hope will help increase global prosperity.
In India, the price of onions is an election issue, so ubiquitous are they in the nation's cooking. Regularly, around the world, poor consumers face extra hardship as the prices of basic foodstuffs seesaw. Global food security is an area CGD has worked on for many years, and back in mid-2008, we tried to help figure out a solution to the skyrocketing price of a major staple.
Rice prices had spiked fourfold since the start of the year, and poor people in many parts of the world were facing extreme hardship. Yet Japan held 1.5 million tons of rice imported from the United States sitting in storage that it could not re-export without US permission. This serious global problem offered a policy window and CGD scholars used blogs, media, congressional testimony, and other tools to quickly win Washington's assent for Japan to sell or donate the stocks. With news of the approval, the bubble popped and global rice prices fell by 25 percent in just two weeks.
At a Senate Foreign Relations Committee hearing in May 2008, Sen. Robert Menendez asked the two government witnesses, Henrietta Fore, head of the US Agency for International Development (USAID), and Ed Lazear, chairman of the President's Council of Economic Advisors, a pointed question about our proposal:
According to the research of the Center for Global Development, the release of rice stocks being held by Japan and China can bring prices down now, possibly cutting them in half by the end of June. But this can only happen if our government lifts its objections to the re-export of rice previously imported from the United States. I see the specter of rice that could be used to help the world's hungry being used for feed and livestock in Japan... versus being used to feed human beings. And so what's our view of that?
As Peter Timmer wrote on our blog in 2008, the answers weren't very satisfactory but the mere mention of Japan exporting its stocks led some speculators to dump their contracts on the Chicago commodity exchange. Futures contracts for July rice fell sharply and Thai wholesale prices, which had been rising, fell by $16 to $841-843 per ton.
In the end, the Japanese government refused to re-export or donate to the World Food Programme the more than 1.5 million tons of imported rice in its warehouses. But the sudden and unexpected release of information through our blog posts, notes, and interviews in the Japanese and Western media did have some effect. As detailed by Tom Slayton in a post-mortem analysis for CGD, much of the rice price spike in spring 2008 was the result of panicky hoarding by importers and exporters alike. When markets learned about the Japanese rice stocks, the price of rice fell quickly—a decrease of 25 percent in just two weeks (Figure 1). For millions of people in Asia, Africa and elsewhere, this was a welcome relief.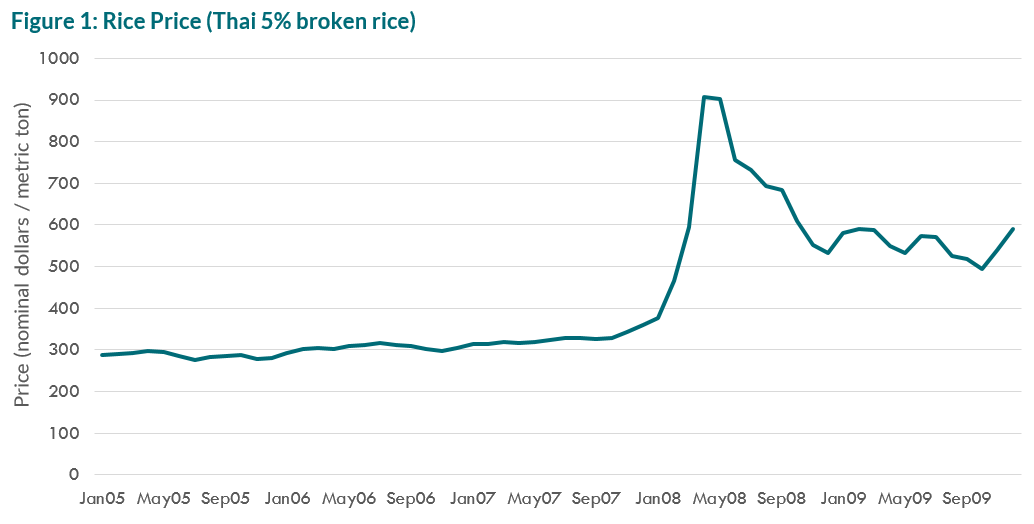 Source: World Bank Commodity Price Data, accessed June 2016.
In the months and years following this episode, CGD has continued to work on agricultural policy and food security issues. Kim has written papers on the role of biofuel policies in the food price spikes of 2007-08 that she is incorporating into a book on US agricultural policy. In addition to the negative spillovers from US (and European) biofuel policies, the book will also analyze how government support for American farmers distorts markets for developing country farmers and how the failure to regulate livestock producers' use of antibiotics contributes to drug-resistant bacteria that can threaten human health. A CGD working group also provided recommendations on how to strengthen the role of the Food and Agricultural Organization of the United Nations in promoting agricultural development and food security.
Helping to prick the rice price bubble is just one of the examples of how CGD has used rigorous research and nimble public outreach to improve policy for the poor in developing countries in its first 15 years. You can read about others here and here.
Disclaimer
CGD blog posts reflect the views of the authors, drawing on prior research and experience in their areas of expertise. CGD is a nonpartisan, independent organization and does not take institutional positions.