August 20, 2020
Recommended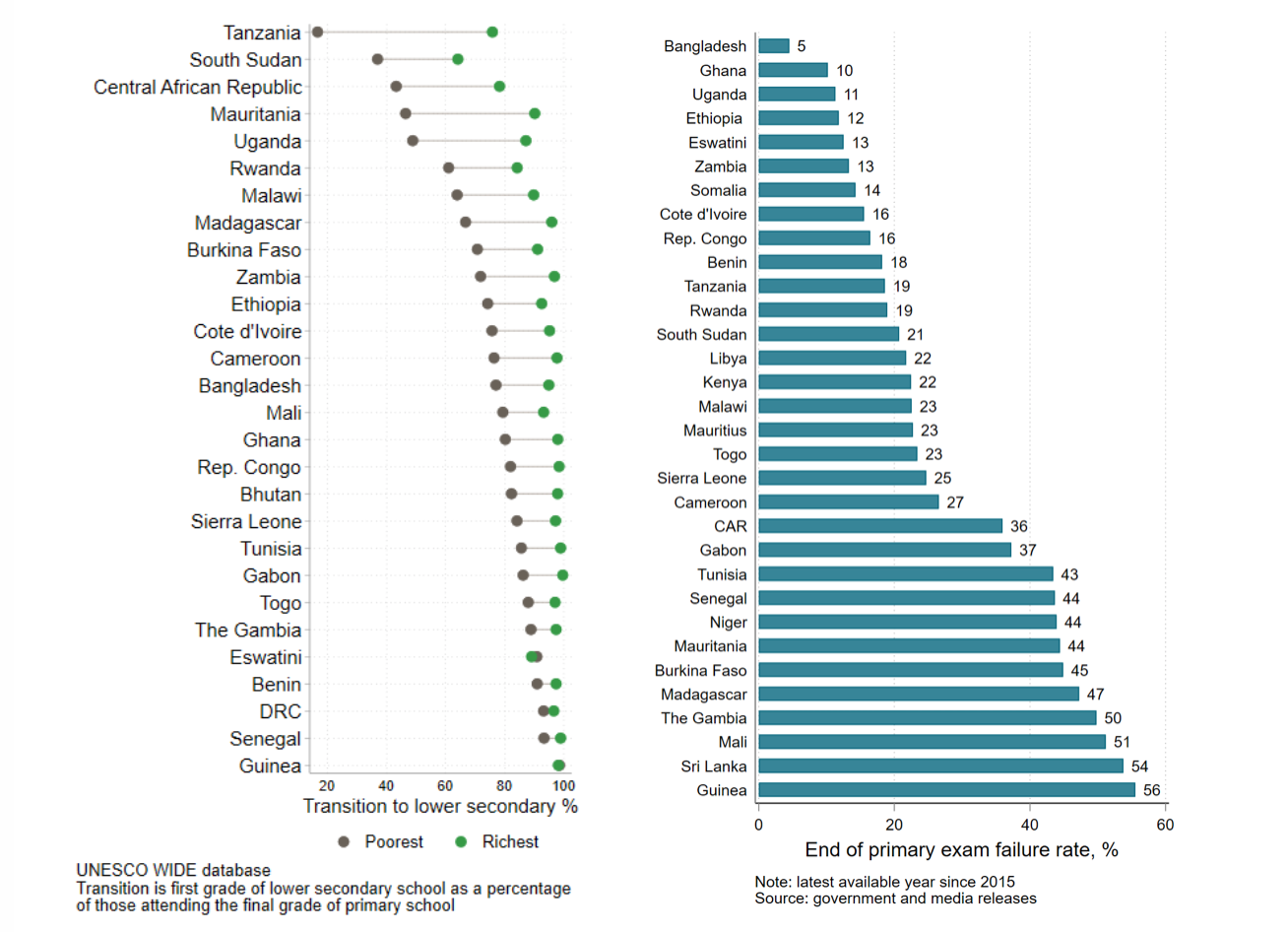 Blog Post
A Case for Abolishing High-Stakes Exams
August 07, 2020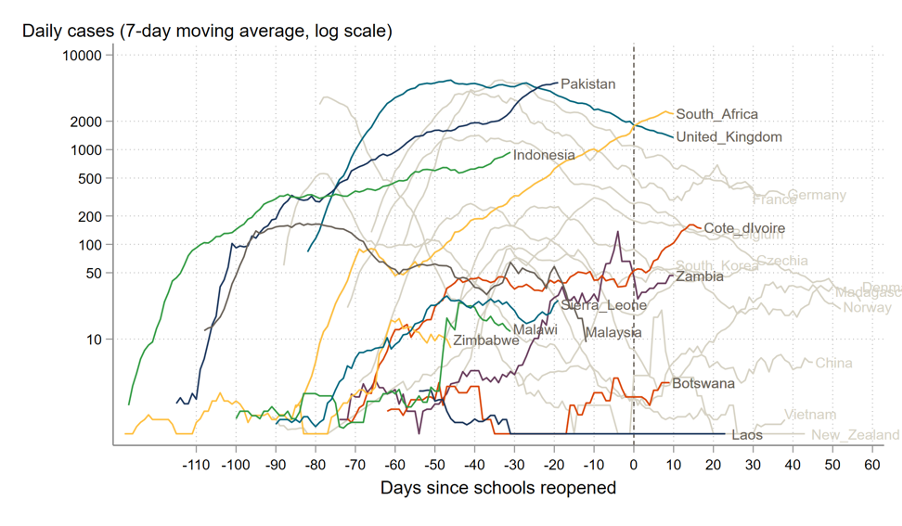 Blog Post
An Update on COVID Cases as Schools Reopen
June 12, 2020
These are testing times for the UK government. Thanks to the COVID-19 schools closures, national exams in England this year were replaced with a combination of school-allocated grades and a centralised algorithm, leading to a set of results that were widely perceived as inequitable. The government was forced to backtrack and eventually issued students with their school-allocated grades without central moderation. The exams "fiasco" has been on the frontpage of left- and right-leaning newspapers for more than a week and the national outrage that ensued may yet force ministerial resignations and cause lasting damage to the government.
But were there any better options? We have been tracking education policies in every country in the world since the onset of COVID-19 earlier this year. We've tracked what happened to high-stakes exams in every country we have data for: whether they were cancelled, postponed, went ahead in person or online, or whether school-allocated grades were used, as they eventually were in the UK.
The UK's exams algorithm downgraded poor students and caused chaos for universities
Students in England usually sit national exams in May and June, with results released in August. The government announced in March that exams would not go ahead this year, and instead A-level (age 18) and GCSE (age 16) students would be awarded their grades using school-allocated scores, which would then be moderated by the exams regulator, OFQUAL. Schools allocated "Centre Assessed Grades" (CAGs), where students were both predicted grades and ranked against each other in every subject. The CAGs were then to be moderated to supposedly ensure fairness and prevent grade inflation by an algorithm built by OFQUAL, which also took into account the prior performance of the school and the 2020 cohort.
It didn't work. Thousands of students were handed grades that did not reflect their nor their teachers' expectations; poorer students were disproportionately marked down by the algorithm; and university admissions were thrown into disarray. And the hundreds of thousands of students outside of the UK who sit British exams felt they were particularly unfairly treated. After the outcry that followed, the government performed a screeching U-turn and students will now receive whichever is the higher of their CAG or their algorithm-allocated grades. This presents its own challenges: thousands more students are now eligible for university places, who will be forced to increase their intakes or defer students to 2021—potentially disadvantaging next year's exam cohort, who have already suffered from missing months and months of school in their penultimate school year.
Our tracker codes what other countries did to manage high-stakes exams during COVID-19 school closures
What did other countries do, and was there any "good" option during this year of lengthy school closures? Using our COVID education tracker, we coded and mapped governments' approaches to national exams in more than 100 countries where we could find reliable data. Where possible, our tracker uses official or multiple sources, but we always welcome any feedback or corrections.
To track exams, we used six codes: "cancelled," where exams were cancelled and not rearranged for this academic year; "new format," which—in every case we found—means exams were or will be administered online; "planned for 2020," where exams may have been delayed but rescheduled dates this year have been announced; "postponed," where exams are still intended to take place this academic year but have not yet been scheduled; "results allocated by teachers or prior assessment," where students were awarded grades on the basis of previous work or performance; or "went ahead," where exams have taken place as planned or with some minor delays
The most popular option was to postpone: 40 percent of countries we have data for—half of which are low-income countries—have delayed exams without yet announcing new dates.
Given the extent of the school closures, a surprisingly high number of countries went ahead with exams, albeit many later than originally planned. Germany went ahead with the Abitur on schedule, with students taking exams in small groups in well ventilated classrooms. Many Anglophone countries in West Africa who fall under the West African Examinations Council ran examinations in August (with more planned for September), having brought their exams classes back to school a few weeks earlier to prepare. Commentators in the UK have applauded countries that managed to administer exams during the pandemic, but big questions remain about their fairness for students who had been out of school for many months, with richer students far more likely to be able to access distance learning during that time.
Other countries implemented online examinations. Parts of the Caribbean Secondary Education Certificate were administered online, supplemented with school-based assessments to provide final grades. And as Laura and our colleagues Jack Rossiter and Aisha Ali discussed in a previous post, the Colombian Institute for the Evaluation of Education is piloting virtual exams to avoid cancelling them altogether. But switching to online exams, given differential access to technology, has the potential to widen the gap between rich and poor students.
A number of countries cancelled their exams and have not rescheduled them for 2020. Kenya, for example, has cancelled its exams and announced that every student will repeat the 2020 school year. Other countries in the region—where exams are administered toward the end of the calendar year—currently plan to go ahead as scheduled, even though children in some countries will have missed more than six months of school this year.
Finally, a handful of countries—80 percent of which are high income—opted to substitute exam grades with teacher- or school-allocated grades, as the UK has done. France, for example, cancelled the whole baccalauréat for the first time ever (part of the exam went ahead during the protests of 1968) and is allocating grades using student assessments from earlier in the academic year. Fascinatingly, one of France's top universities—Paris École Normale Supérieure—cancelled its oral entrance exams, and admitted students on the basis of the anonymous written essay: 80 percent of admitted candidates were female, compared with an average of 40 percent in previous years. In Ontario, Canada, where in-person exams were cancelled, students received "baseline" grades representing work they had completed before school closures, which could be then improved by completing further work during the remainder of the school year. 
There probably wasn't a perfect solution this year, but the exams of 2020 may start a wave of reforms to high-stakes exams to improve fairness and promote educational equality
Is there any objectively "fair" system for allocating grades during a pandemic? Probably not. But this isn't a problem unique to 2020. As Laura and colleagues discussed previously, high-stakes exams reflect society's inequalities and are not a fair way of filtering students from one level of education to another in any year—not just this pandemic year. Evidence suggests that teacher assessment can also be biased, with immigrant or Black students potentially being most disadvantaged. Coursework and oral assessments risk giving further advantage to certain groups, as the example from France highlights.
In the aftermath of COVID-19 econometricians across the globe will no doubt pore over exams data from 2020, analysing whether or not the measures implemented to replace exams promoted educational equality more than the usual examination system. What's clear is that the debacle in the UK—and similar debates elsewhere—are shining a light on high-stakes exams and triggering much-needed discussions on whether exam reform is necessary if education is to achieve its promise of being the great societal equaliser.
Thanks to Maryam Akmal, Aisha Ali, Dave Evans, and Justin Sandefur for their helpful comments.
Disclaimer
CGD blog posts reflect the views of the authors, drawing on prior research and experience in their areas of expertise. CGD is a nonpartisan, independent organization and does not take institutional positions.