June 23, 2021
Recommended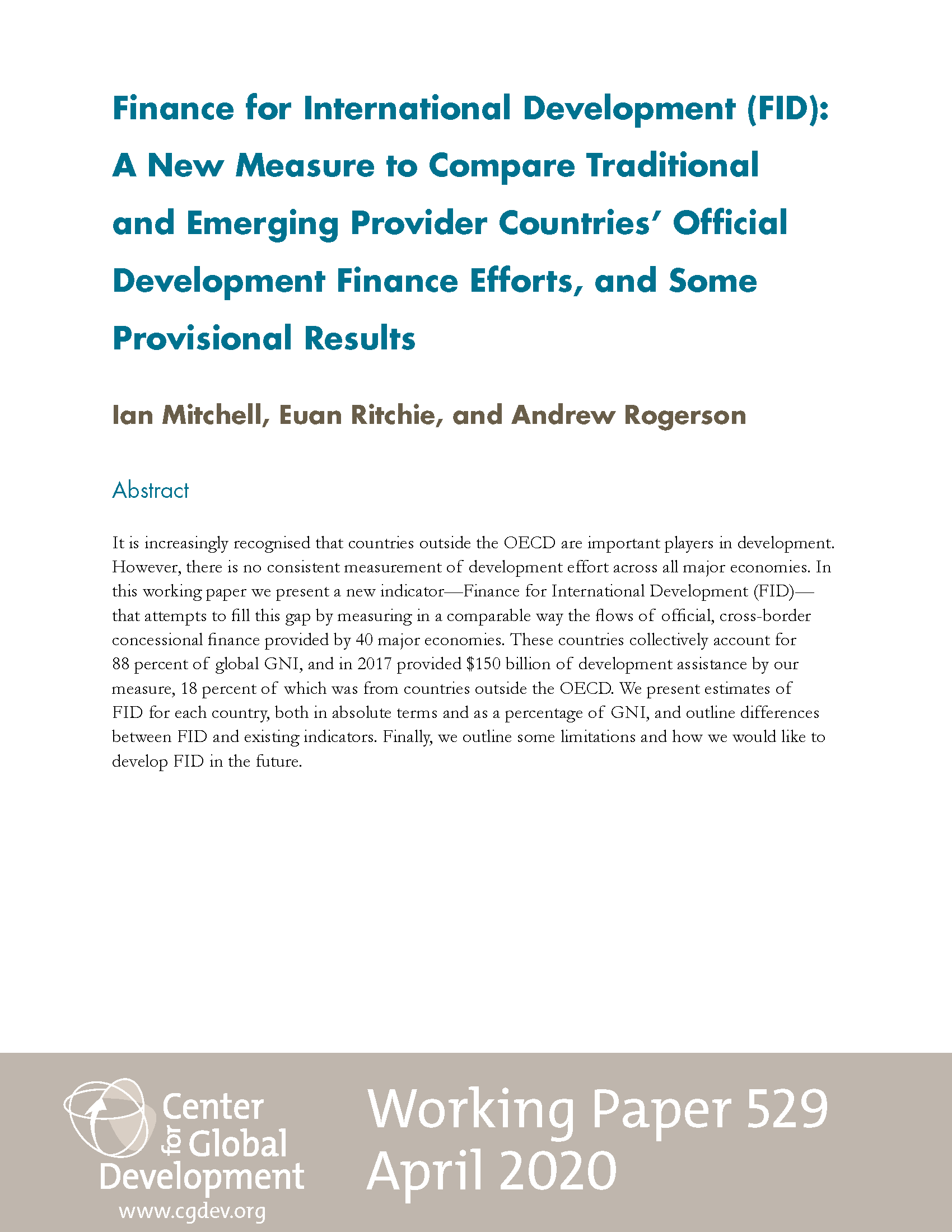 WORKING PAPERS
Finance for International Development
April 09, 2020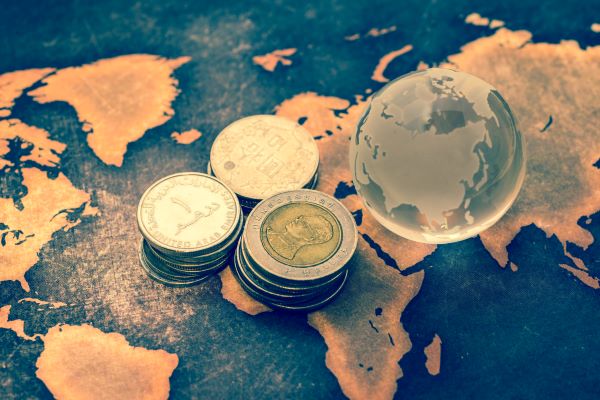 CGD NOTES
Finance for International Development Update
June 23, 2021
In early July, the finance ministers of the G20 will meet in Venice to discuss the interrelated pillars of "People, Planet, and Prosperity," as they've dubbed it. With the G7—the smaller group of just the world's wealthiest economies—making new commitments on international tax, climate finance and vaccination, eyes will turn to the group of 20 major economies and their commitments, both to COVID recovery and to international development more broadly.
In this blog, we draw on our newly published Finance for International Development (FID) measure, using the most up-to-date data now available (from 2018) to give an idea of the baseline efforts of the G20. We hope ministers and officials will use this information in considering the level of their and others' financial commitments (given their income levels) and encourage a step up from the laggards—most obviously Argentina, Australia, Canada, Italy, Mexico, Russia, South Korea, and the United States.
From the G7 to the G20
Last week, the G7 leaders pledged to a range of efforts mostly focused on the pandemic and the economic damage it has caused: 870 million vaccine doses, $100 billion in support to low-income countries from their (and others') IMF Special Drawing Rights; as well as new commitments on climate finance from Canada and Germany specifically.
Whilst these announcements are eye-catching, they can be shifts in aid resources from one goal to another, rather than additional funds. That makes it vital to formally measure financial contributions to compare efforts. For the G7, the OECD's Development Assistance Committee (DAC) carefully records this and, across all DAC members last year, recorded a 3.5 percent increase in Official Development Assistance (ODA).
But no comparable measurement exists for the whole G20. One sixth of the G20's finance for development—$22 billion—is provided by countries outside the OECD's DAC. When the finance and central bank governors of the G20 meet on 9th and 10th July in Venice, in advance of the G20 finance summit a day later, they may be less clear about their finance for development starting point—which is where our new measure comes in.
Why assess finance for international development?
What matters to development is outcomes—economies that drive prosperity, health systems that protect people, climate policies that prevent damage, and vaccinations that prevent deaths. But many of the supporting activities that help us achieve those goals—from funding the World Health Organization to providing humanitarian aid—rely on development finance, so the amounts matter.
It's also legitimate to ask who is providing this finance, and how efforts compare. Our estimates confirm the US is the largest single provider, at about $30 billion, though this is just a function of its economic size—the next 8 largest DAC countries have a combined GNI slightly lower than the US's, but collectively provide over twice as much in development finance. For comparisons then, it makes sense to look at spending relative to the size of the economy providing it.
Our FID metric measures cross-border, concessional finance publicly provided for development. It covers 40 of the world's major economies including both "traditional" providers that are part of the Development Assistance Committee (DAC) as well as emerging economies beyond the DAC. It covers all G20 countries, seven of which do not report to the DAC, and provides a useful measure to compare donor efforts across the G20 and beyond.
Results and trends from latest estimates
What do we know about finance for development when we incorporate all major providers?
Lags in information being published mean that the latest comparable data available are for 2018. In that year FID grew by $7.3 billion in nominal terms, an increase of 5 percent to $156.6 billion across all 40 providers we assess. Yet the increase only just maintained pace with economic growth: FID as a share of total providers' gross national income (GNI) remained unchanged at 0.21 percent.
The majority (69 percent) of this was provided bilaterally, mostly via grants; the remaining 31 percent was allocated as core contributions to multilateral organizations.
Figure 1. FID absolute value (USD billions) by year
Figure 2. FID relative value (% GNI) by year
Our update confirms that DAC donors still provided the majority of development finance in 2018. About 83 percent ($130.2 billion) was provided by donors that belong to the DAC, equivalent to 0.26 percent of their combined GNI. Yet the remaining 17 percent ($26.4 billion) provided by the 13 major emerging providers that aren't part of the DAC still amounts to a significant and underappreciated share. That sum was equal to 0.10 percent of their combined GNI. The growth rate of FID for non-DAC providers (9.8 percent) more than doubled the DAC's (3.9 percent) though as non-DAC FID starts from a lower base, their absolute increase was still smaller than the DAC's ($2.3 billion compared to $4.9 billion).
Judging provider effort against income level
Whilst provider effort is lower amongst non-DAC donors, we might expect the share of GNI provided as FID to increase as their incomes rise. In fairness, this share should be lower for an emerging donor like India, whose income level is $7k per head (adjusted for prices), than for the US, whose income level is $65k per head. Although India gives slightly less than half as much relative to its GNI (0.06 percent, compared to 0.14 percent), it is nearly ten times poorer, so is arguably more generous. Lower-income countries rightly emphasise the importance of "common but differentiated responsibilities." Hence, we look at effort against income levels, with the line in the chart below representing a simple line of best fit going through the origin:
Figure 3. FID (% GNI) vs GNI per capita (PPP) by year
Among the G20, the countries above the line are putting in above-average effort, relative to their income level: Germany, India, Turkey, the UK, and Saudi Arabia (although the latter's aid is mainly to Yemen where it is steeped in a controversial conflict). South Africa is also well above countries with comparable income. Clearly, the pandemic has increased need, as will climate change, and we'd hope these countries would continue to increase their efforts to meet these challenges. Still, if this line is a fair gauge of expected effort, then most countries—Argentina, Australia, Brazil, Canada, China, France, Italy, Indonesia, Japan, Mexico, Russia, South Korea, and the US—are letting their peers carry them. Argentina, Australia, Canada, Italy, Mexico, Russia, South Korea, and the US are more than 0.1 percent of GNI below their peers' average.
Is it legitimate to compare when there's no formal target?
Some might object that there is no finance target that applies to middle-income countries, or that (in the US case), the United Nations sixty-year-old target for aid of 0.7 percent of GNI has never been endorsed. But there needn't be a target for there to be value in measuring and comparing financial effort. There are other ways to measure effort (one could compare finance provided to a country's domestic public spend rather than its economy), and there's certainly scope to improve these measures. A more coordinated approach would be valuable—but we think these estimates are a sound start.
What does this mean for the G20?
As the large middle-income countries like Brazil and Indonesia grow, they will have the capacity to provide more development finance. Argentina and Mexico's income levels (adjusted for prices) are comparable to those of Canada, New Zealand, Portugal, and Spain around 1990 when each of those countries provided over 0.2 per cent of GNI in aid. Furthermore, with emissions from China, Russia, and other middle-income countries a major driver of climate change, those countries will have a responsibility for finance to adapt to it; including as part of the Paris agreement's yet-to-be-agreed post-2025 climate finance goal.
We think these estimates will become more important over time, and hope G20 officials will start to use them to consider their level of effort. Ideally, those countries with lower ambition can start stepping up in Venice next week.
Disclaimer
CGD blog posts reflect the views of the authors, drawing on prior research and experience in their areas of expertise. CGD is a nonpartisan, independent organization and does not take institutional positions.