Making Globalization Work
Wednesday, September 27, 2006 -

10:00am

to

12:00pm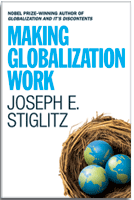 Nobel Prize laureate and former World Bank chief economist Joseph Stiglitz discussed his new book, Making Globalization Work. The book offers fresh ideas including a plan to restructure a global financial system made unstable by U.S. debt, ways countries can grow without degrading the environment, and a framework for free and fair global trade. Stiglitz argues that economic globalization continues to outpace the political structures and the moral sensitivity needed for a just and sustainable world, and proposes ways to close the gap.
C. Fred Bergsten, Director of the Institute for International Economics and Nancy Birdsall, President, Center for Global Development participated as discussants.
*Watch Joseph Stiglitz's keynote address. *(The video streams in Quicktime. If you do not have Quicktime player on your computer download it for free or if you are having problems streaming the video it is also available for download. [ 95 MB] )
*Download Event Transcript (120 KB)
Upcoming Events
In 2016, the Liberian government delegated management of 93 randomly-selected public schools to private providers. The program has become an important case study in the design and management of public-private partnerships in the developing world, and a lightning rod for controversy.