December 04, 2019
Recommended
The Millennium Challenge Corporation's (MCC) Board of Directors will meet on December 9 to determine which countries will be eligible for the agency's FY2020 funds. Every year CGD's US Development Policy team explores the central issues surrounding MCC's annual eligibility decisions.
Below we discuss (1) why it will be a small year for MCC, (2) the changes that are likely in store for participants in the first regional compact, (3) why it's time for Congress to reevaluate its restrictions on threshold program eligibility, and (4) the implications of "graduation" when it happens in the middle of program development. We then profile each of the countries that are up for consideration this year and predict which the board will pick.
Click here for a quick overview of MCC's programs and how the agency's selection process works
MCC's board selects countries for one of two grant-funded programs—a compact (a package of growth-focused investments, with an average size of around $400 million over five years) or a threshold program (a much smaller program that allows MCC to develop an initial partnership and determine if the country might be a good compact partner in the future). Here's how the board goes about selecting countries for these two programs:
The starting point is the country scorecard. MCC's scorecards offer a snapshot of policy performance relative to other countries in either the low-income or lower-middle-income country peer group. To be considered for a compact, countries need to pass at least 10 of the 20 scorecard indicators, including the two "hard hurdles" on corruption and democratic rights. Countries may be considered for a threshold program if they pass or come "close" to passing these same scorecard criteria. 
But the scorecard isn't the only thing that matters. MCC also considers supplemental information about the policy environment and whether MCC could work effectively in a country, as well as how much money the agency has available. For countries in the running for subsequent compacts—those that have completed or are within 18 months of completing a compact—MCC specifically assesses its prior working relationship with the country and whether the country has improved its performance on the indicators (especially the governance indicators).  
Typically, once a country is selected for a compact it is considered for reselection annually until the compact is approved—usually in two to three years. 
For more detail on the process, see MCC's report on selection, or read CGD's short synopsis.
The central issues around this year's selection decisions
It's going to be a small year for MCC
Both supply and demand factors combine to create an environment of very limited choices this year. On the supply side, there simply aren't that many plausible candidates for new compact eligibility.
As the figure below demonstrates, there are 24 candidate countries that pass the scorecard. MCC is already developing or implementing compacts with 13 of them. Of the remainder, many have significant policy concerns that aren't well-captured in the scorecard (for details, see our country-level analysis below), others are not very populous (this doesn't rule them out but MCC has historically avoided new compacts with small countries), and then there's India—which is huge and has no interest in an MCC compact. This leaves just three countries that might be considered: Mozambique, Sierra Leone, and Togo.
Figure 1. Winnowing down the pool of plausible choices
Countries that...
... pass the scorecard
 
...and aren't already developing or implementing a compact
 
...and have a population >1 million and <1 billion
 
...and have no deal-breaking policy concerns
Benin
 
 
 
Bhutan
Bhutan
 
 
Burkina Faso
 
 
 
Cabo Verde
Cabo Verde
 
 
Côte d'Ivoire
 
 
 
Ghana
 
 
 
India
India
 
 
Indonesia
 
 
 
Kiribati
Kiribati
 
 
Lesotho
 
 
 
Malawi
 
 
 
Micronesia, Fed. States
Micronesia, Fed. States
 
 
Mongolia
 
 
 
Mozambique
Mozambique
Mozambique
Mozambique
Nepal
 
 
 
Niger
 
 
 
Sao Tome and Principe
Sao Tome and Principe
 
 
Senegal
 
 
 
Sierra Leone
Sierra Leone
Sierra Leone
Sierra Leone
Tanzania
Tanzania
Tanzania
Tanzania
Timor-Leste
 
 
 
Togo
Togo
Togo
Togo
Tunisia
 
 
 
Zambia
Zambia
Zambia
 
As it turns out, however, this limited pool of plausible candidates isn't terribly consequential since MCC has very little bandwidth to add new countries to its pipeline of developing compacts. Last year the board picked eight new compact countries, including—for the first time—five countries to develop the agency's inaugural regional compacts. Compared to an annual average of just two to three new picks, last year was huge—the second largest selection year ever, surpassed only by the first set of picks back in 2004 that got the then-new agency up and running. So in terms of having the budget and staff to take on new compacts right now, MCC is pretty tapped out, with eight countries simultaneously in early stages of compact development. Many of last year's picks will also likely need to draw from FY2020 funds (note: though Congress hasn't finalized FY2020 appropriations, both the House and Senate bills included $905 million for MCC, the same as FY2019's enacted level and above the White House request of $800 million).
Long story short: even if there were a broader pool of potential candidates this year, MCC would still most likely be looking at only one, maybe two new countries. As you can see below, our bets are on Mozambique.
MCC is likely to drop Ghana from its first regional compacts
In 2018, Congress granted MCC new authority to pursue regional compacts. Last year, MCC's board picked five neighboring West African countries—Benin, Burkina Faso, Cote d'Ivoire, Ghana, and Niger—with which MCC would start to explore the possibility of one or more cross-border investments. The agency has since identified several promising opportunities in the transportation, water, and energy sectors.
Figure 2. Countries selected in FY2019 for MCC's first regional compact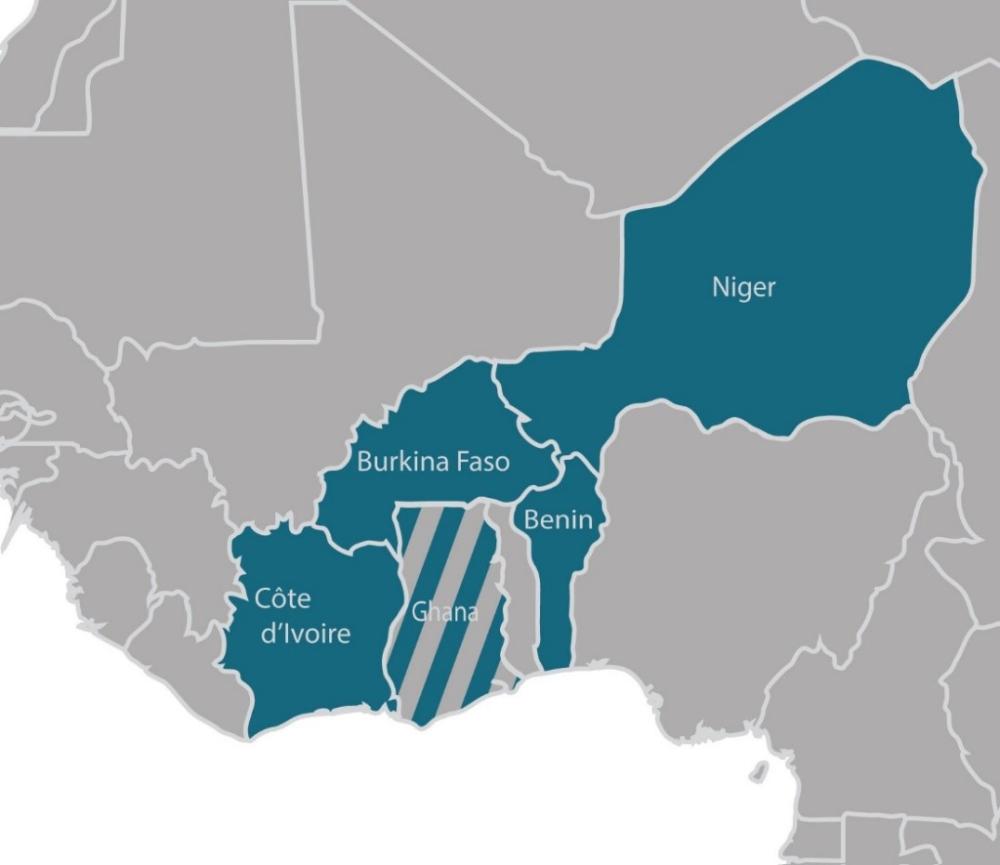 Because this first regional effort is still in early stages and because MCC has limited scope for taking on many new countries this year, we don't expect the board to select new countries for regional investment. But we are likely to see some changes to the current grouping. All five countries selected last year continue to pass the scorecard this year. But MCC is likely to drop Ghana from participation. The agency recently announced it was canceling a $190 million tranche of funding for Ghana's existing bilateral compact focused on the power sector. The move came in response to the Government of Ghana's decision—in contravention to one of the compact's conditions—to terminate its concession with a private power operator. While the regional compact would be a separate investment, Congress made clear in giving MCC new regional authority that countries can only be eligible for regional agreements if they are "making considerable and demonstrable progress in implementing the terms of the existing Compact."
Given recent developments, the board is unlikely to determine that Ghana meets that criterion.
There's a need for Congress to revisit the threshold program's eligibility criteria
If MCC thinks a country might be a promising compact partner in the future but would like to understand more about the trajectory of the country's policy performance or see how a partnership might go before making a large commitment, it can use the threshold program. Typically, MCC's threshold program picks are countries that are on a reform path (that haven't yet had a compact) that either 1) pass the scorecard inconsistently or 2) haven't passed it yet but are close. No new countries fit that bill this year. The board will almost certainly agree to continue developing threshold programs with Ethiopia and the Solomon Islands—both initially selected last year—but we don't expect any new countries will be picked.
This wouldn't be the first year the board passed on picking new threshold countries. But the underlying problem is that there are some potentially good choices that MCC legally can't pursue. Several years ago, Congress imposed a restriction that prevents MCC from undertaking a threshold program with any country that has already had a compact. This was seemingly done in reaction to a specific case. Back in FY2011, in a pretty overtly political move, MCC's board selected Honduras—which was in the aftermath of a coup and didn't pass the scorecard at the time—for a threshold program immediately after it completed its compact. It was a weak case for threshold eligibility. MCC had just worked closely with Honduras for five-plus years; it didn't need the threshold program to provide insight into the kind of partnership it might have.
But while an immediate post-compact threshold program is hard to justify, there's little rationale for continuing to block a country that once had a compact from having a threshold program several years down the road. Take Madagascar, for example. Its compact (MCC's first) was terminated in early 2009 when a military coup overthrew the democratically elected government. Ten years—and three changes in government later—it could be useful for MCC to test out a new engagement, especially since Madagascar has passed or come close to passing the scorecard for the last several years.
Congress was right to restrict threshold programs in the immediate post-compact period. But now that it's been years—in some cases nearly a decade—since many former compact countries concluded their programs, it's time to revisit that restriction and consider limiting its application.
"Graduation" is an issue again this year, but thankfully only a minor one
Per statute, only low- and lower-middle-income countries can be candidates for MCC assistance. Once a country becomes upper-middle-income, it can no longer compete for funding. This year, Kosovo, which would have been up for reselection since it's in the process of developing a compact, transitioned to upper-middle-income and cannot be reselected. It's not very common that a country in the middle of compact development "graduates" out of candidacy—it's only previously happened twice—but it has historically been somewhat contentious.
Thankfully, it's not likely to be this year.
It first happened with Colombia and several years later with Mongolia. Both transitioned to upper-middle-income the year after they were first selected for a new compact. In Colombia's case, the board decided not to continue to pursue a compact. But MCC did decide to proceed with Mongolia. Some important Congressional stakeholders pushed back hard, however, concerned that Mongolia was too wealthy or that funding such a country was against MCC's rules. As a result, the Government Accountability Office was asked to provide a legal opinion on whether MCC's decision to proceed with an upper-middle-income country selected in a prior year was, in fact, legal.
Their verdict: it's totally fine! And it's sensible, too. As Nancy Birdsall, Anna Diofasi, and I have pointed out, the legal definition of "poor enough" for MCC candidacy—based solely on income level—doesn't adequately capture the state of broad based well-being in a country.
Thanks to the GAO decision, MCC should be able to proceed with a compact for Kosovo with little fuss. And that's a good thing considering how long it took for MCC and to get to this point. Kosovo was selected for a compact in FY2016, relegated to a threshold program a year later when it didn't pass the corruption hurdle (despite no decline in the actual anticorruption environment!), then selected again for a compact in FY2019. It's hard to imagine MCC (or other parts of the US government for that matter) wanting to pull the compact rug out from under Kosovo yet again.
Predictions for FY2020
New compact eligibility
Click on the country name for additional analysis
Mozambique — second compact (likely)
Mozambique is the most likely pick for a new compact this year. And it makes for an interesting decision: Mozambique previously completed a compact in 2013, and though it continued to pass the scorecard for many years thereafter, the board repeatedly passed over it for a second compact. Policy concerns, including trouble with corruption and episodes of violence, as well as a difficult first compact likely played into the board's decisions not to reengage with Mozambique for some time. (Note: even though the compact ultimately met many of its performance targets, there were a number of implementation delays, difficulties with contractors, and at least one unmet policy condition.)
But the United States has a growing strategic interest in Mozambique. Between 2010 and 2016, US foreign direct investment in Mozambique increased by 591 percent, one of the highest growth rates in the region. The country's burgeoning natural gas industry has been a big factor. Several major US companies recently made major investments in Mozambique to that end, including Exxon Mobile, which announced in 2017 that it would acquire a $2.8 billion stake in a Mozambique energy company. Both Exxon Mobile and Anadarko Petroleum Corp have recently approved multi-million dollar construction phases for their natural gas projects in Mozambique (gas exports are expected to begin in the early to mid-2020s). At the moment almost all of US assistance to Mozambique is focused on health programs. A compact could diversify the US relationship by tackling major barriers to private sector-led growth.
And though the first compact didn't go smoothly, there's also no reason to believe this is predictive of future performance. Mozambique's first compact—like many early compacts—was highly complex and diffuse. MCC doesn't design compacts like that anymore, in large part due to lessons learned from early compacts—many of which faced implementation challenges. Compacts are now more streamlined, often focusing investment in a single sector. Also, a (somewhat) different set of government actors is likely to implement a new compact differently.  If part of the first compact's implementation challenges was related to the government's political will to implement reforms, it is reasonable to believe that the quality of a partnership could be different when working in different sectors with different ministries under a different government (though the same party).
One concern about proceeding with Mozambique, however, is that while it has a fairly good record of passing the scorecard—it's passed seven out of the last nine years—it's only passed the all-important control of corruption indicator once in the last three years. And it's not passing by a wide margin. There's a real risk that Mozambique might not pass next year. The control of corruption indicator is imprecise and scores sometimes fluctuate from year to year, even if the actual policy environment doesn't change. Even so, the board is likely to accept that risk and pick Mozambique this year.
Sierra Leone — first compact (a big maybe)
Given MCC's pipeline of compacts in development, the board will likely stick with one new country. If they pick two (a big if), our bets are on Sierra Leone. Sierra Leone was initially selected as compact eligible in FY2013. But when it failed the scorecard (including the control of corruption indicator) the next year (due to noisy data rather than an actual policy decline), its compact progress slowed and the board eventually offered them a threshold program instead. Since 2016, Sierra Leone has demonstrated significant commitment to its $44 million threshold program focusing on utilities infrastructure and reforms to limit corruption. And MCC is almost certainly eyeing Sierra Leone for a compact at some point down the road. However, even though it solidly passes the scorecard now, its historic performance has been inconsistent.
Figure 3. Sierra Leone's inconsistent performance on the control of corruption indicator
MCC already bumped Sierra Leone down from compact eligibility once because of scorecard performance; it certainly doesn't want to find itself in the position of having to make that decision again. MCC may decide to wait and see whether Sierra Leone can maintain its current high performance over time. MCC may also want to keep the focus on finishing out Sierra Leone's relatively large threshold program—which doesn't end until mid-2021—rather than shift to compact development at this time.
Likely reselection for compact eligibility
Click on the country name for additional analysis
Benin — concurrent/regional compact
Benin has been a fairly consistent performer on the scorecard and has maintained a productive partnership with MCC for several years. Benin successfully concluded its first compact in 2011 and is implementing a second compact which focuses on solar power and electrification. It's also part of the group of West African countries selected last year to pursue a regional investment. It's a dependable choice for reselection.
Burkina Faso — bilateral and concurrent/regional compact
After concluding its first compact in 2014, Burkina Faso was selected for a second compact in FY2017 and chosen to be part of the regional compact in FY2019. The timing of its concurrent bilateral and regional compacts—both in development together—provides a unique opportunity for MCC to think strategically about how the two will intersect. Burkina Faso has passed the scorecard almost every single year and though recent terror attacks—some targeting Western interests and nationals—highlight its fragility, we still anticipate it will be reselected this year.
Côte d'Ivoire — concurrent/regional compact
Côte d'Ivoire's scorecard registers the significant advances the country has made since the end of its civil war in 2011. Côte d'Ivoire recently began implementing its first bilateral compact targeting the transport and education sectors. It was also selected to participate in the agency's first regional compact. An economic powerhouse in West Africa, it's a key player in the regional grouping and will almost certainly be reselected.
Indonesia — second compact
Indonesia completed its first compact in 2018. It was a challenging program for MCC, and nearly 20 percent of total compact funds ended up unspent due to delays and difficulties launching one of the projects. Nevertheless, the board selected Indonesia for a second compact last year. Since then, the government has responded forcefully to continued civil unrest in Papua province, an area with a separatist history and MCC is probably keeping an eye on these issues. But the board is still likely to reselect Indonesia. The country's long-term strategic partnership with the United States and position as a major population center in the Indo-Pacific make it an attractive choice for continued partnership.
Lesotho  — second compact
Lesotho was originally chosen for a second compact in FY2014, but progress was held up for two years due to political instability. The country has since made progress addressing MCC's concerns and the agency decided to continue moving forward with Lesotho in 2018. Even so, some risks persist. Since last year's reselection, increasing political tensions required intervention by the Southern Africa Development Community to facilitate dialogues between political parties. In July the parties agreed to establish an authority that will help develop and implement key governance reforms but they're proceeding slowly through parliament. MCC will likely reselect Lesotho but will be paying particular attention to the political environment as compact development proceeds.
Malawi  — second compact
Malawi has been a long-term MCC partner. It was one of the first countries selected for the threshold program and eventually moved to compact eligibility. After completing its first compact in 2018, it was selected last year for a second compact. MCC is currently focused on conducting a new constraints to growth analysis to inform the direction of the program. Malawi has passed the scorecard for 13 years in a row and despite some issues with corruption it will likely be reselected for compact development.
Niger — concurrent/regional compact
Niger has a long history with MCC. After completing a threshold program in 2013, it was selected for compact eligibility. It began implementing its compact—focused on improving access to markets and water for the agricultural sector—in 2018. Last year it was selected as part of the West African regional compact and is likely to be reselected. Even though it is, by some measures, the most fragile of the countries involved in developing regional investments, it has passed the scorecard for the last nine years in a row.
Timor-Leste — first compact
After a tumultuous early history with MCC, the board selected Timor-Leste for a compact in FY2018. It has shown good scorecard performance over the past five years and compact development is proceeding along with MCC hoping to begin final negotiations next year. Timor-Leste's location is also probably a strategic plus given the Trump administration's Indo-Pacific strategy and concern about recent Chinese financing activity in the country. Reselection is likely.
Tunisia — first compact
Tunisia has passed the scorecard for four years in a row and was originally selected for a compact in FY2017. The proposed compact is designed to improve the country's business climate and address water scarcity. Tunisia recently saw political outsiders come to power in its democratic elections, which will require MCC to develop new relationships as compact development proceeds. But we don't see any reason the board wouldn't reselect Tunisia this year.
Likely reselection for threshold program eligibility
Click on the country name for additional analysis
Ethiopia
Ethiopia has still never passed the scorecard, but the opening policy space under the new reformist prime minister sparks optimism about future performance. In recognition of Ethiopia's significant transition, MCC selected it for the threshold program last year. Though recent political controversy has set off protests in the country, most continue to see promise in the new administration. Continuing with the Ethiopia threshold program would help provide support at a critical time and start to build MCC's engagement with a strategic US ally and key player in East Africa.
The Solomon Islands
Last year's selection of the Solomon Islands for threshold program eligibility was the surprise of the year. A number of Pacific island countries tend to perform well on the scorecards, but MCC's board has historically passed them over. While the board has never specified why, they've presumably steered clear in part due to questions about the cost effectiveness of working in small island nations and a perception that Congress would react unfavorably. But the way this administration—and presumably many members of Congress—thinks about the Pacific region changes the calculus. Last year's selection of the Solomon Islands reflects this.
In fact—in a new move for MCC—the agency didn't even try to couch the island country's selection as anything other than a link to the administration's Indo-Pacific strategy (rather disappointing for an agency which is supposed to select countries based on their policy performance merits—especially since the Solomon Islands' good scorecard record suggests a decent policy case could be made). We anticipate that the board will reselect them.
Countries that pass the scorecard but are unlikely to be selected
Note: Mongolia Nepal, and Senegal all pass the scorecard but are implementing compacts and are not up for reselection.
Click on the country name for additional analysis
Bhutan, Kiribati, Micronesia, Sao Tome de Principe
These countries are unlikely to be selected for a compact this year due to their small size. Though the agency has no official size requirements, the board has typically passed over small countries (with the recent exception of the Solomon Islands—see above).
Cabo Verde
Cabo Verde regularly passes the scorecard and has successfully completed two MCC compacts. That would technically put it in the running for the agency's first ever third bilateral compact. But with a population of only a half million people, Cabo Verde is an unlikely choice to be at the vanguard of third compacts which are anticipated to be rare and for special cases.
Ghana
Ghana is implementing a bilateral compact and has been part of the group of West African countries working toward a regional compact. As noted above, however, due to the government's decision not to fulfill a condition associated with the bilateral compact, it is unlikely to be reselected to continue participation in the regional group.
The Gambia
In FY2018 MCC selected the Gambia to develop a threshold program. The country has passed the scorecard for the last five years and made impressive progress on the governance indicators since its democratic transition in 2017. However, MCC is legally prohibited from reselecting the Gambia this year. It was recently classified as "Tier 3" (not meeting the State Department's minimum standards) for combatting trafficking in persons, triggering a statutory restriction on many forms of development aid.
India
India has passed the scorecard for many years but neither it nor MCC see a compact as the right fit for the bilateral partnership.
Tanzania
While Tanzania has passed the scorecard for 15 years in a row, major democratic backsliding makes it an unlikely partner for a compact. Tanzania was previously eligible for a second compact, but MCC suspended the relationship following a rigged 2015 election in Zanzibar and a shrinking political space. Since that time political and civil rights have arguably declined even further. In 2019 journalists and NGOs continue to be targeted, and free expression and association rights have been restricted by a number of new laws. Tanzania is an unlikely choice this year.
Togo
Togo is an interesting case given its adjacency to the other parties to the forthcoming regional compact. However, we don't expect it to be selected for compact eligibility this year. Togo was selected for the threshold program in FY2016 but program development was delayed due to concerns around the government's repression of demonstrators. Though MCC and the government of Togo signed a threshold program agreement earlier this year, the agency will probably want to see how the partnership develops before thinking about moving to a compact. It will also probably want to continue to monitor the governance environment, especially given recent delays in scheduled elections and a constitutional ruling allowing the President (who has been in power since 2005 when he took over from his father) to stand for reelection for life.
Zambia
Zambia completed its first compact in 2018 and could be considered for a second compact. However, though it has passed the scorecard since FY2009, it does not exhibit the "improved scorecard policy performance" that MCC requires of countries it is considering for subsequent compacts—especially with respect to the governance. Just in the past year, the leader of a small opposition party was arrested on charges of defaming the president after the government cancelled his party's registration ahead of the 2021 elections. And the courts have allowed the sitting president to seek a third term despite a constitutionally mandated two-term limit. There is further concern about Zambia's macroeconomic position. Despite IMF warnings that Zambia is at high risk of debt distress, the country has continued to accrue new external loans. A heated debate over whether the country should pursue a bailout from the international community has ensued. The board is likely to wait until the political and economic situation in the country improves before selecting it for a second compact.
Disclaimer
CGD blog posts reflect the views of the authors, drawing on prior research and experience in their areas of expertise. CGD is a nonpartisan, independent organization and does not take institutional positions.

Image credit for social media/web: Wikimedia Commons