The Millennium Challenge Corporation (MCC), an independent US foreign assistance agency, was established with broad bipartisan support in January 2004. MCC has a single objective—reducing poverty through economic growth—which allows it to pursue development objectives in a targeted way. There are three key pillars that underpin MCC's model: that policies matter, results matter, and country ownership matters.
This brief reviews the MCC's focus on policy performance. A longer discussion can be found in the full paper, "Focus on Policy Performance: MCC's Model in Practice."
MCC works in partnership with eligible countries to develop and implement an aid program on the premise that investments are more likely to be effective and sustained if they reflect the country's own priorities and strengthen the partner government's accountability to its citizens.
MCC Picks Partner Countries on the Basis of Their Policy Performance
One of MCC's defining characteristics is that it provides funding only to countries that demonstrate commitment to good governance and growth-friendly policies. The approach is grounded in the idea that partnering with good policy performers rewards countries taking responsibility for their own development, creates incentives for reform, and potentially increases the effectiveness of MCC investments. [1]
To identify relatively well-governed countries, MCC relies on a series of 20 quantitative indicators of policy performance from independent third parties which the agency compiles into country "scorecards." [2]
MCC's scorecards summarize countries' relative policy performance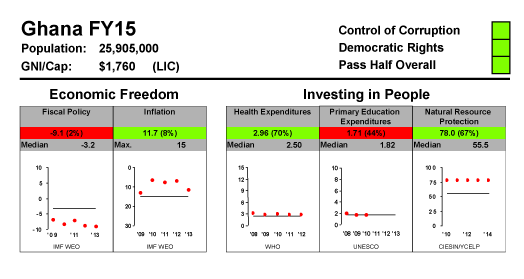 The full scorecard is available here from MCC.gov
The scorecards are the public face of the selection process, and MCC's board of directors, which is responsible for country-eligibility decisions, weighs scorecard performance heavily. [3] However, the indicators that make up the scorecard are incomplete and imperfect proxies for actual, contemporaneous policy performance because of limitations such as lags, data imprecision, and gaps in what an indicator can explain about a particular policy area. Because of this, the board also considers supplemental information that offers a more complete description of candidate countries' actual policy performance.
MCC's largely transparent, evidence-based selection process was intended to depoliticize eligibility decisions. A review of the agency's overall selection record suggests that policy performance has indeed been the main criterion for eligibility.
However, there have been a small number of eligibility decisions that appear to support broader US government political and diplomatic interests in a way that is inconsistent with the spirit of MCC's eligibility system. These have mostly involved the threshold program, the agency's smaller, less resource-intensive program, rather than the hallmark compact program. [4] Even with these few apparent inconsistencies, there are no egregious examples of poorly governed countries being selected, a remarkable track record.
In recent years, few new countries have passed MCC's scorecard (for instance, in FY2014 and FY2015 only one country passed the scorecard for the first time), presenting an interesting dilemma for the agency. With a limited number of new prospects for compact eligible countries, many of MCC's current partners will remain the best choices for the agency in the future. Under existing legal authority, MCC can enter into follow-on compacts with countries and has begun doing so with a select set of partners that have completed initial compacts and maintain strong policy performance. Subsequent compacts appear to be a sensible course for the agency, particularly since alternative approaches would likely include lowering standards for policy performance, seeking legal authority to work with richer countries, or working with more of the well-governed micro-states not selected in the past because of questions of scale and efficiency. If MCC's current partner countries maintain good governance and demonstrate commitment to successful implementation of their prior compact, it makes little sense to disqualify them from further support solely on the basis of having had a compact in the past. [5]
Recommendations
MCC should continue to minimize the elevation of diplomatic interests over and above the consideration of policy performance for country eligibility.

Congress and other MCC stakeholders should embrace subsequent compacts as a sensible way for MCC to continue to work with well-governed countries.
MCC Revokes Eligibility or Funding for Declines in Policy Performance . . . and Sometimes in the Absence of Declines
MCC's focus on policy performance also means the agency can suspend, terminate, or otherwise curtail its partnership with a country if the government demonstrates deterioration in policy performance. MCC has done so with some frequency, ending or curtailing eligibility or funding for more than one-third (13 of the 35) of the countries ever selected for compact eligibility. The most common reason for MCC to take this type of action has been policy deterioration with respect to democratic practices, but corruption is another reason cited by the agency.
MCC should be applauded for making tough decisions to halt its partnerships when countries no longer meet the agency's standards, consistent with the idea that local policy performance is more important to development outcomes than foreign assistance spending. More problematic, however, are the cases in which MCC has taken action to curtail a country's eligibility (or threatened to do so) when no significant policy decline was evident. [6] This has happened for countries in compact development, which need to be reselected each year until their compact is signed, that have fallen short on the scorecard sometime after they were initially selected.
MCC's scorecards do an adequate job identifying both better governed countries and less well governed countries, but they also assign stark "pass" or "fail" labels to a substantial group of middle-performing countries, among which the real differences are much more ambiguous. [7] Another ongoing challenge is that MCC must track countries' policy performance over several years. The agency's scorecards are not particularly well-suited for this task. Most of the indicators are quite imprecise and small score changes often reflect indicator noise rather than actual policy changes. When MCC's board makes the decision not to reselect for eligibility a country that falls just short of passing the scorecard because of a small score fluctuation from one year to the next, it is inconsistent with the technically correct interpretation of statistical significance and inconsistent with the agency's institutional commitment to the idea that policy matters. Halting compact development or threatening not to sign a compact with a partner country which has had, by all reasonable assessments, no actual change in policy environment since it was initially selected threatens MCC's (and the US government's) credibility as a reasonable and rational development partner. [8]
Recommendations
MCC should maintain a transparent, evidence-based system for identifying relatively well governed countries with which to partner.

MCC and its board should better align future decisions with recognition of the inherent limitations in indicator data.
The Threshold Program Supports Policy Reforms but Only Vaguely Supports Its Stated Objective
The threshold program is a relatively small component of MCC's portfolio (around 5 percent of programs funds). As laid out in MCC's authorizing legislation, the program's objective is to help candidate countries become compact eligible. The original set of threshold programs were designed to support targeted policy reforms that would help a country improve its scores on the eligibility indicators needed to pass the scorecard. In a 2010 program review, however, MCC found that this objective was technically unrealistic for several reasons, not least of which was that many eligibility indicators tend to be very broad in scope (e.g., "control of corruption") and cannot reliably capture the progress of narrow programmatic interventions.
In response to these findings, MCC made a number of changes to the threshold program. The program maintains a focus on policy reforms, but aims to do more to test the partner government's willingness and ability to undertake the kinds of substantial policy and institutional reforms typically required of compact countries. [9] While this second-generation threshold program fits within the MCC model's focus on policy performance, gaps in the program logic remain. For instance, how much will a program targeting one policy area now tell MCC about the likelihood of getting traction on compact-related reforms several years from now, particularly when future reform conversations could be in a different sector, with a different ministry, or even under a different government? In the event that threshold countries do become compact eligible, MCC will face the challenge of proving that it was the threshold program that made the difference.
Recommendations
MCC should better define the rationale of the new threshold program.

MCC should be much clearer about how it will evaluate and demonstrate threshold program success.

In the absence of a clear rationale or demonstrable success, MCC should eliminate the threshold program.
MCC Is at the Leading Edge of Linking Funding to Policy Performance
When it comes to foreign assistance, many donors use governance or policy criteria to guide investment. However, MCC is the only donor that uses a largely transparent system based on independent, quantitative criteria of policy performance to determine which countries it will fund.
The 2010 Presidential Policy Directive (PPD) for Global Development Policy stressed that the United States should be selective, focusing its resources in "countries and sub-regions where the conditions are right to sustain progress." [10] In practice, legislative earmarks and non-development objectives often remain structural barriers to reform. As the US government seeks to improve its aid allocation processes, MCC's model of country selectivity will continue to be an important tool, and perhaps an approach for broader emulation. [11]
Additional Resources
In the MCC at 10 series, Sarah Rose and Franck Wiebe take an in-depth look at three main pillars of MCC's model: the agency's focus on policy performance, results, and country ownership. To what extent has MCC's model governed its operations in practice? How should MCC strengthen and expand its model and operations during the next 10 years? How is MCC different than other modes of US foreign assistance? Find the papers and more briefs like this one at CGDev.org/page/mcc-ten.
---
Rights & Permissions
You may use and disseminate CGD's publications under these conditions.